Fashion Autumn/Winter 2017-2018
WOMAN
Vibrant and passionate colors, flowery prints (yes in winter!), slouchy boots worn with classic skirts and trousers, social and political statements, it-bags, fancy coats and a lot of fur. These are the top Autumn/Winter 2017/18 trends by some of the most relevant designers of Milano Fashion Week (plus some insiders tip and curiosity).
DOLCE & GABBANA
A tribe of internationals actors, singers, wannabes, mothers of, daughters of, influencers, bloggers, boyfriends of, girlfriends of and members of royal families walked the catwalk of Dolce e Gabbana in clothes they had picked and accessorized themselves. The girls wore golden crowns and roses into their hair, or 'D&G loves Justin Bieber' printed T-shirts, torn jeans, tuxedos and trouser suits in velvet and brocade, animalier ensembles, black lace dresses , guepieres and some fabolous night gowns. In therms of clothes, you can't really pick a trend in all this dazzling, glamorous fashion mesh but there's certainly something more deeper than any seasonal trend: a celebration of creativity and diversity as men and women of every age, colour and social background took to the Dolce e Gabbana runway.
Curiosity: Dolce e Gabbana shows are held at the former movie theatre Metropol, in viale Piave, now the designers's Milan head quarter.
ALBERTA FERRETTI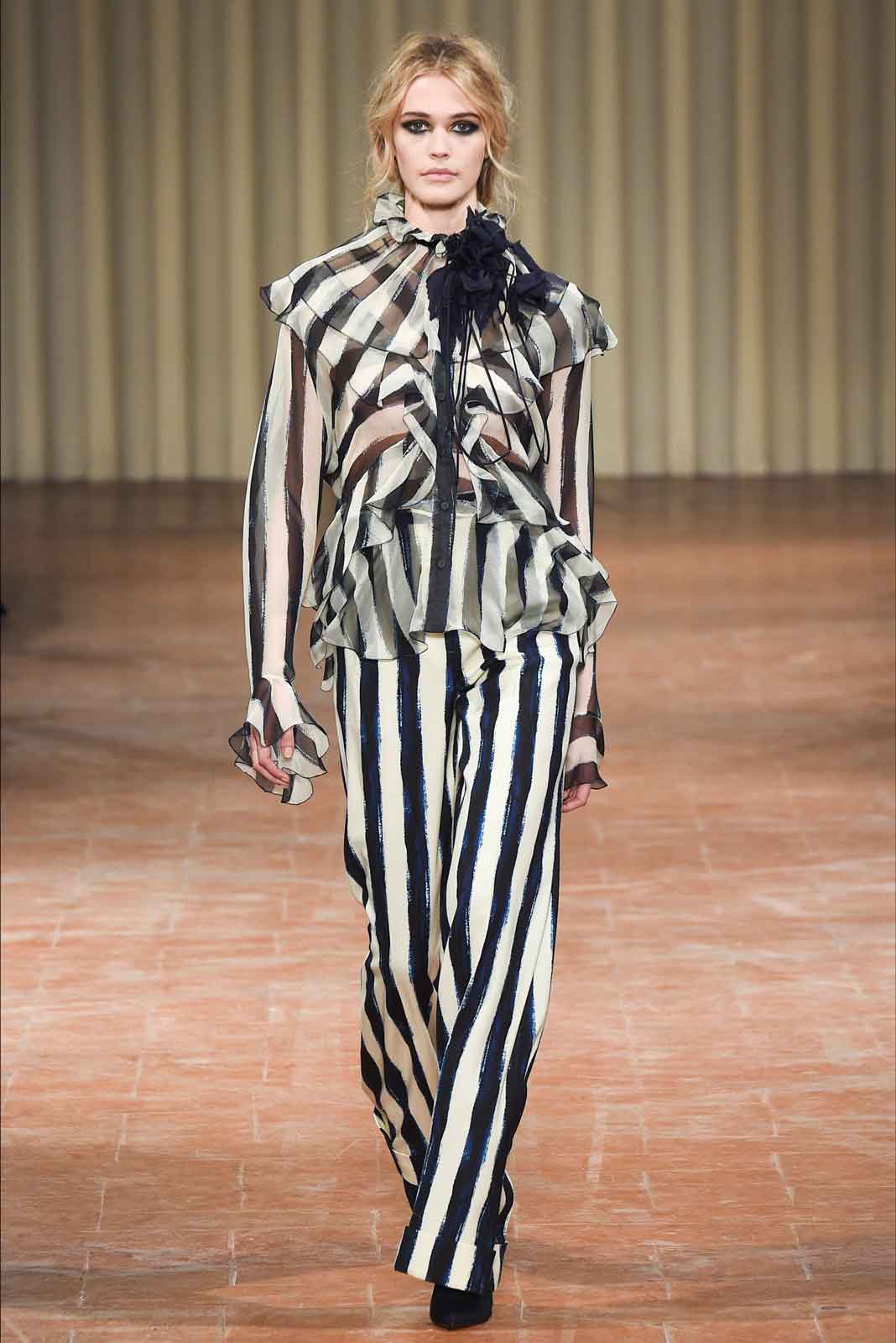 The beautiful city of Venice vith its decorative richness is the main inspiration behind Alberta Ferretti collection. Images of the lagoon, of canals and of the lion of San Marco can be found on long skirts, tops and hooded chiffon capes ( capes are the real leitmotive of the collection), whereas striped sailors sweaters remind us of gondoliers. Ferretti also took inspiration from italian painter Giovanni Boldini and his elegant women. Fluid chiffon dresses adorned with maxi ruffles or mermaid dresses are worn with beautiful hoods and capes lined in fur and sprinkled with stars, or embellished with emerald green feathers.
GUCCI
This was the first ever Gucci unifed men and women collection, and somethimes gender were so blurred that you coudn't tell if you were looking at a girl or a boy. But does this even matter? For autumn-winter 2017 Alessandro Michele presents punky girls with huge septum piercings wearing floor-length ball gowns or Chanel-like tailleur. Wild animal (deers, snakes, beetles, lions, tigers and wolves) coexist with romantic flowers and plants prints, silk jackets, loose trousers and long hippy skirts, sweatbands and ripped T-shirts with the Gucci logo. It's a call for maximalism, a brilliant, kaleidoscopic, multifaceted wardrobe, mixing alchemic symbols, dreams and reality, past and present, genders and styles. Curiosity: The show was held in Gucci's new headquarters, in via Mecenate, a former Aircraft Manufacturing Factory.
FENDI
Fendi gives tributes to Rome and to autumn colors. Prints, embroidered or laser cut acanto leaves are placed on long and lean pencil skirts, silk shirts, fur bags and long chiffon dresses. The new Fendi bag, called Run Away, sports the F logo and will certainly be one of next season's top sellers. But the real must haves are those red patent thigh-high boots, worn with cropped classic Prince of Wales check trousers, crocheted skirts and feminine, silk dresses.And despite animalists protesting outside the show, there was obviously a lot of fur on Fendi's runway, trimmed or embellished with roman numerals, stamps and leaves and coloured in blu, brown and a very chic burgundy red.
VERSACE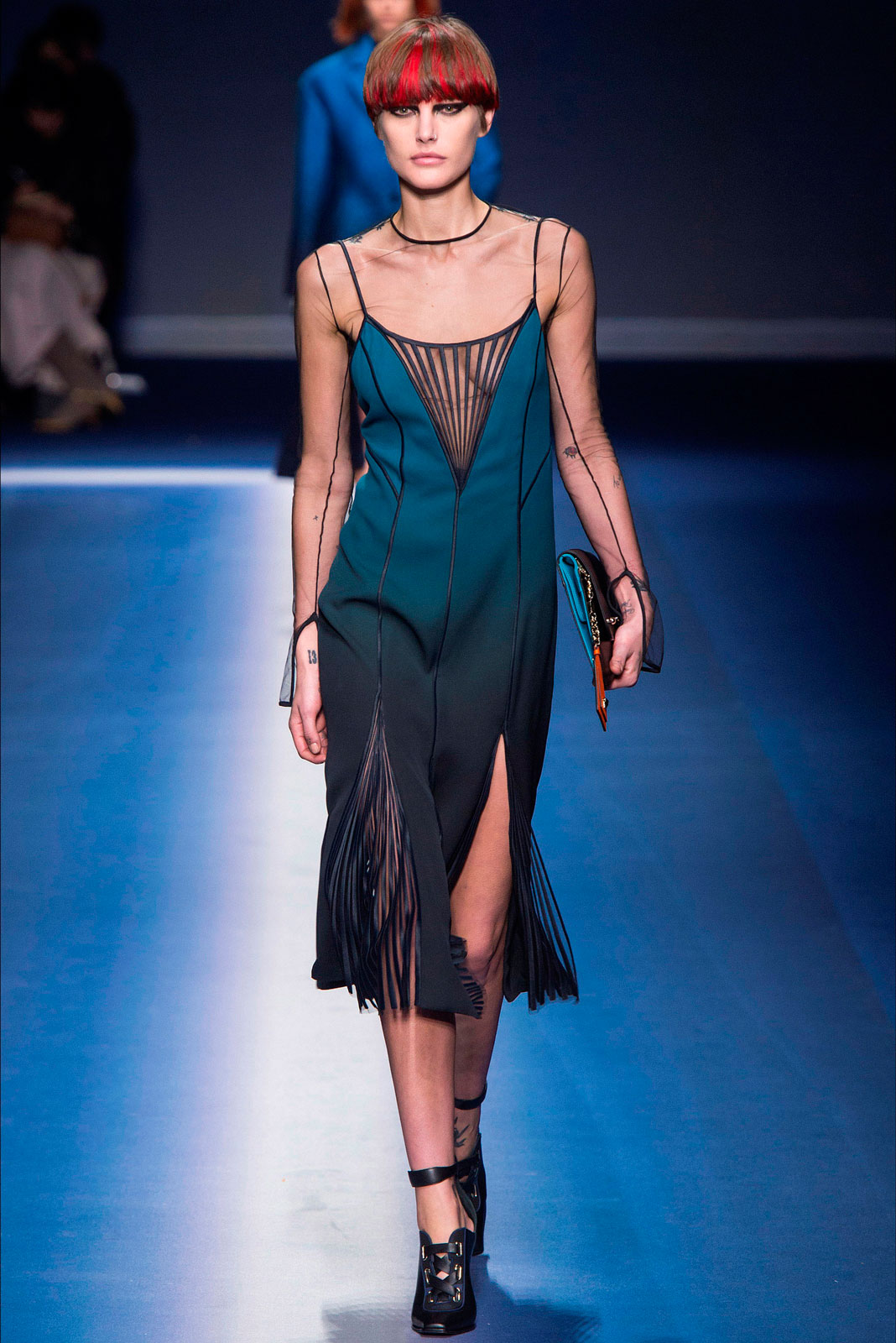 Donatella Versace expressed a very clear message showcasing a strong and assertive collection "about the power of women, and women who know how to use their power". Words such as Courage, Love, Loyalty and Unity were printed on man shirts, athletic dresses, scarves, beanies or embroidered on tulle top sleeves. It's a pratical, powerful wardrobe, merging all the Versace signature features: slinky metallic slip dresses, slit pencil skirts worn with urban puffer jackets and laser-cut shaved mink coats, tailored tailleur, hooded oversized sweaters and jackets and ankle strappy sandals.
PRADA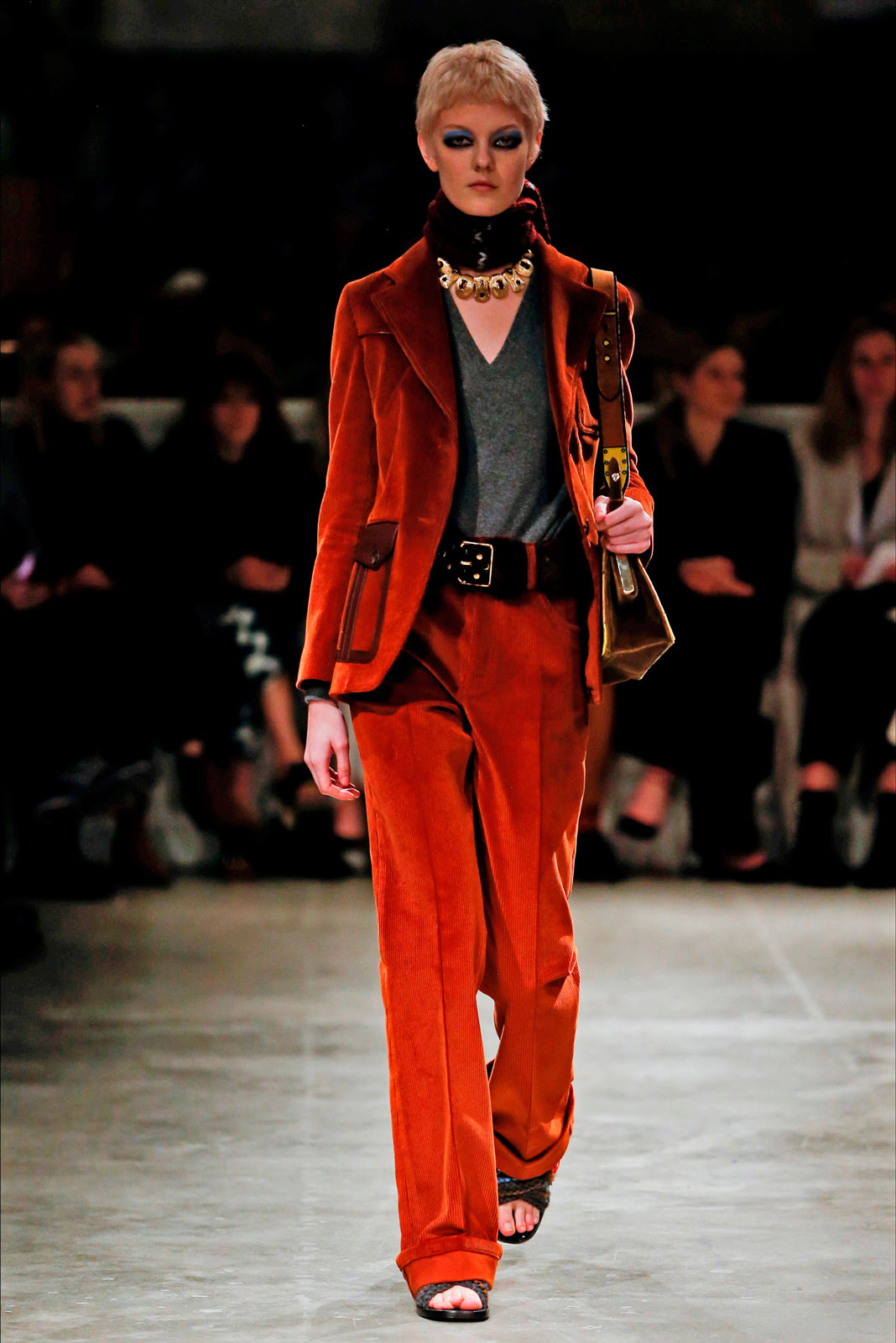 Like Donatella Versace, also Miuccia Prada makes a reflection on the role of the contemporary woman, female seduction and on what has been done since 1968 to nowadays. Her collection is a return to form, focusing on a new kind of feminism, showcasing velvet suites worn with knitted bra tops, marabou feathers trimmed skirts, mannish corduroy trousers, beaded fringed dresses and frumpy knitted skirts. Models wore wore feathered hats or boy caps and odd furry shoes, but also Mary Janes with jewellery encrusted heels. It's a constant sense of hybridity and uncertainty that perfectly reflects the unstable role of women in our society. Tip: do you want to plunge into Prada's world? Drop in Prada boutique in Galleria Vittorio Emanuele 63/65 in Milano, the brand first location, where culture and haute couture take center stage.
SALVATORE FERRAGAMO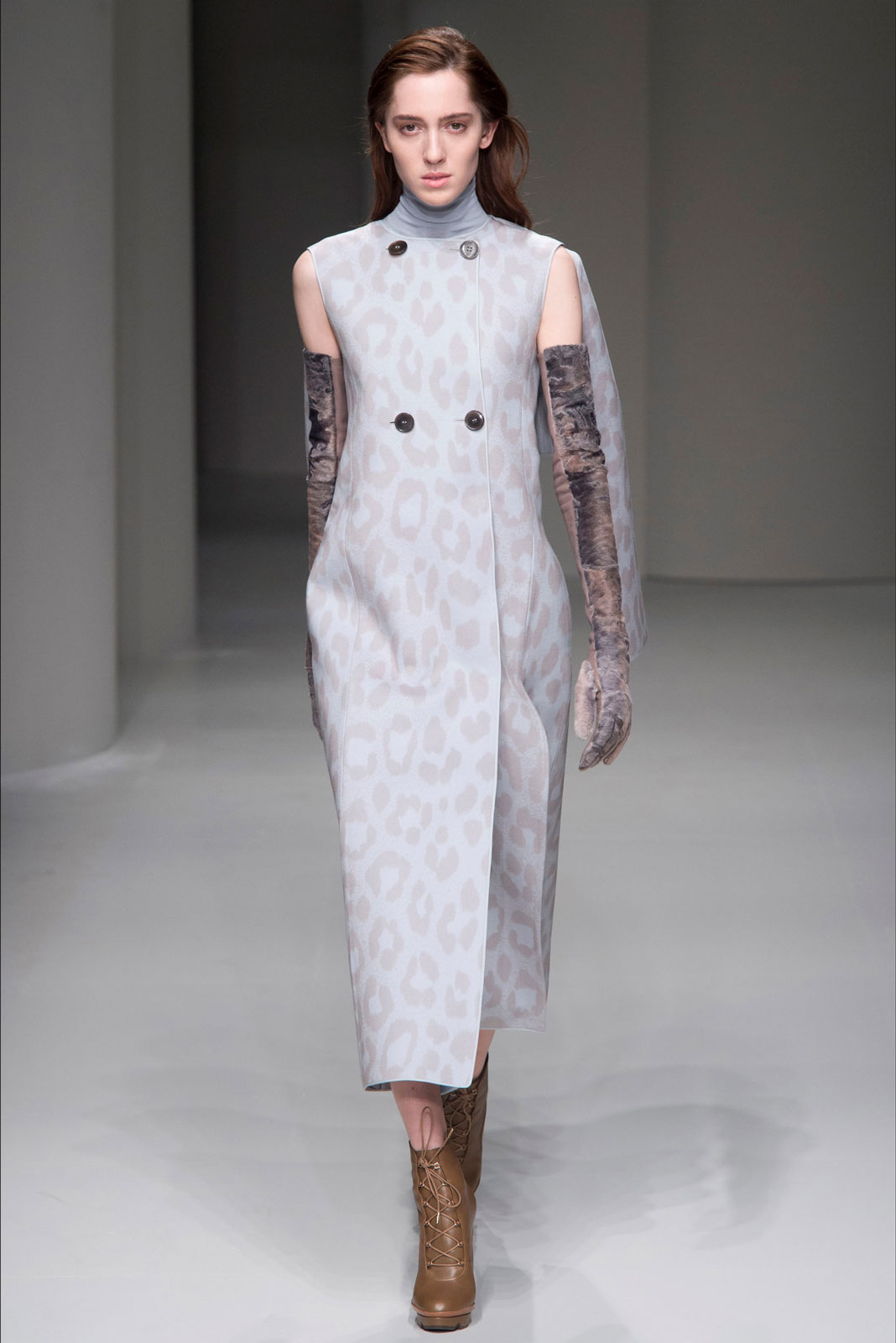 Fulvio Rigoni interprets the new Salvatore Ferragamo silhouette in a very rigorous way, mixing tailoring and sportswear and adding a bit of energy with abstracted animal patterns and bright shades of orange, purple and pink. Very slim, high-waisted pants are worn with fur coats or cropped technical jackets, a waist blazer in a delicate shade of gray leather is paired with a slim turtleneck and a slit silk skirt in matchings shades. There were also knit sweaters worn with narrow skirts, lace up boots with stacked heels and leather gloves. Sculptural collars on coats and dresses add a bit of drama to an otherwise too cold collection.
GIORGIO ARMANI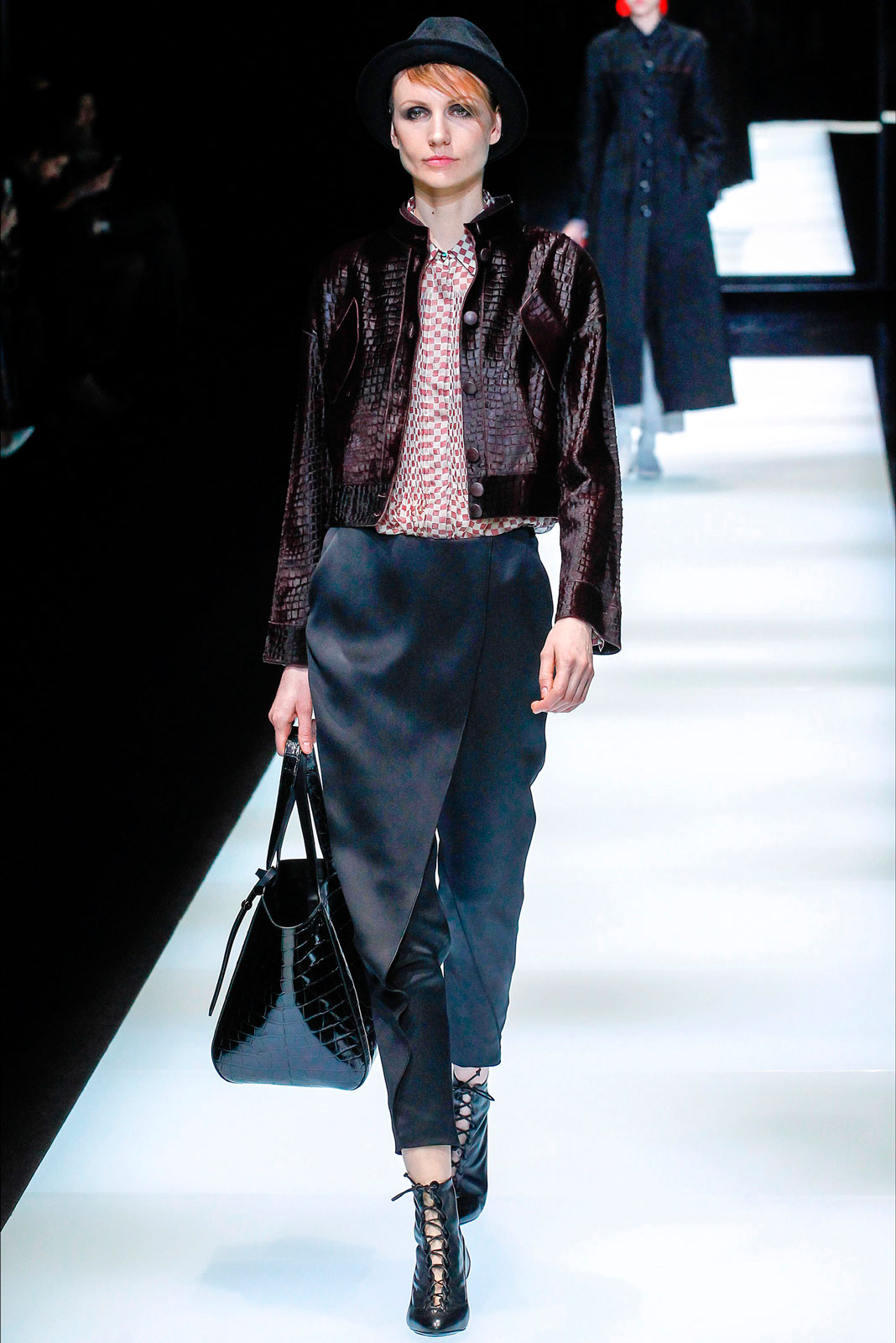 The must have of Autumn/Winter 2017/18 Giorgio Armani collection is undoubtedly his skirt-trouser. A sort of hybryd between a plissé skirt and a tailored trouser, paired with cropped jackets in mohair and vibrant colours or short jackets whit geometric prints. Armani colors, textures and silhouettes this season are particularly bright and vibrant: coral coats worn with embroidered trousers, jewel coloured velvet blazers, Japanese-inspired floral motifs, sequinned bustier and eventually a shiny allover embroidered black gown with iridescent, multicoloured crystals, ready for next red carpet event. Tip: For a full Giorgio Armani experience, head to his Palazzo in via Manzoni, where,in addition to the designer's clothes and accessories collections, you can find a library, an hotel, a Spa, a restaurant, a flower and a chocholate shop. All Armani branded obviously.
MAN.
The return of tailored clothing, mixed with youthful Nineties grunge elements, such as long and boxy blazers, cropped baggy pants, tartan and statement headwear accessories. Moreover, in this cost -conscious times, a lot of brands are showing womenswear and menswear together . These are the main messages of Autumn/Winter 2017/18 season.
DSQUARED2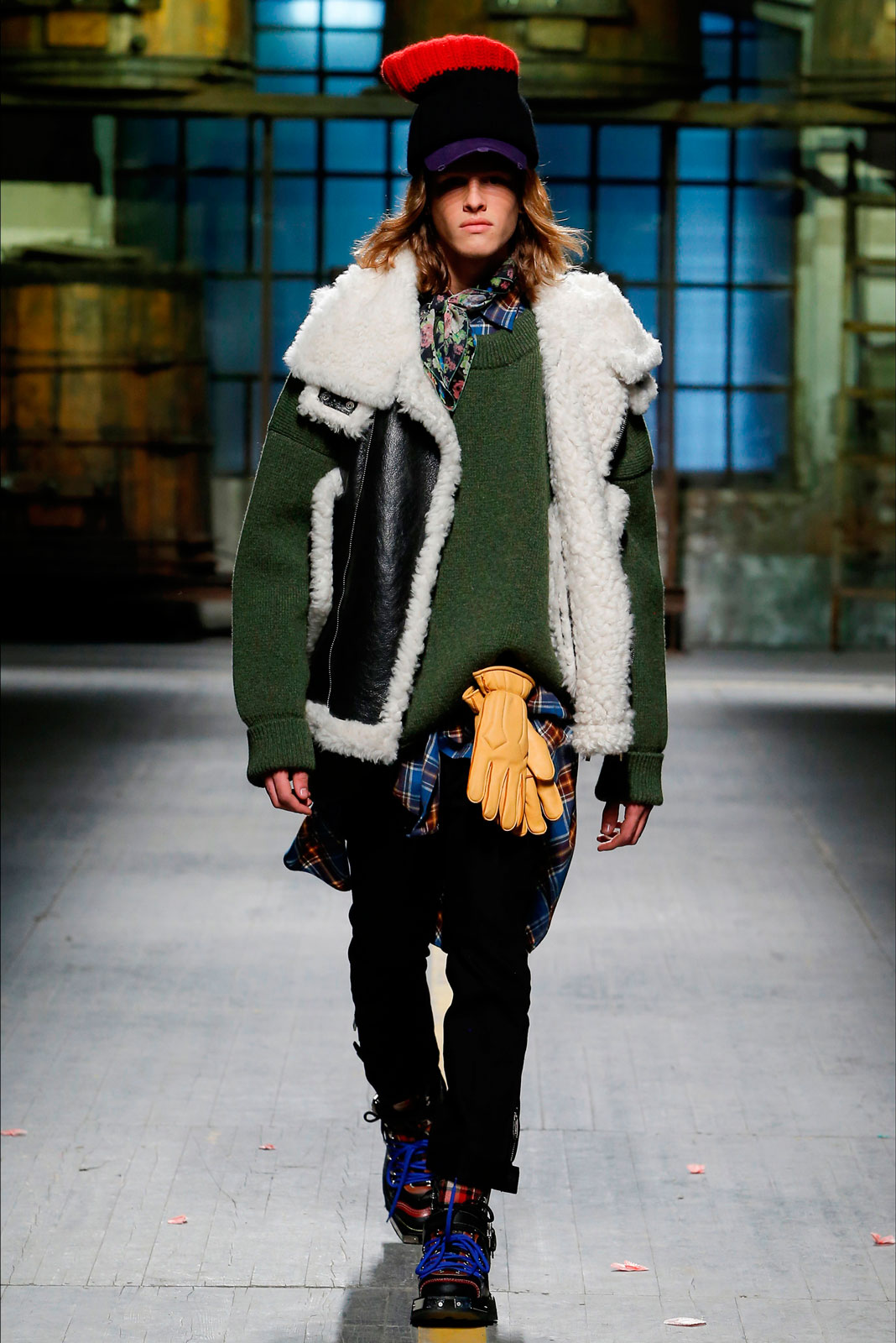 Dean and Dan's first co-ed show is basically a declaration of love for Canada. A mountain look with an urban vibe, composed by fur coats, shearling, tartan jackets, oversized jumpers, check shirts and wool hats. Glamour and grunge are pefectly mixed togheter and genders are blurred, like in the zipped jackets and rugged cargo pants sparckled with sequined florals. Tip: Ceresio 7, Dean and Dan Caten's restaurant and pool bar, is a must for the city's beau monde, who flock to this rooftop for the unbeatable view and the fancy cocktails.
FENDI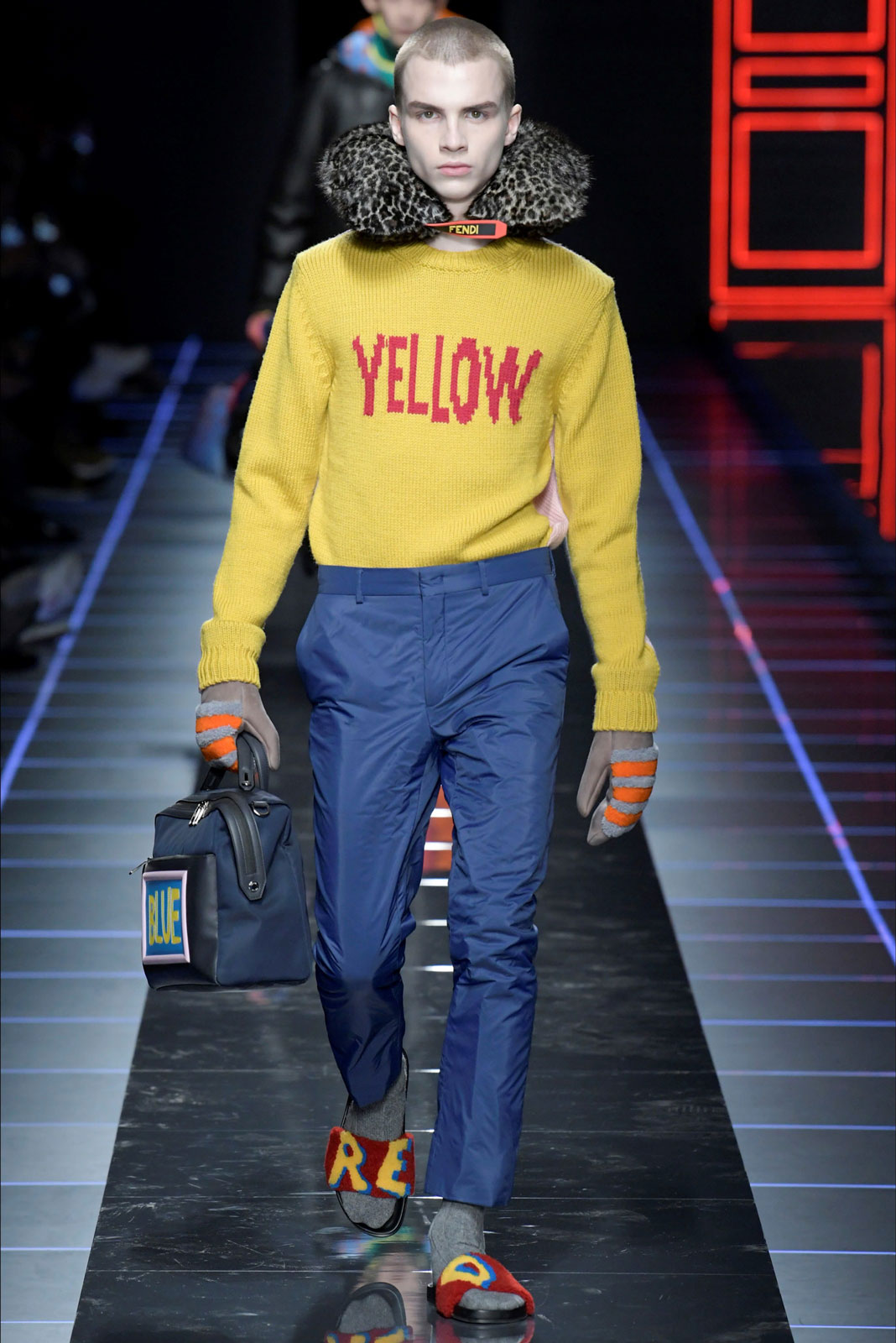 Silvia Venturini Fendi collection for next autumn/winter mixes sportswear and formalwear with a very easy and positive attitude. Words like "hope", "think and "try" accompanies us throughout the whole collection like a mantra. The fur coats are oversized or striped, worn with pink or pastel shades tracksuit pants, zipped sweaters and fuzzy sandals. The shearlings seem really warm and confortable, like the layered check overcoats, and the felt leopard print coats. The Fendi logo is everywhere and a shirt reads "Trust Fendi". And we do.
SALVATORE FERRAGAMO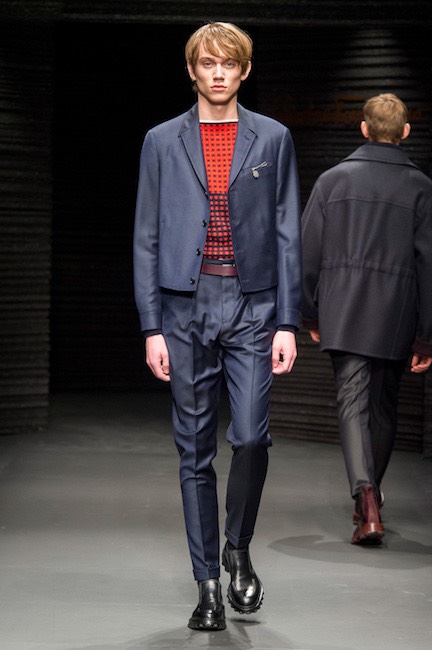 The new Ferragamo director, Guillaume Meillan, debutes at Milano fashion week presenting a very homogeneous mix of fabrics and techniques but always keeping in mind Ferragamo's Italian craftsmanship and tailoring traditions. A very dark urban palette of black, purple and dark blue is sometimes revamped by touches of color and paired with a big and soft, yet elegant, silhouette, like in the cashmere knitwear. Ferragamo's man protects himself from the cold rain with leather and corduroy raincoats and leaves for the weekend with oversized fur-lined travel bags.
BOTTEGA VENETA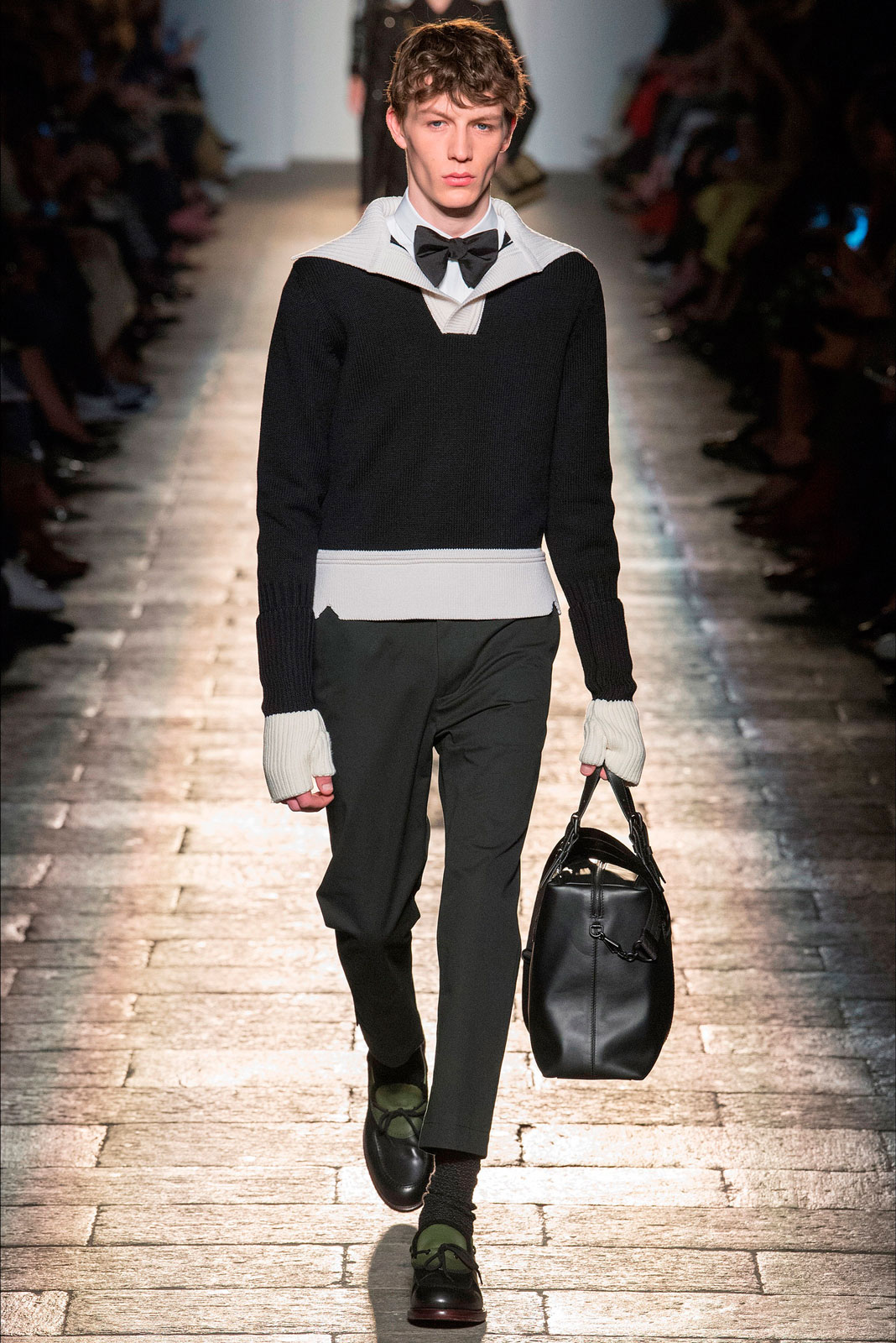 Bottega Veneta, like many others branda, presented a collection for women and men together. The wardrobe immagined by David Mayer is glamorous but also very elegant, sophisticated yet effortless, with very sharp silhouettes, fitted suits, fancy bow ties and double-breasted coats, clearly inspired by the Forties.
PRADA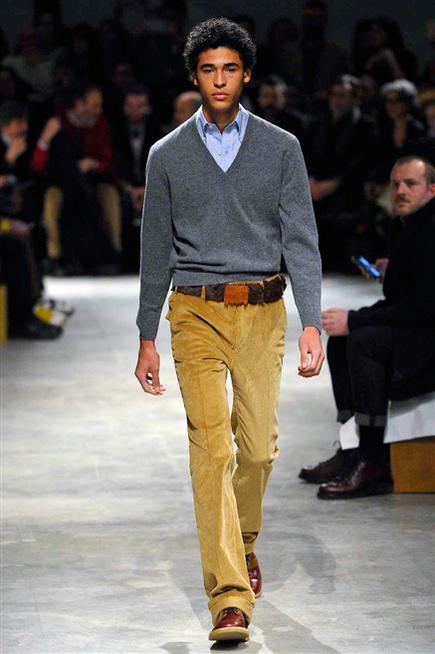 Inspired by the seventies, Miuccia Prada Autum/Winter uniform consist of very well tailored button-down shirt, V-neck sweaters, straight trousers, sandy coloured coats with belts and patch pockets, long leather jackets with fur inlay. The colours are very warm and autumn like: dark chocolate, every shade of beige, bottle green, camel and yellow.
VERSACE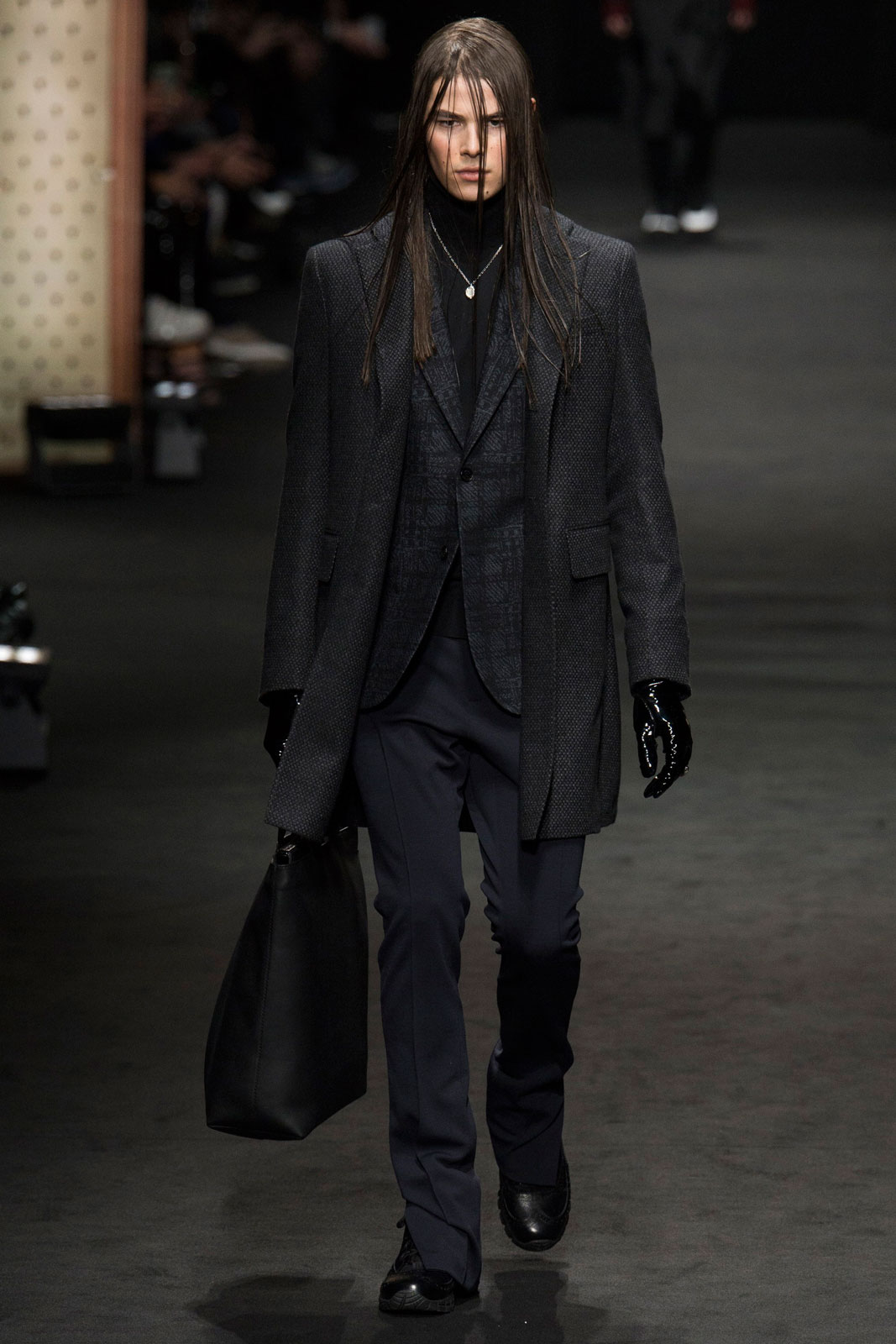 Business suites and tartan. The Versace man is full of contrast. During the day he favors tailored suits with skinny silhouettes, paired with topcoats, skinny ties and sliced-hem pants, but sometimes adds a kinky touch with a dark satin and a patent red coat. In the weekends he fleeds to the Highlands to meet up with is tribe and wears jacquard checked topcoats with turtlenecks, wide hooded shearling and checked jackets.
GIORGIO ARMANI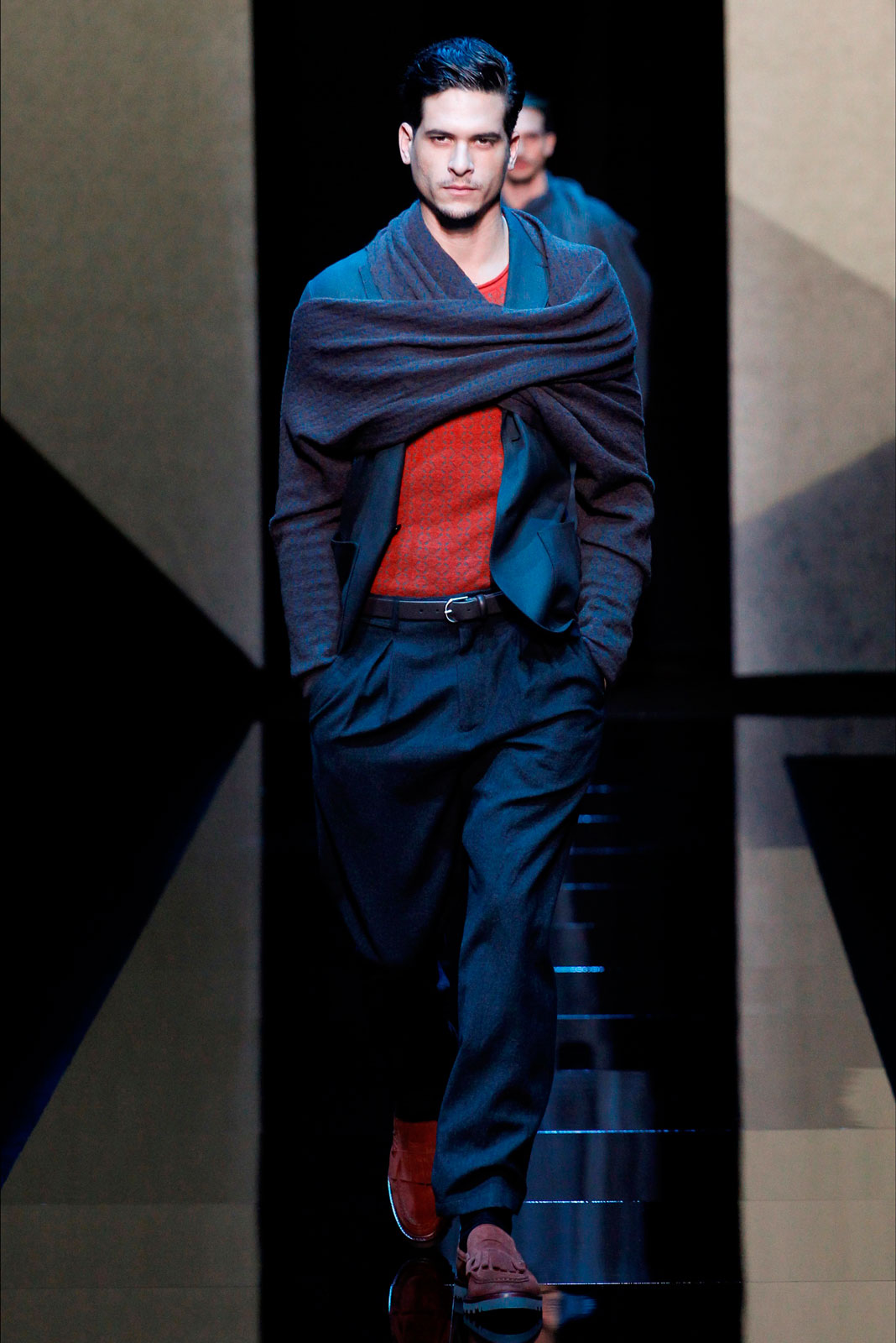 Giorgio Armani must have for next season will be the" sleeve scarf", a sort of wraparound that can be knitted, in leather and fur, or in long Kidassia goat hair. It can be worn as top layer over the outwear or under a soft-shoulder jacket. The rest of the collection is elegant yet relaxed, very Armani. The colour palette is mannish: inky green, brown, blu and gray and the textures are rich and precious: woven check wool, velvet, and mohair.
DOLCE & GABBANA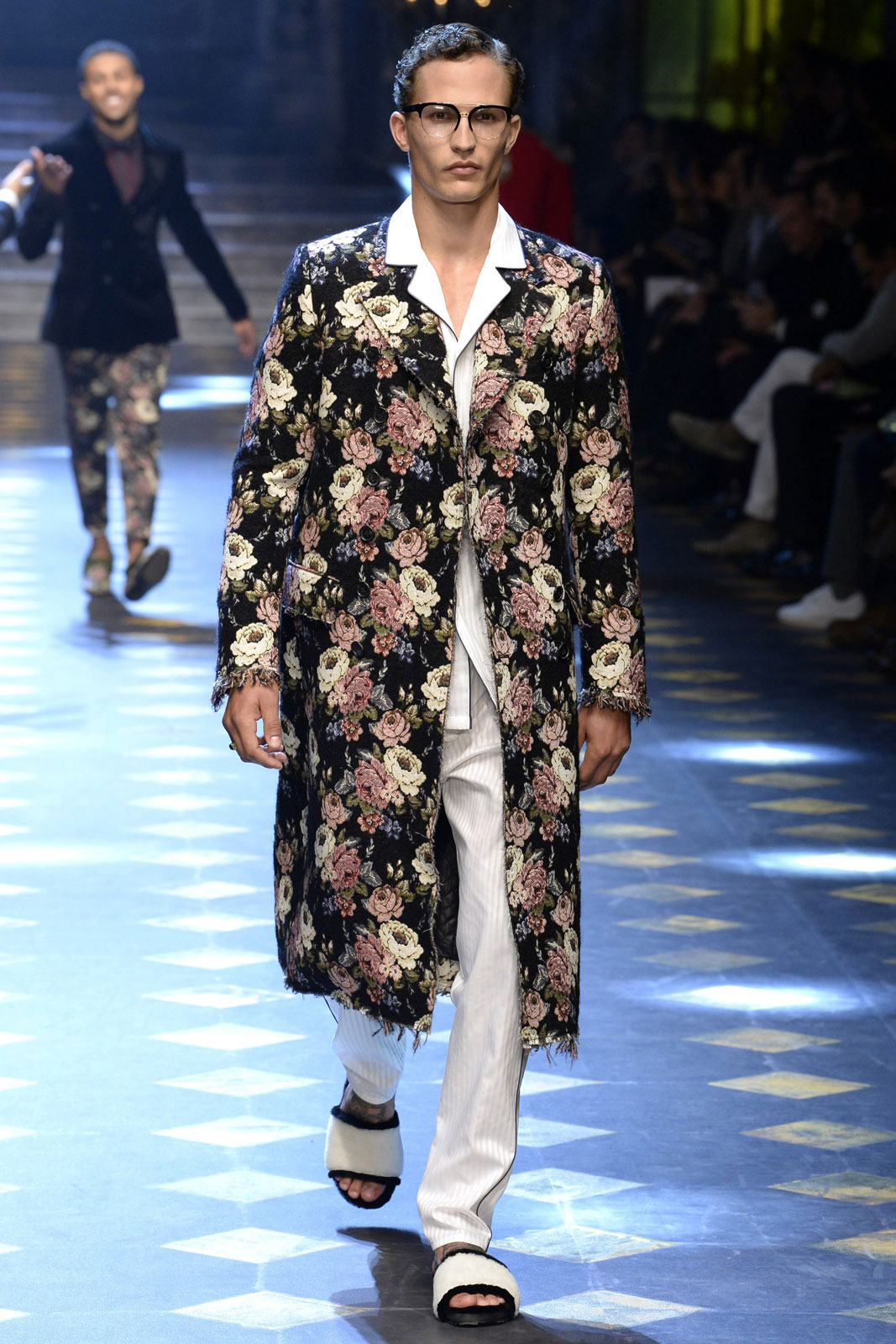 Domenico Dolce and Stefano Gabbana invited Youtuber and influencers from the millennial generation to walk at their show. They said that, as they're not so young anymore, it's interesting for them to undestand what young people love or not. Well, Dolce&Gabbana millenials seem to love embroidered jeans, black and burgundy brocade suits, oversize puffa jackets over pijama suits, red velvet embroidered jackets and floral jacquard suits, all worn with customized sneakers or fuzzy slippers
Tip: within Dolce&Gabbana boutique in Milan, in corso Venezia 15, there's a hidden gem: a vintage style barber shop where traditional grooming rituals meet with Dolce&Gabbana style.
MISSONI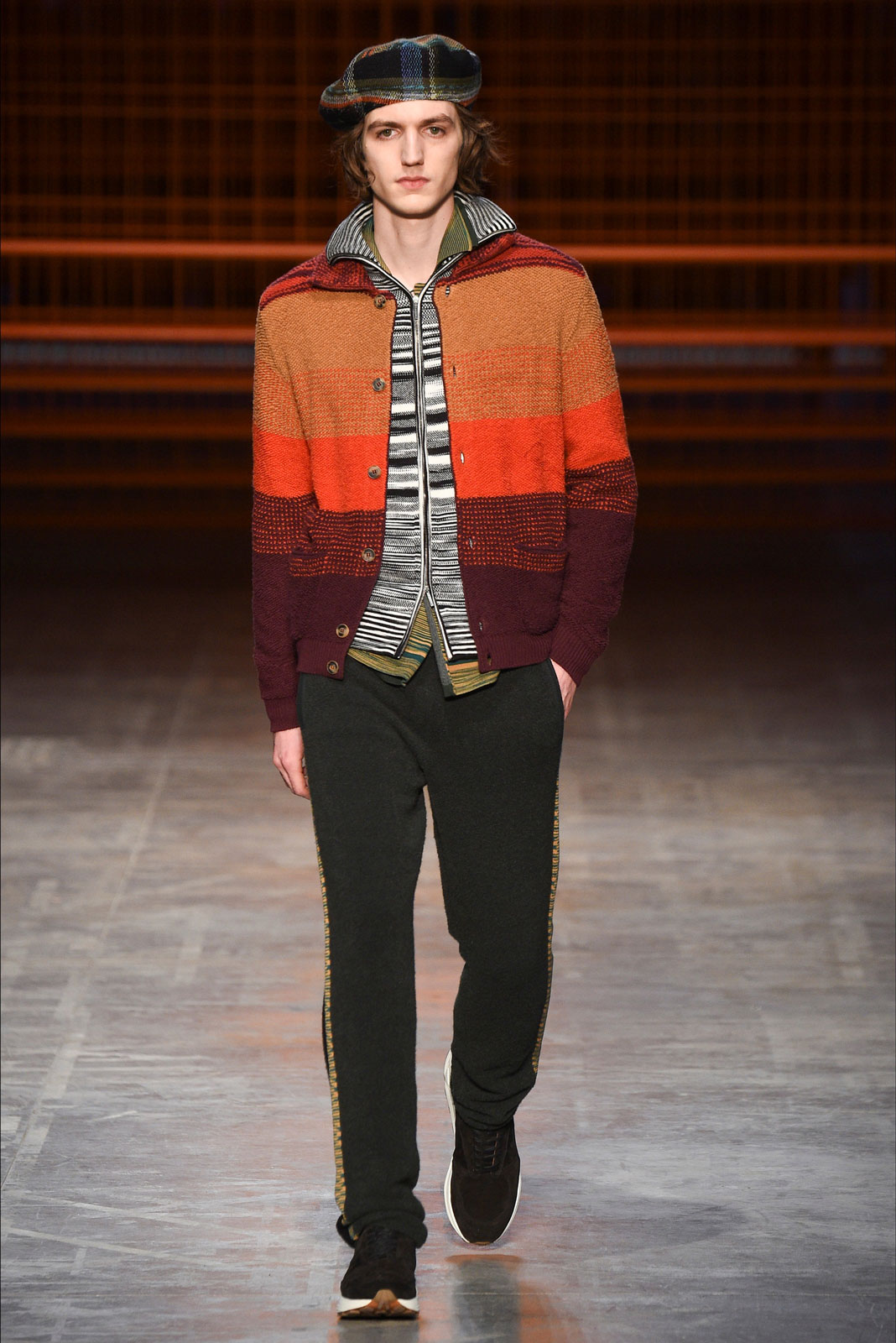 Knitwear is obviously the leit motiv of Missoni's autumn /winter 2017/18 collection. Luscious cashmere zip-up jackets and sweaters came in zigzag stripes, mohair sweaters were patterned with silver snowflakes , while plain sweaters are embellished with golden details and iridescent viscose sweaters are flecked with fuzz of mohair. There's also a lot of layering: cardigans are worn over hoodies, under which you can see shirts. All in all a very technically worked but yet casual and very relaxed collection.