Fashion Autumn/Winter 2018/2019
WOMAN
Next winter will celebrate individuality, femininity, strenght and style with a multitude of trends that are dying to be worn. Eighties shoulders, animal prints, capes, tweed, tartan and logomania will be essential for any wardrobe. Let's have a look at how the most relevant Italian fashion houses interpreted these trend.
GIORGIO ARMANI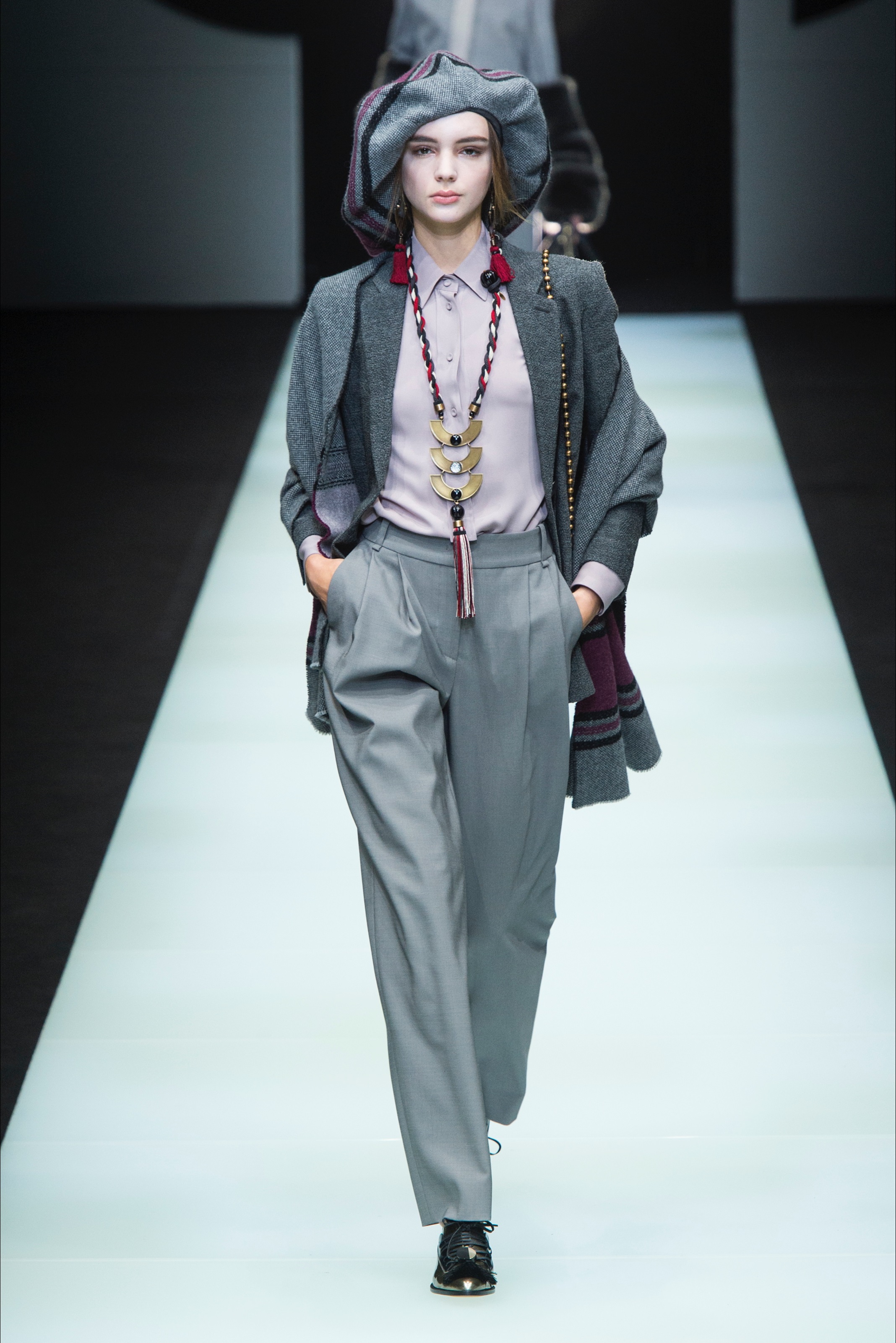 A collection that reminds us of Russia or Middle East in the velvet suits, crystal-embellished tops, turban, lace-up cuissards, and faux fur multicoloroued hats, but is also very Armanish in the restrained elegance of the short jacket and wide trousers combo, the elongated coats, the light cardigans. The colour palette ranges from pale pink to red, purple, navy blue, metallic grey and black. After all these years, despite all these cross-cultural inspirations, the jacket still seems to be the most important piece of Mr Armani's wardrobe.
DOLCE & GABBANA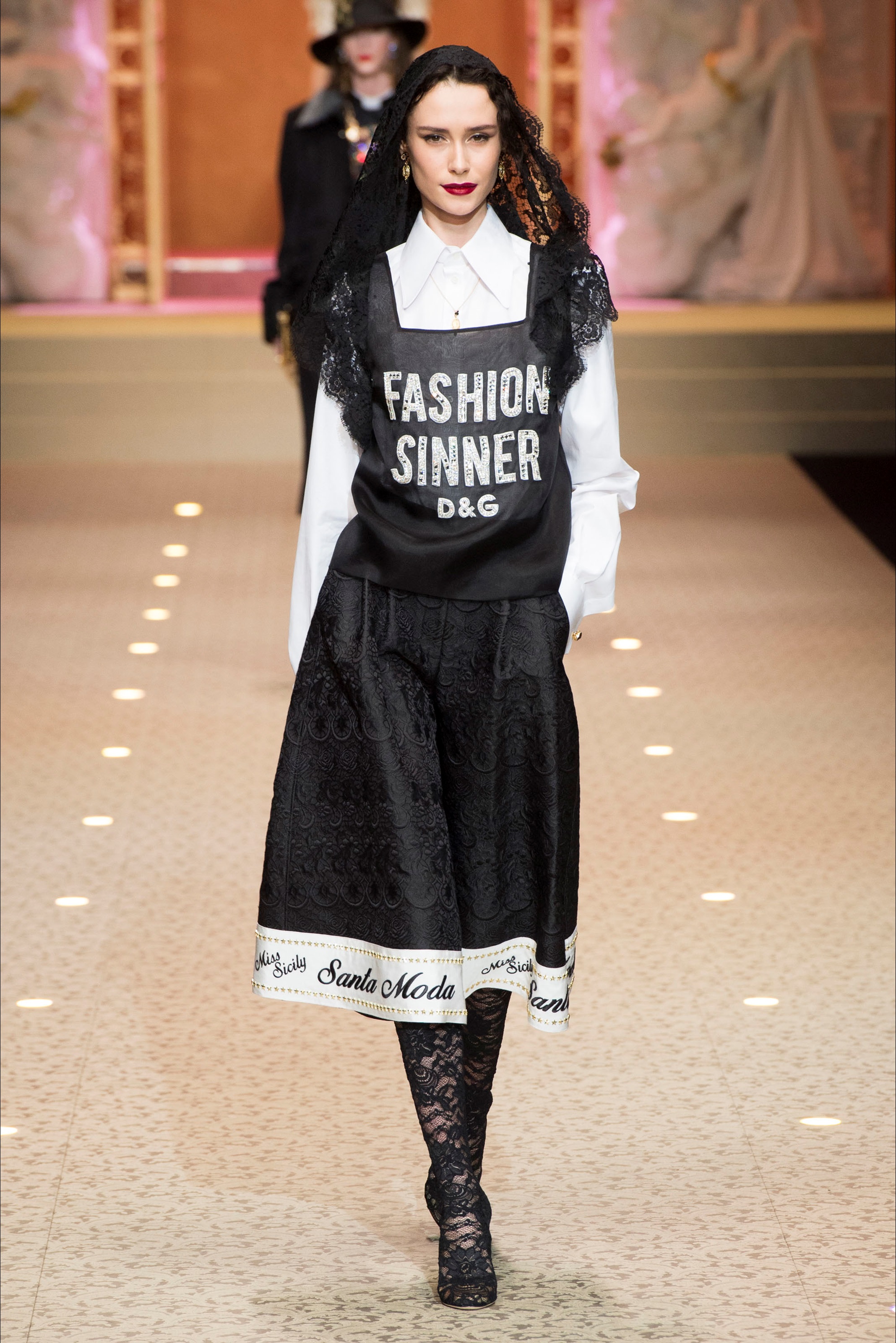 With all its priestly shirts, crucifixes, cherubims, cardinal jackets and skirts clearly inspired by papal garments, a lot of purple, angel sweatshirts, and the classic Dolce e Gabbana trouser suit made of luxurious brocade, this collection is an umptenth Dolce & Gabbana's nods to their Catholic upbringings. As ecclesiastical motifs ebb and flow, logos like Santa Moda, Fashion Sinner and Fashion Devotion decorated sweatshirts, T-shirts and trousers but there were also many latin slogans and one bag had a hotel sign on it that read, "Don't disturb. We are creating." For the evening, there were long sequinned mermaid dresses and a bustier minidress, jewelled sandals, rhinestone jewels.
Curiosity: fashion's ongoing engagement with the devotional practices and traditions of catholicism is a very hot topic right now, with the inspiration behind the famous Met Gala being "Heavenly Bodies: Fashion and the Catholic Imagination".
GUCCI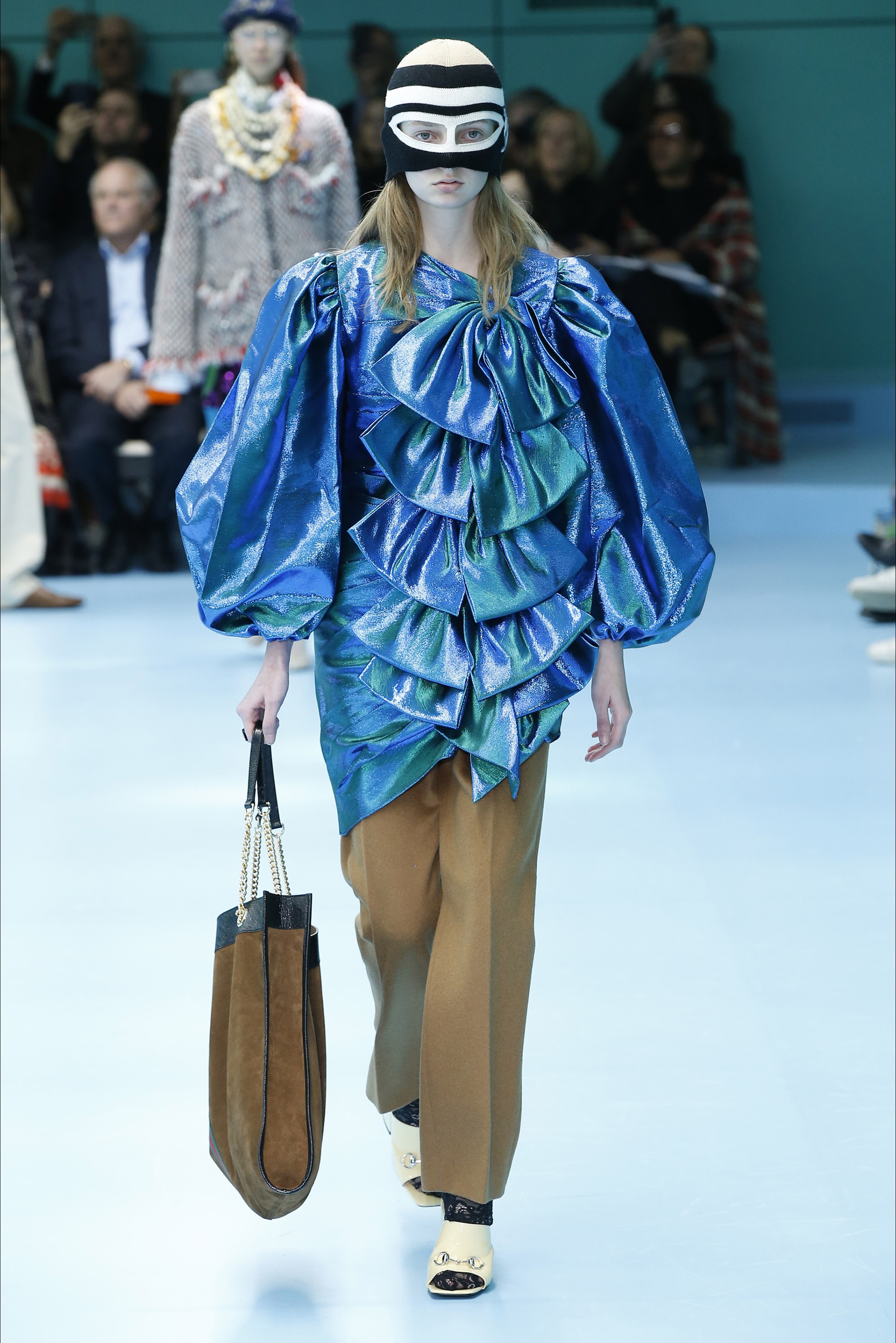 Alessandro Michele said he is happy to be an hybrid and he wants to praise and cultivate hybridisation.That's exactly what he does with this collection, using garments as a platform for philosophical matters. Contrasts have always been in Gucci DNA and this show in particular mixes past and present, masculine and feminine, sporty and sartorial, high-end and pop. There are furs covered in nude transparent tulle, reptilian and alien motifs, long velvet dresses, sweatshirts, tweed jackets, pleated skirts, distressed jeans, mesh dresses, long shirts paired with wide trousers and sporty bomber jackets worn with lace skirts.
Curiosity: in a space made up to look like an hospital, Gucci models were carrying very accurate clones of their own heads or cradling baby dragons and snakes, and one model had a third eye in the centre of her forehead. "We are all Doktor Frankenstein of our lives," Michele explained.
FENDI
Silvia Venturini Fendi brings back the padded, broad shoulders of the Eighties, that became a working uniform for business women all round the world, but imbues them with a feminine sensibility. A beautiful collection in which she and fellow designer Karl Lagerfeld present puffy capes, double-breasted coats in glossy Pince of Wales with plissé, Eighties logo sweatshirts, pencil skirts with waist pleats, blue or yellow leather boots and inlaid fur. Eventually, a pretty white dress and scalloped blouses add a delicate and charming touch to the show, embellishing the masculine silhouettes and confirming, once again, the skills of the manufacturers of the Italian fashion house.
VERSACE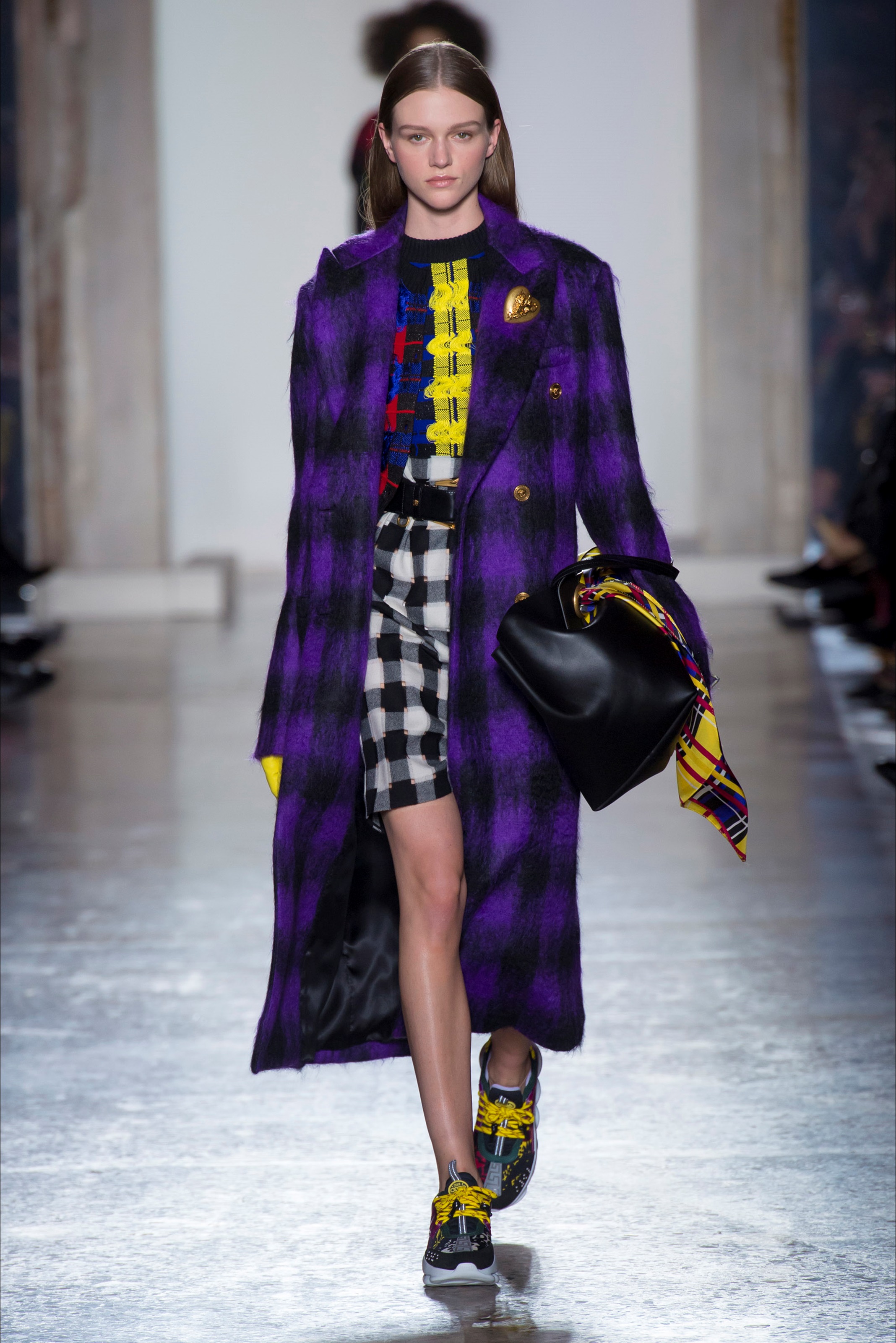 Donatella Versace said her show was dedicated to women who dare to change. Here she mixes British codes with her own baroque trademarks, mouldering a luxury punk collection, celebrating different moments of Great British history, in a nod to Vivienne Westwood. There are the football scarves, the glamorous leather bustier, the hooded James Bond girl dresses, the pleated tartan skirts and argyle sweaters, the evening dresses worn over logo T-shirts and rodeo shirts, and the colourful full skirts.
Curiosity: the Versace show was held in the The magnificent Hall of Caryatids, in the Royal Palace of Milan. The room was seriously damaged by the bombing in 1943 and ten years later was chosen by Picasso to host his work Guernica, with a clear symbolic purpose.
PRADA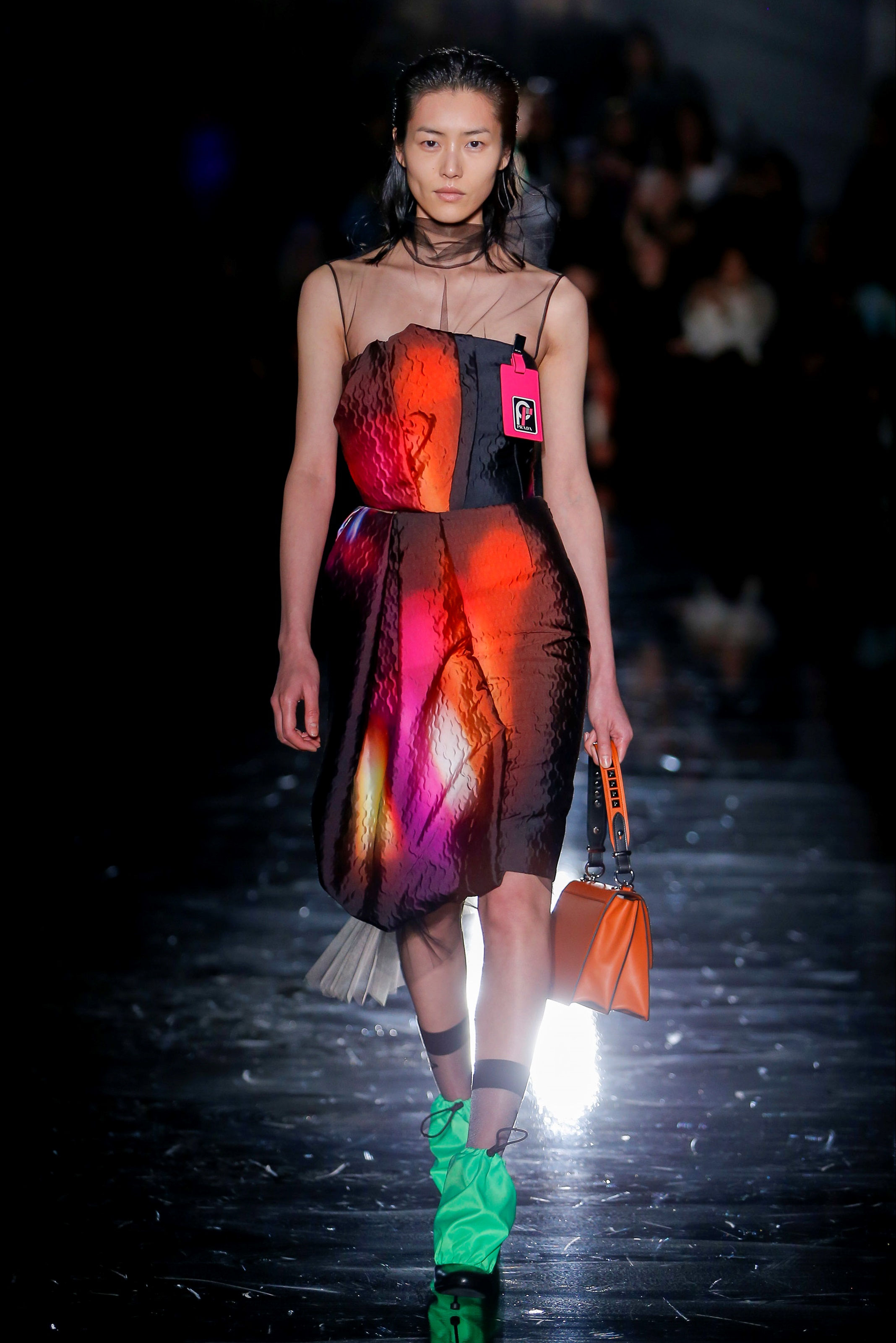 The very contemporary struggle between femininity and strenght takes center stage also at Prada. Miuccia sends models down the catwalk wearing pretty tulle dresses tied with organza bows and armoured with bustiers. Fierce yet fragile, the Prada woman pairs utilitarian shearling gilets with legs dressed in black nylon socks with plastic ruches around the ankles, orange zippered top and trousers and pink nylon dresses with feathery fibres. Oversized padded technical garments are teamed with patterned slip dresses, wrap over skirts, fringed dresses, industrial materials are set against chiffon and sandals worn with sports socks.
Curiosity: Prada presented its collection in the tower of Fondazione Prada, a white concrete gallery tower that was first opened to the Public last April during Milan Design Week. It showcases a collection of contemporary art and includes a restaurant with a 160-square-metres rooftop terrace bar.
ERMANNO SCERVINO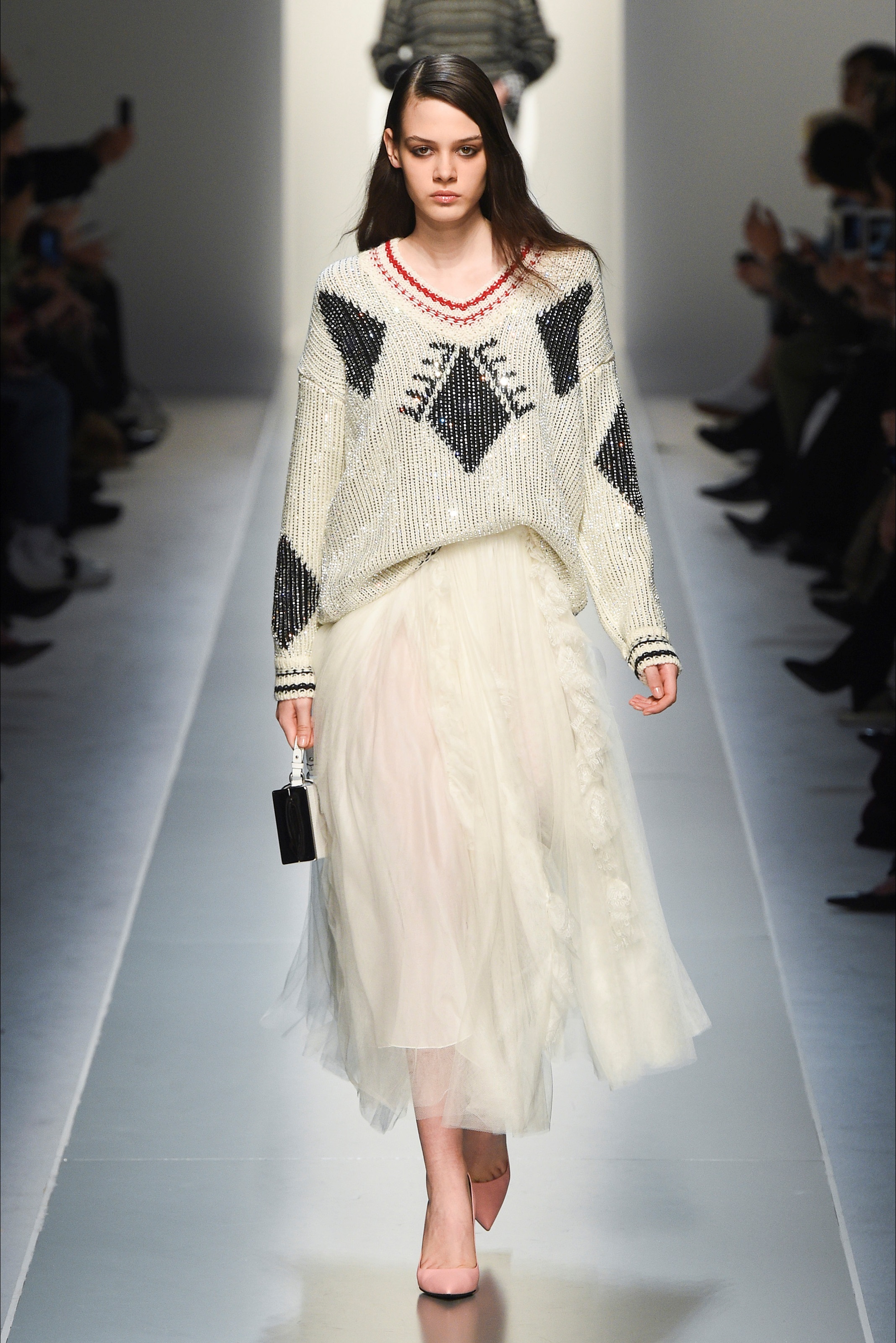 An Hyper-feminine and glamorous collection that opens with some(delicious) business outfits, oversized menswear shapes and tailoring and elongated, fox lined 1940s coats, worn with tone-sur-tone pencil skirts and pumps. Then it transitions to long chiffon dresses, princess gown with cascading ruffles and lace slipdress, full tulle skirts worn with sweaters. The colours are camel, white, grey, black, beige, baby pink.
SALVATORE FERRAGAMO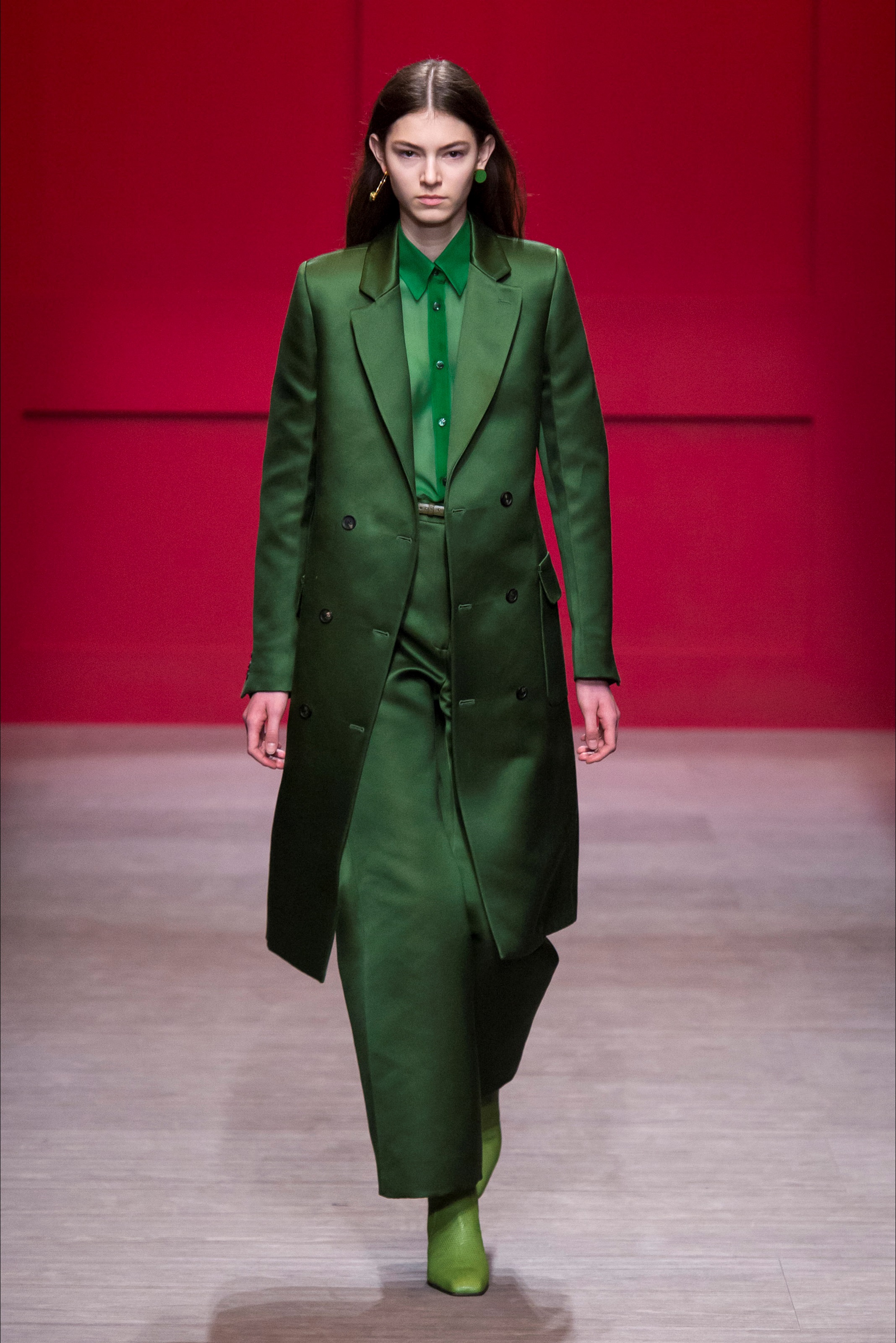 Paul Andrew debuts on Salvatore Ferragamo's catwalk with a vibrant collection, with fluid minimal lines and a spectacularly rich colour palette. The British-born creative director, who was hired to design shoes, but is now in charge of womenswear too, suceeded in giving the brand coherence, freshness and modernity. Strong outerwear, like the long leather poncho, the enveloping macs, the satin coats and the big suede dusters are worn with slouchy knee-high boots. The colour palette ranges among beige, grey, vivid blue, burgundy, vermillion, deep green, buttery yellow, and was inspired by the shades of Ferragamo's iconic rainbow wedge.
MAX MARA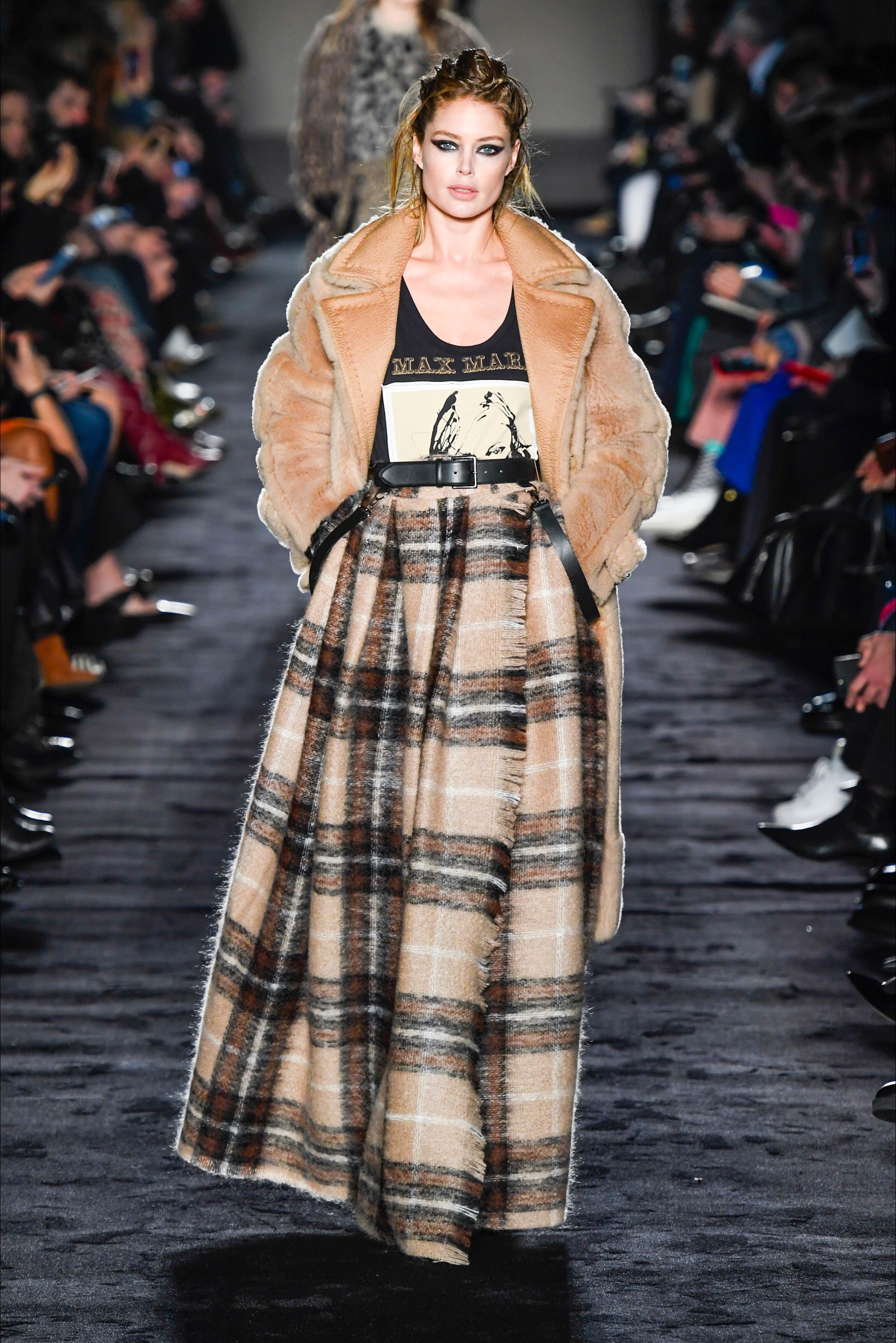 Ian Griffiths'collection nods at the mannish dress codes adpted by women in the Eighties, taking inspiration by Max Mara archives, but adding a bit of his punk heritage (Griffith himself was a punk 30 years ago). For Fall/Winter 2018/19 the Max Mara woman wears T-shirt featuring illustrations by François Berthoud, large coats with fringe trimming, kilts and leather straps, long skirts, coats encrusted with sequins and black leather pants, skirts and gloves. Whenever a masculine element appears, Griffiths feminises it with a punk-chic vibe: a ruched second skin dress worn over tapered trousers, sartorial coats in palpable textures paired with full floor-length skirts or nappa shirts teamed with slim pants.
MAN
Mixing tartan, plaids, patterns, stripes and bold graphics is all the craze for Autumn/Winter 2018/2019. Pair them with extra large shoulders, padding, sheepskin coat, firemen jackets and a lot of layering, to protect yourself from the cold and from the outside world. Another stand-out trend is sportswear (yes, again!), but reinterpreted in an urban, chichest way, with five-star fabrics, for a very modern look. The designer also took once again inspiration from the street and went loud with logos, infusing their collection with a Nineties, bling bling vibe.
GIORGIO ARMANI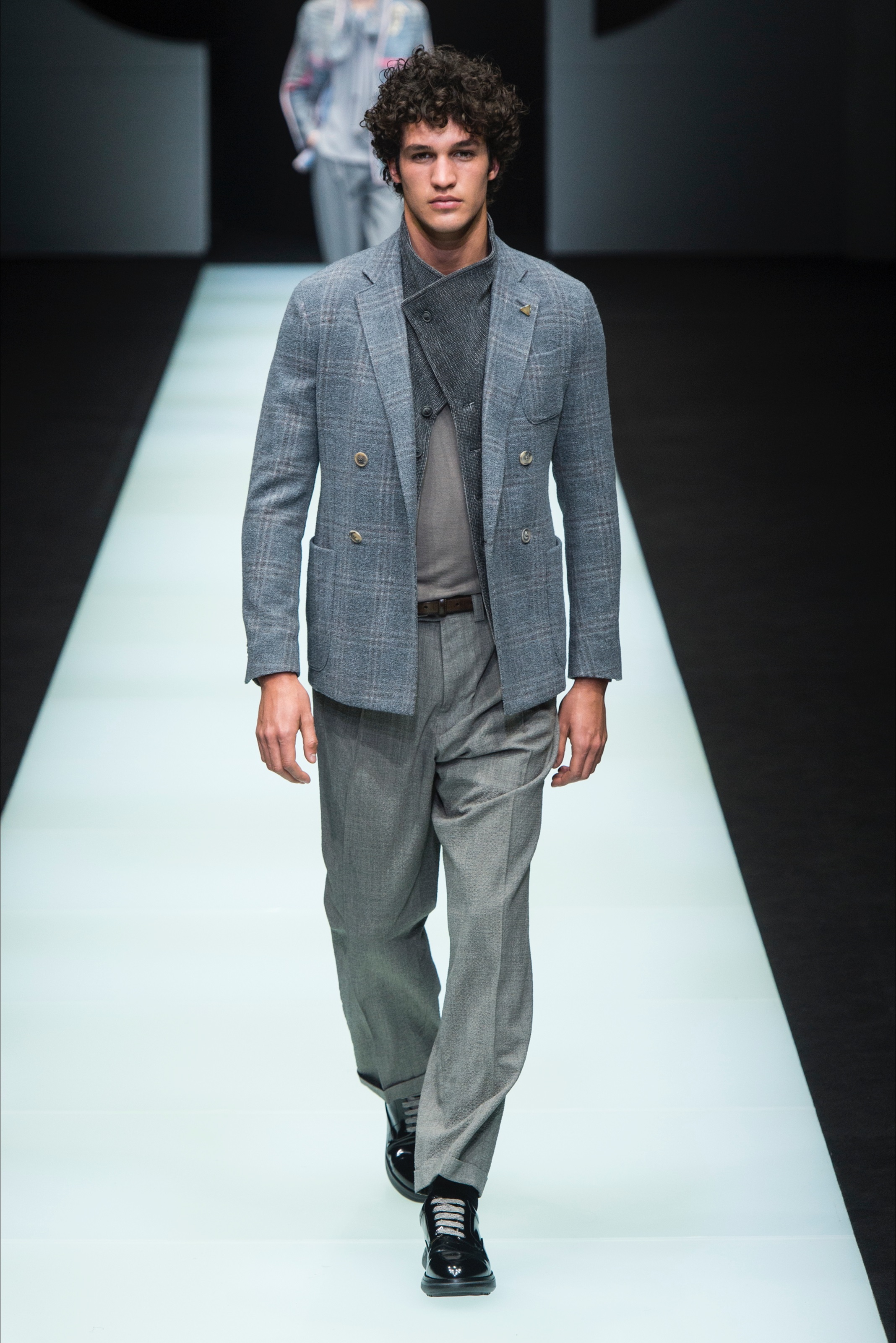 The classic double-breasted suits, one of the leading trend of this autumn season, was one of the leitmotiv also on Giorgio Armani's catwalk. He sent out a navy, double-breasted coat with eight buttons and leather patches at the shoulder and double-breasted jackets, sometimes in deconstructed cashmere, sometimes in unusual fabrics, including a flocked check. Then came the aviator like longhair shearling coats and wool bomber with baggy combat pants tucked into combat boots, corduroy trousers and velvet coats. In the evening the Armani man wears velvet suits in blue, black or deep green with a satin sort of shawl that looks slightly like a cravat.
DSQUARED2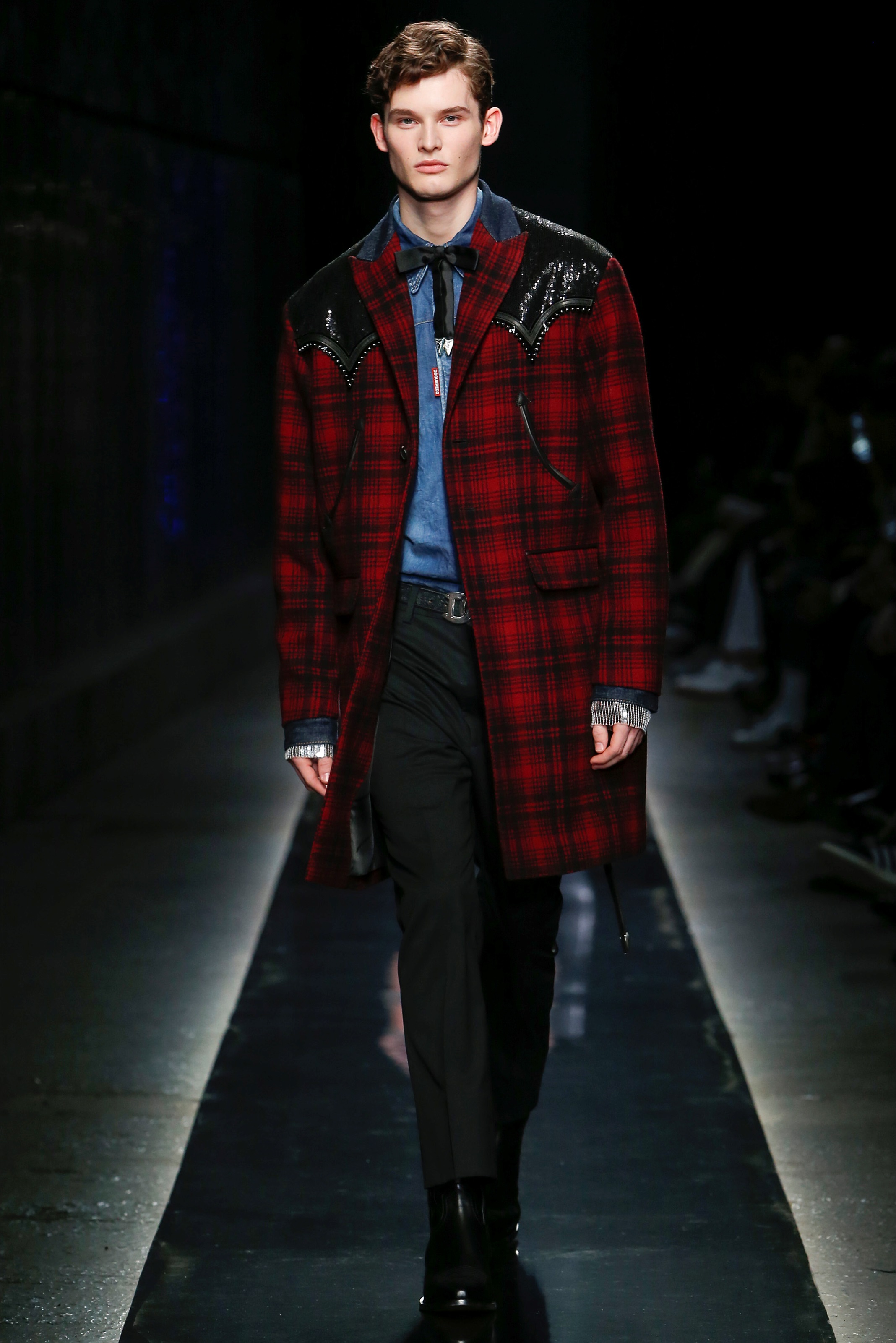 Western is one of Dean and Dan Caten favourite source of inspiration, and they reworked it also for Autumn 2018. A glamorous rodeo show in which male and female models walked the catwalk wearing plaid cowboy shirts with floral embroideries or embellished with pony skin inserts, leather pants with fringes and the twins's signature five pocket jeans, declined in various versions. Dsquared2's craftsmanship resulted in the shearlings, including a double-breasted coat and an aviator jacket, the plaid coats trimmed with fur, the military-inspired jackets, rhinestone jackets, and sequined sleeve inserts.
FENDI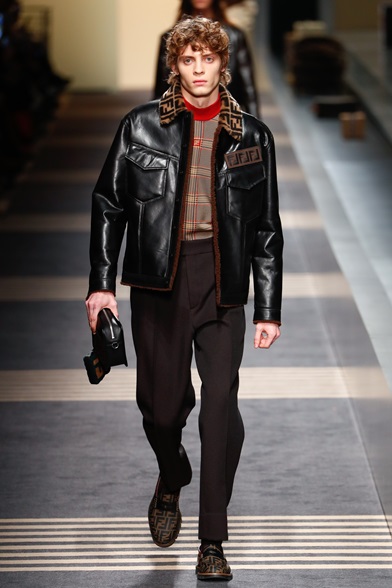 Fendi show for Autumn /Winter 2018/199 was witty and fun, a mix of sport, street and heritage. Silvia Venturini Fendi's high-end frequent flyer wears logo fur blousons, shearlings, long fur coats with stripes, brimmed hat and transparent macs. She sent out a lot of shearling and mink, striped leather track jackets, cagoules, and intarsia fur coats worn over baby cords and technical- sneakers. The pallette ranges from brown and cream stripes, beige, baby pink and a lot of gray.
Curiosity: for the third time in a row, Fendi collaborates with an artist. This season it's Hey Reilly's turn. Silvia Venturini Fendi found him on Instagram and his prints appeared on shearling, T-shirts, technicalwear and on very cool umbrellas/hats.
ERMENEGILDO ZEGNA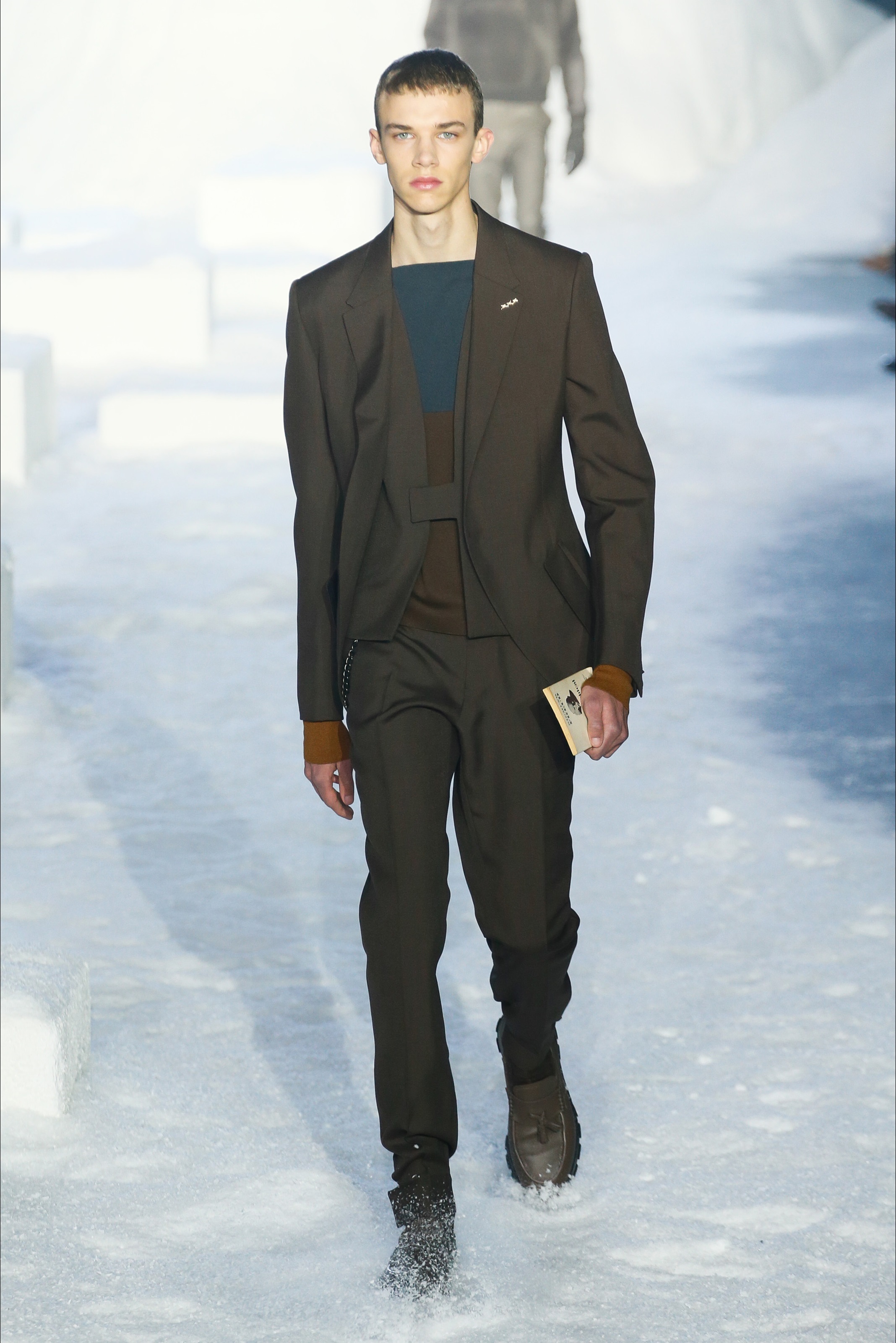 Alessandro Sartori revisits Ermenegildo Zegna's heritage trough new technologies and concepts, with a striking, very elegant and clean result. He introduces a new fabric called Oasi Cashmere, whose dyes were all chemical-free and derived from flowers, herbs, wood, leaves and roots. The collection, that was inspired by Oasi Zegna, the family's alpine nature reserve, featured shaved black shearling blousons, camel cashmere blousons, knits, sharply tailored topcoats, mountaineering capes, jacquard coats and jackets in a geometric motif based on bird footprints in snow.
Curiosity: Zegna's show was set within the austere hall of Bocconi University's new brutalist building a project by Dublin-based Grafton Architects that houses the offices of the entire faculty and the new aula magna, seminar rooms, a spacious foyer, and an exhibition area.
DOLCE & GABBANA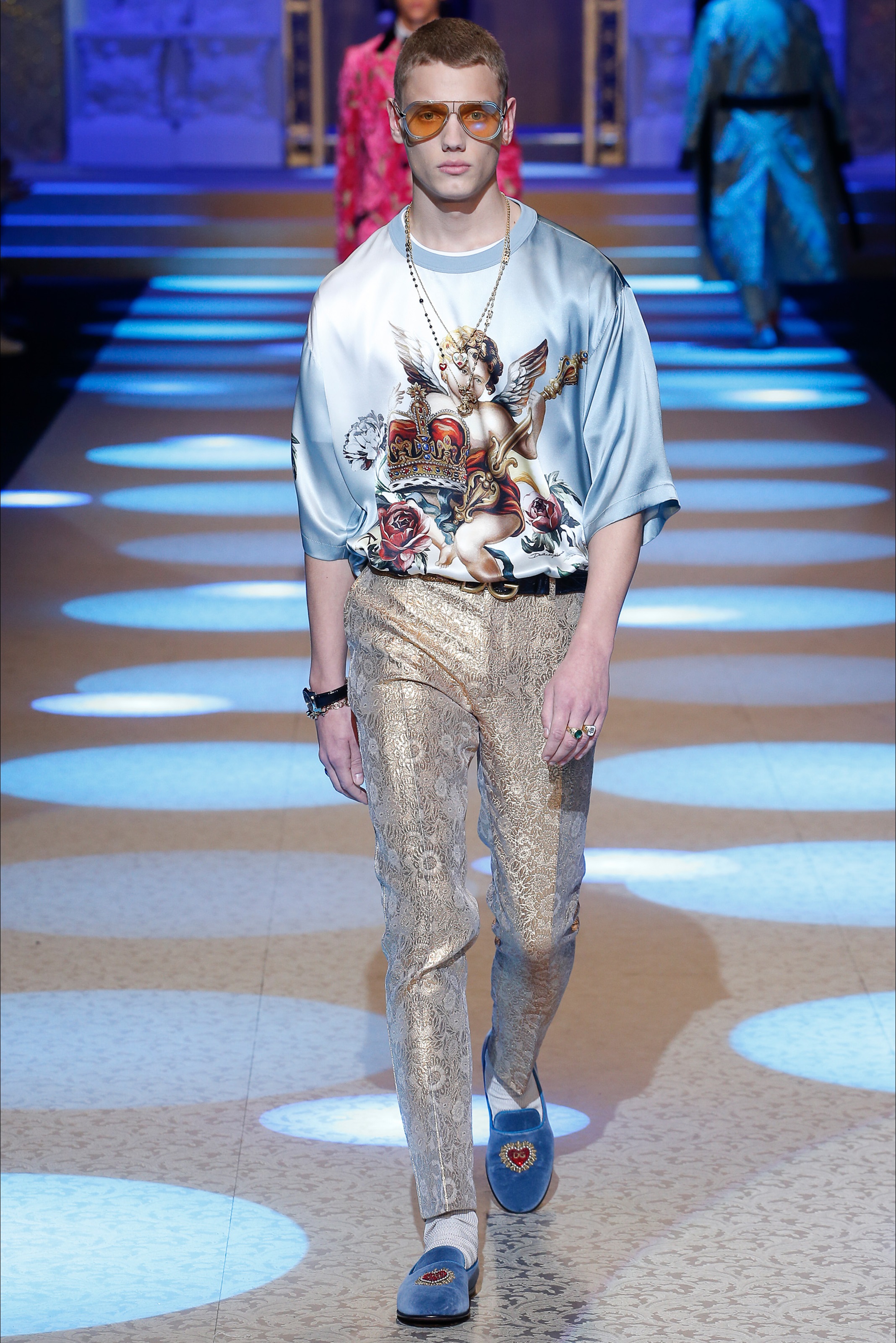 Dolce & Gabbana's autumn 2018 runway show was maximalist, opulent, utterly extravagant and teaming with young up-and-coming talent, as usual. The models, and the young celebrities, like Christian Combs, Austin Mahone and Cameron Dallas, walked the catwalk wearing a series of gold-brocaded tailcoats, slim trousers, velvet embroidered logo loafers, purple and red robe coat over track pants or slim striped pants. A red brocade suit was worn under an overcoat a made of ripped-up and patched denim jeans, a floral bomber jacket was decorated with golden angel, while sequined shorts and pants were paired with collegiate oversize embroidered sweatshirts.
PRADA
A collection full of past references, where one of Prada favourite material, nylon, plays the central role. "I am in love with black nylon. I can't have enough at the moment," declared Miuccia. There are black pocone (a special kind of nylon) padded vests, jackets, shorts, coats, loose pants and skirts, worn with Chelsea boots. Then came the voluminous, painted patch-pocket overcoats and the workwear-style leather jackets, the bucket hats, padded shirts and shorts printed with flames, lipstick or bananas, and in the end, some minimalist sportswear.
EMPORIO ARMANI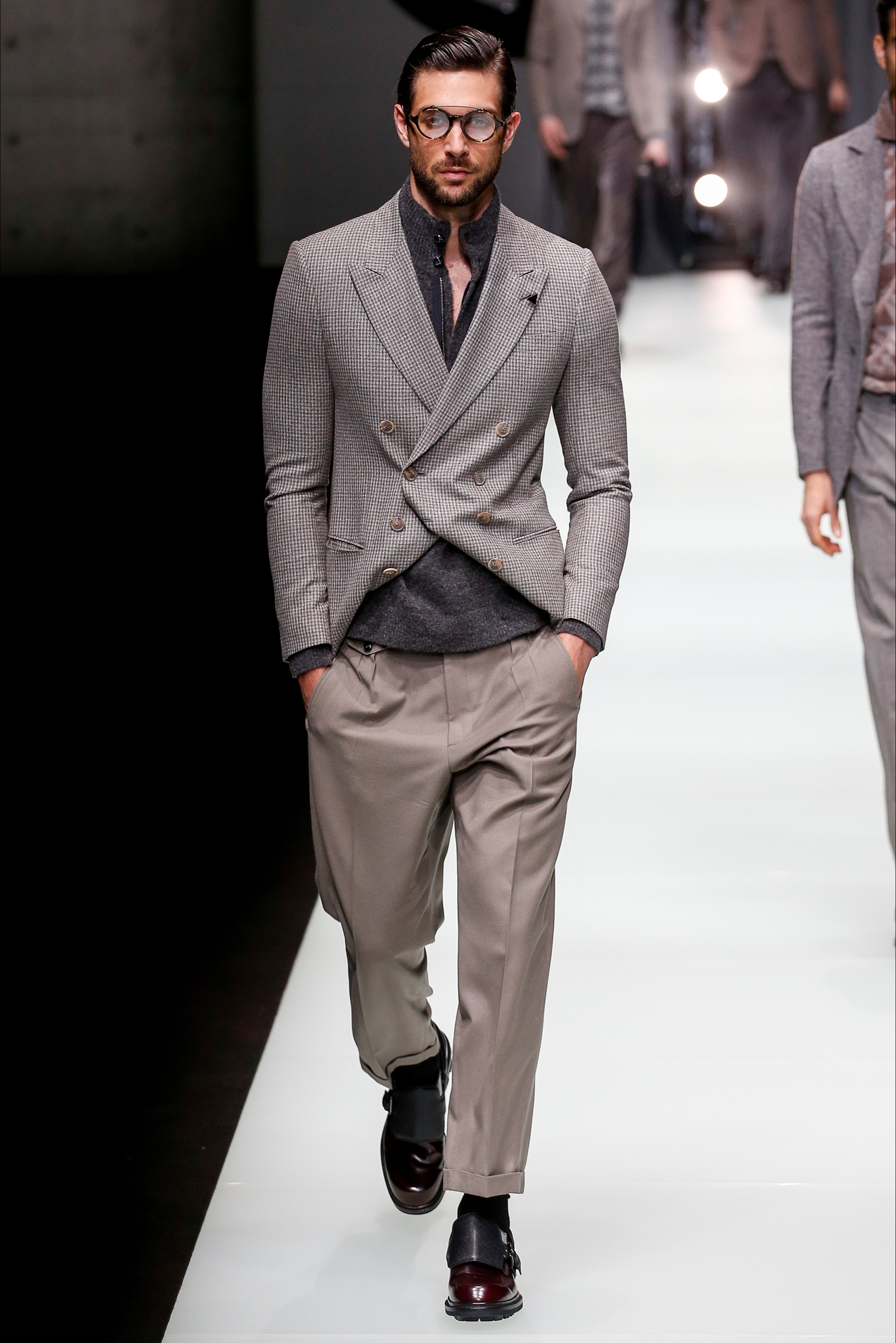 A precious urban collection, with a sporty but also sophisticated vibe. Very slim silhouettes, tight suit jackets with sglithly short, croed sleeves and very fitted trousers with little turned-up cuffs that showed the ankles were worn with draped and layered outerwear. There were very elegant shiny and smooth fabrics, jacquard patterns, black shiny sheepskin coats, minimal bomber jackets and sharply cut city coat, a dark blue military coat with a leather belt and a lovely midnight blue velvet topcoat, all exahling the tipical Armani charm.
VERSACE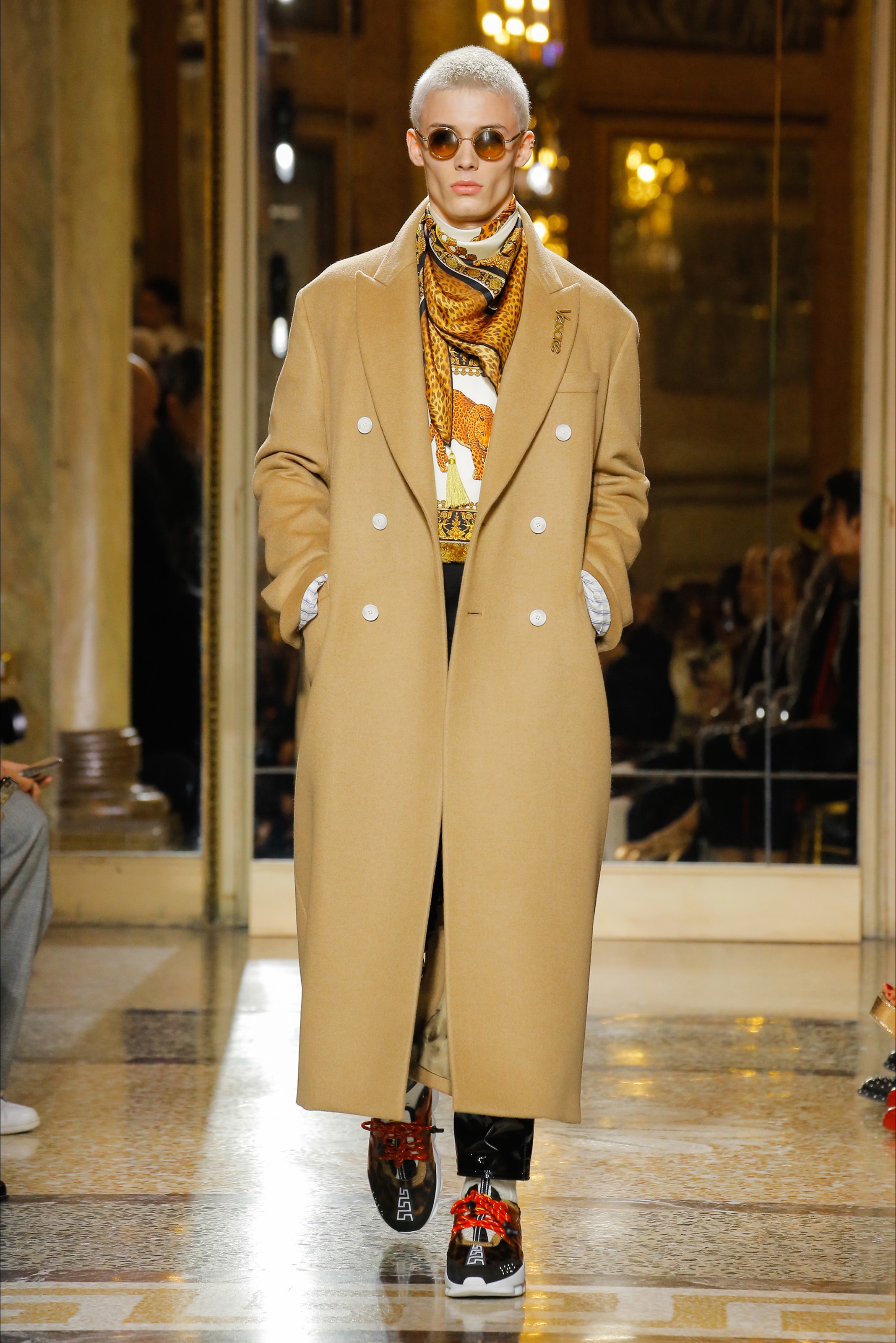 A vibrant, post-modern mix of steet style, punkish collegiate, with a touch of Versace Home, the opulent homewares division of the brand. Thick, gold cushion fringes adorned jackets and sweatshirts, bracelets were fashioned from twisted cutlery, fabric tassels were swinging from bags and belt. The Versace man next winter will wear wide corduroy pants with tartan work shirts, jackets and coats, quilted shirts, tiger-stripe overcoats, turtlenecks and sweaters in fucsia, orange, and lime green under tailored striped suits.
MARNI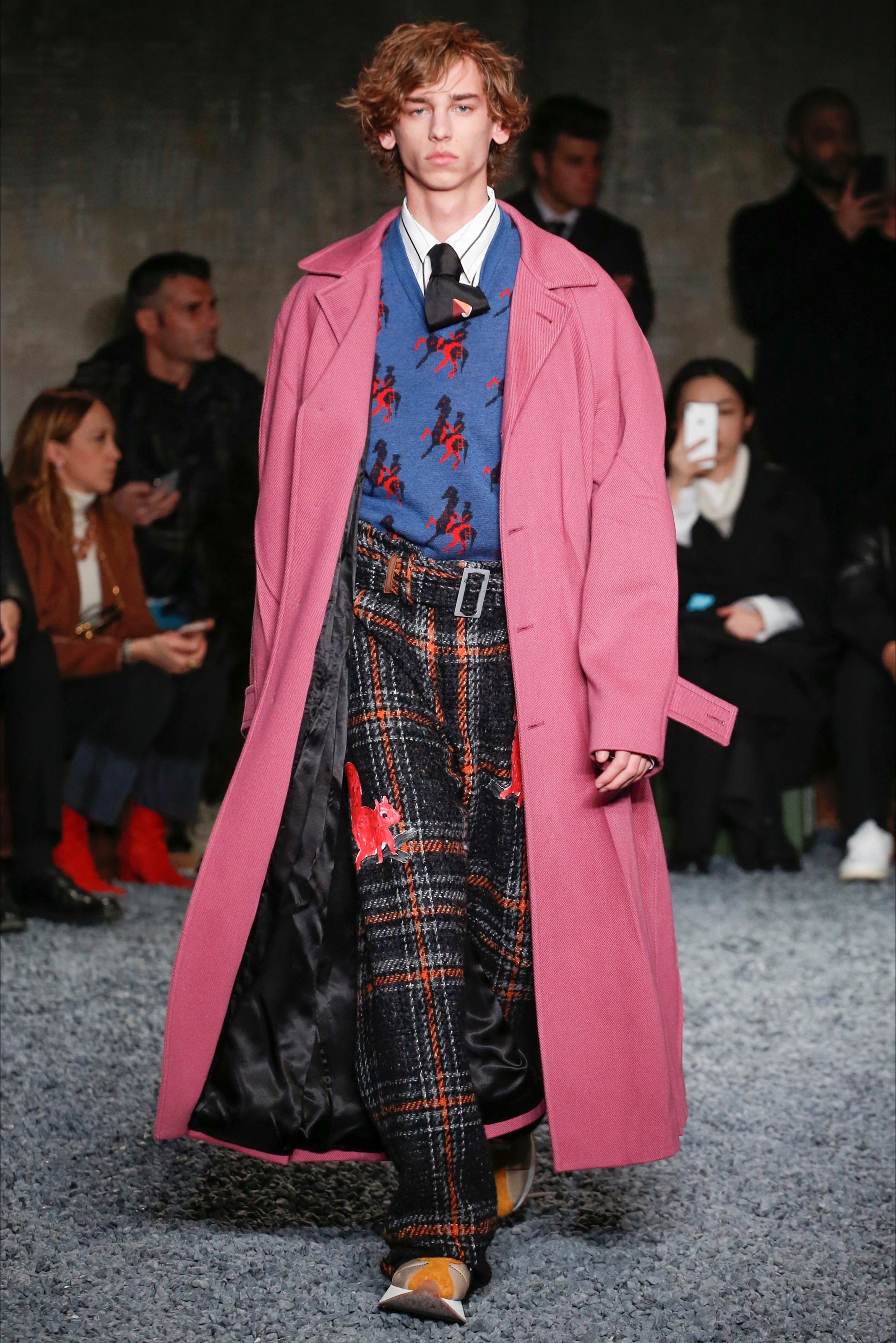 Francesco Risso's collection reflects a playfull and childish world, in which proportions seem to be completely wrong, trousers too large and shirts sleaves too long. He sent out suits with monkeys, musical instrument and chairs print, exaggerated duffel coats and blankets wrapped around the body, striped leg warmers worn with inflected sandals. There were sporty elements, like a series of nylon jumpsuits and pants but also a lot of artsy and craft aspects, like the gold and red jacquard fabrics inlaids, knitted sweaters and patchwork shearling. It was a visionary collection but actually all the outfits can easily get disassembled into combinations that feel more suitable for everyday life.