Scuola Sci Cristallo Cortina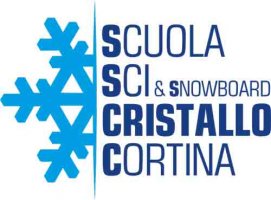 "Tailor-Made" snow holidays at the Cristallo Cortina ski school
The Cristallo Ski School in Cortina, founded in 1997, offers highly qualified ski and snowboard instructors, always up to date, who speak English, German, French, Russian, Spanish, and Portuguese and who follow customers on all ski slopes of Cortina and the Dolomiti Superski area.
Whether for a day, a weekend or a ski holiday, in the Dolomites of Ampezzo, UNESCO World Heritage Site, the Cristallo Ski School in Cortina offers the right solution for your needs: private ski lessons, special group ski courses, special beginner courses, full-day courses, guided ski tours, guided skiing day, freeride skiing, night skiing.
There is also the possibility to organize "Tailor-Made" snow holidays with a private instructor at your disposal for the whole day or half-day with free transport included.
Professionalism and courtesy characterize the ski school's instructors as well as attention to safety, especially of children, that learn in a fun environment where there is the opportunity to make new friends.
Scuola Sci Cristallo Cortina
Corso Italia, 210 - 32043 Cortina d'Ampezzo (BL) - IT
Tel: 0436.870073
Fax: 0436.879483