Pasticceria Mussner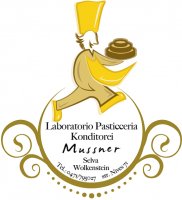 Sweet temptations from Val Gardena: a tradition that carries on
Living story of a "sweet" family business, now in its second generation, the Mussner pastry shop opened in 1970 by the master pastry chef Adolfo Mussner, is a point of reference in Selva for lovers of Val Gardena sweets.
Here you will find small pleasures to be enjoyed with all your senses that will make you enter a world of joy and traditions. What distinguishes the Mussner pastry shop, in fact, is the freshness of the products and the great care in the processing of local raw materials, which takes place in compliance with the artisan tradition.
Among buckwheat cake biscuits, apple strudel as well as a rich variety of gluten-free and lactose-free desserts, it is impossible not to indulge in a sin of gluttony... on the other hand the flavours of the past and the good things of the past have always their charm!
Pasticceria Mussner
Str. Nives, 71 - 39048 Selva di Val Gardena (BZ) - IT
Tel: +39 0471 795027