Scuola Grande San Giovanni Evangelista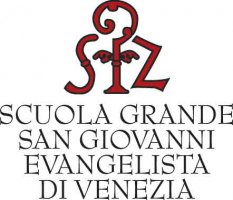 A secular confraternity in Venice
Scuola (school) is a term typically Venetian which identifies a secular confraternity that, is inspired by the principles of christian charity, dedicating itself to social work.
Among all "Scuola Grande" still in existence, the "Scuola Grande di San Giovanni Evangelista" is the most ancient.
The school building complex, of great artistic value, is the result of a series of alternating architectural and decorative interventions, starting from a first building of the middle XIV century, it gradually expanded with the economic importance of the brotherhood.
In the second half of the XV century, the marble septum by Pietro Lombardo was realised a sizeable architectural composition a masterpiece of Venetian Renaissance sculpture, inside the superb great double flight staircase (1498) is an extraordinary example of the style of Mauro Codussi, a true architectural masterpiece of the Scuola Grande San Giovanni Evangelista.
The Scuola Grande San Giovanni Evangelista, is committed to establishing their glorious headquarters as a meeting place of great significance both cultural and social, it hosts conventions, gala evenings, art exhibitions and other significant events, succeeding to place itself at a truly prestigious level and at the same time able to require the means for restoration and conservation of its monumental complex.
To visit the Scuola Grande San Giovanni Evangelista it is advisable to consult its calendar on the web site.
Scuola Grande San Giovanni Evangelista
San Polo 2454 - 30125 Venezia (VE) - IT
Tel: +39 041.718234