Uainot Shop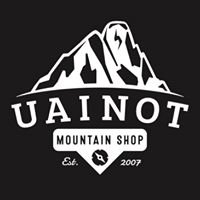 Uainot, the best for skiing and snowboarding in Cervinia
Located in Via Carrel, Uainot, formerly a small skate board shop, is now a snowboarding and sports shop that has become, over the years, a true benchmark store in winter sports like in its sector in Cervinia.
The company owes its beginnings in 2007 from the sporting passion of Marco who moved from the sea to the mountain to realise his idea. In 2013, to satisfy all kind of customers Uainot doubled, buying one of the oldest famous shop in Cervinia (The Pellissier.)
In both the Uainot shops you can find the best brands of clothing and equipment for skiing and snowboarding in Cervinia, always supported by Marco and his Swedish girlfriend Cecilia, manager of the former Pellissier.
The watchwords at Uainot are friendship and passion for nature; the owners are waiting for you for a chat or to spend some time with friends.
Follow Uainot Shop on Facebook: @UainotCerviniaSnowboard&Sportsshop
Uainot Shop
Via Jean Antoine Carrell, 10 e 24 - 11021 Breuil Cervinia (AO) - IT
Tel: +39 0166.940231