Fashion Spring/Summer 2018
WOMAN
One of the biggest Spring/Summer 2018 trend is the Nineties revival: supermodels, bustier, animal prints and slip dresses are back to stay, as stated by Alberta Ferretti, Dolce & Gabbana, Ermanno Scervino and Versace. Dark denim is another style headliner this season: jackets, trousers, skirts and suits took centre stage at Fendi, Versace and Max Mara, for a very down-to-earth, everyday elegance. The trench coat will also be very strong: updated, deconstructed or tailored at Max Mara, Fendi, and Roberto Cavalli. Get frivolous and embrace the Fifties vibe, as suggested on Prada, Gucci and Max Mara catwalks, where pencil skirts are worn with kitten heels and socks.
ALBERTA FERRETTI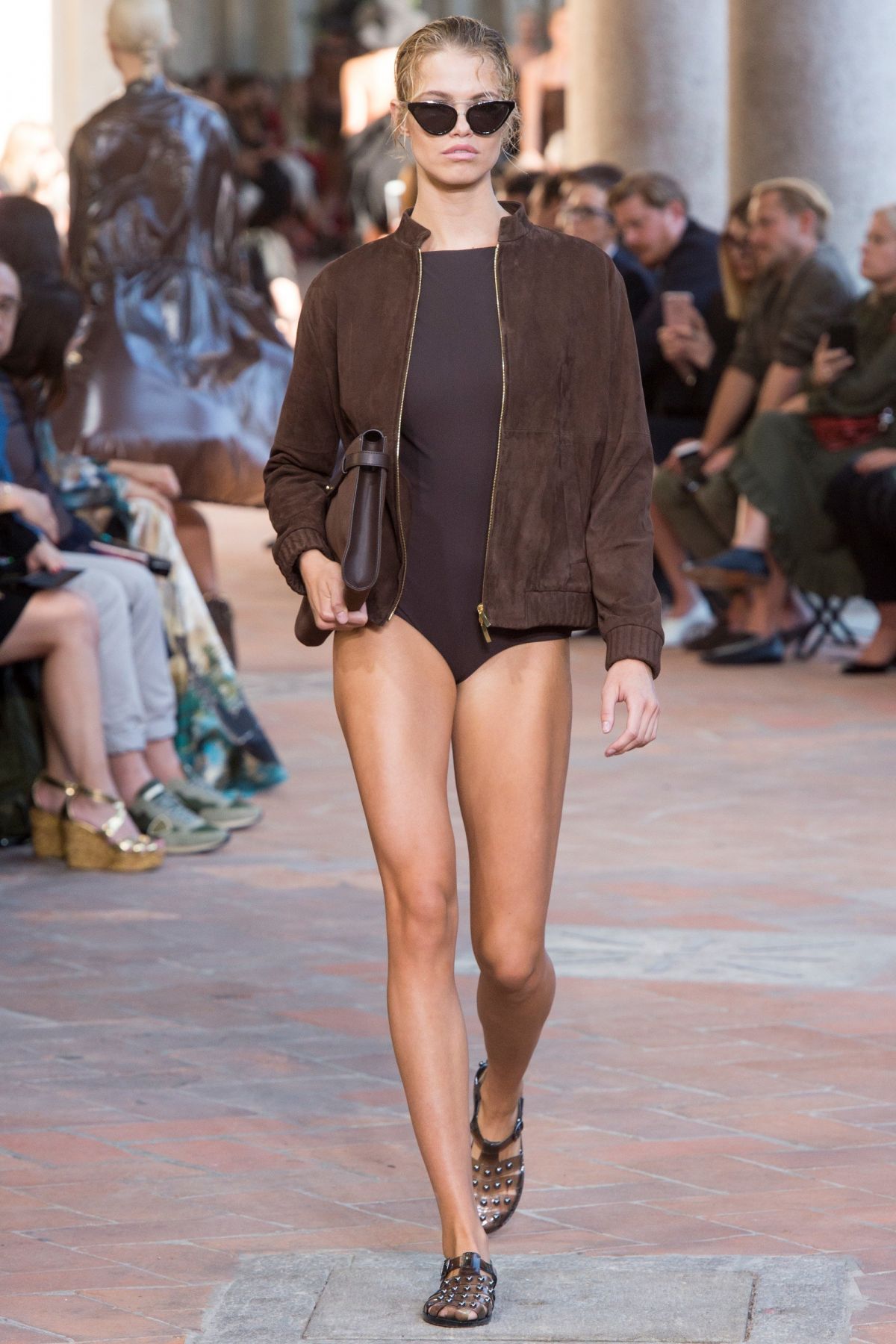 Very feminine, light and sensual, Alberta Ferretti's catwalk reinterprets the classics women wardrobe in a sophisticated and glamorous version. One-piece swimsuits are worn under men oversized shirts, jackets get elongated and floathy dresses are covered in feathers, crystals and sequins. As previously seen on London and New York catwalks, the Nineties are definitely back to stay.
Curiosity: the show was held in the baroque cloisters of Rotonda della Besana, a former cemetery now used as a leisure area and a venue for cultural events.
DOLCE & GABBANA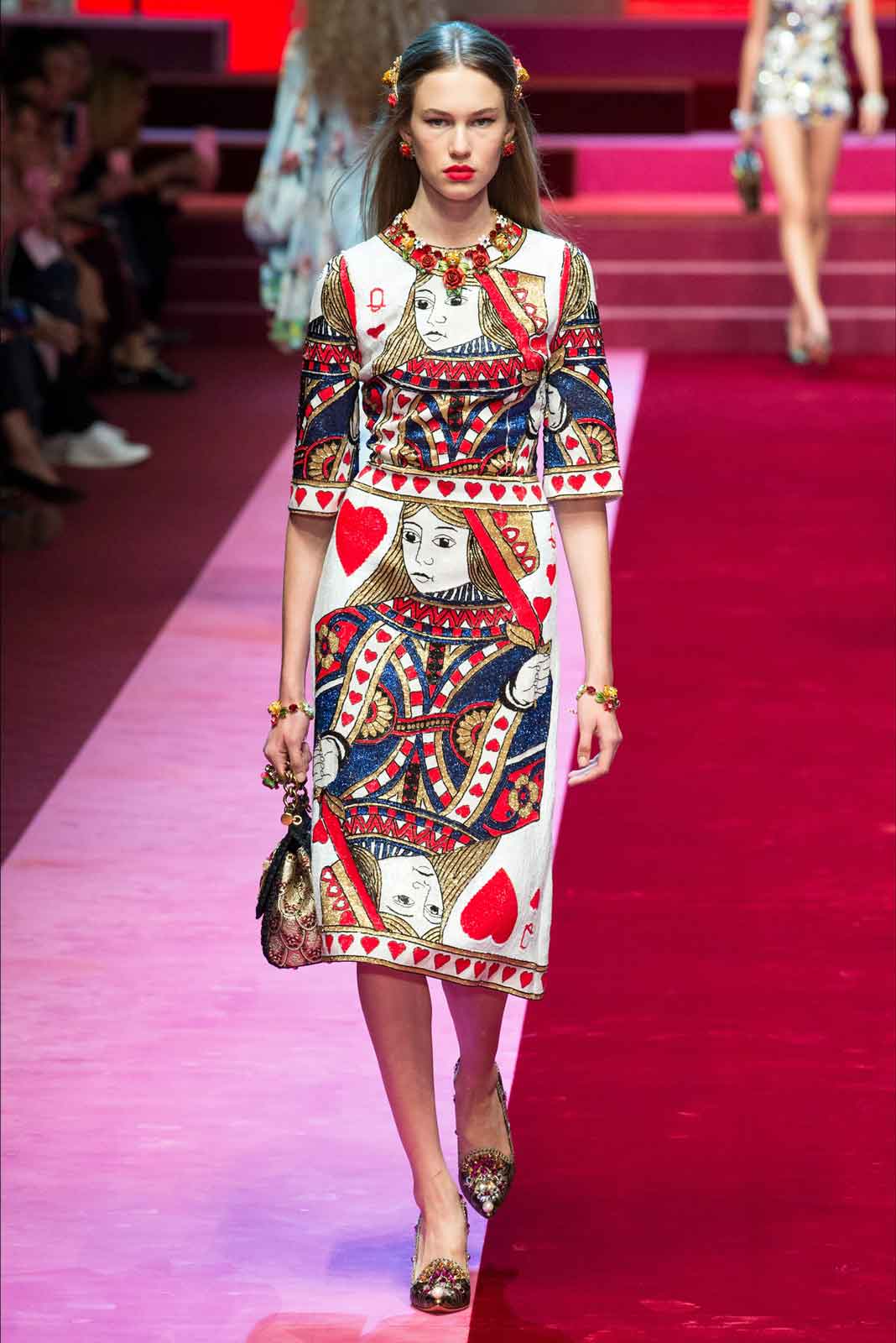 And the Nineties mood also dominated the Dolce & Gabbana show. The duo's signature bustiers and guêpière dresses, striped suits, black underwear and printed mini dresses opened and closed the show. In between there were dresses featuring game cards, fruits and vegetables, flowers, mosaics, pop art, religious figures, biscuits and roses. Also, the jewellery was in the shapes of fruits and vegetables: aubergine and tangerine charm earrings matched with glasses adorned by gemstones, straw hats and slippers.
GUCCI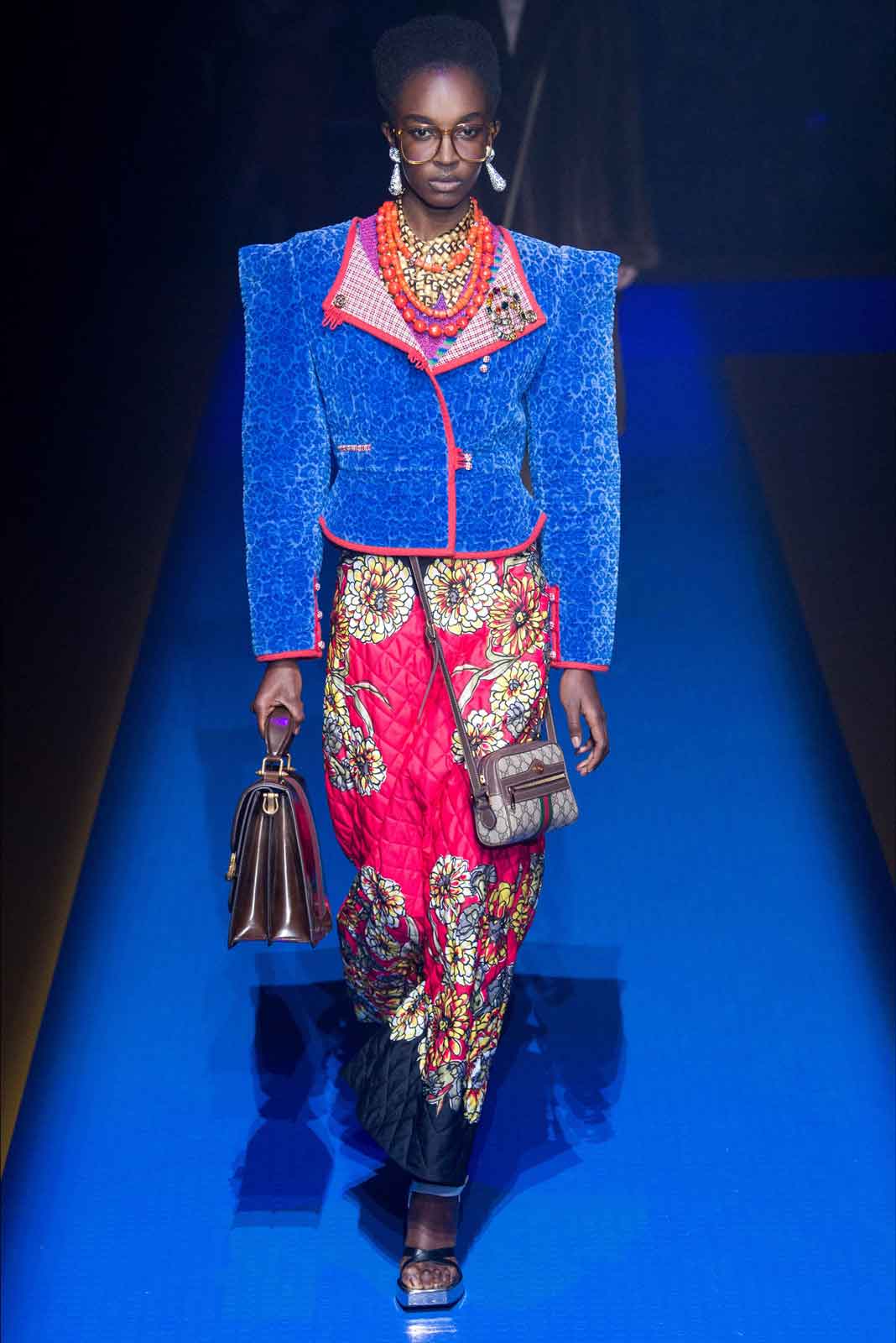 The spring/summer 2018 collection Alessandro Michele showed at the Gucci headquarter was a statement against homologation, conformism and immobility, with every look expressing an intellectual tension and a perfect coexistence of past and present. A kaleidoscopic mix of cultures, periods and style: sparkling garments celebrating the Seventies, logoed T-shirts and vintage-looking fur coat, long chiffon dresses encrusted with crystals, pieces inspired by the Aztec and Egyptian cultures, bejewelled racing jackets and Prince of Wales checked suits.
FENDI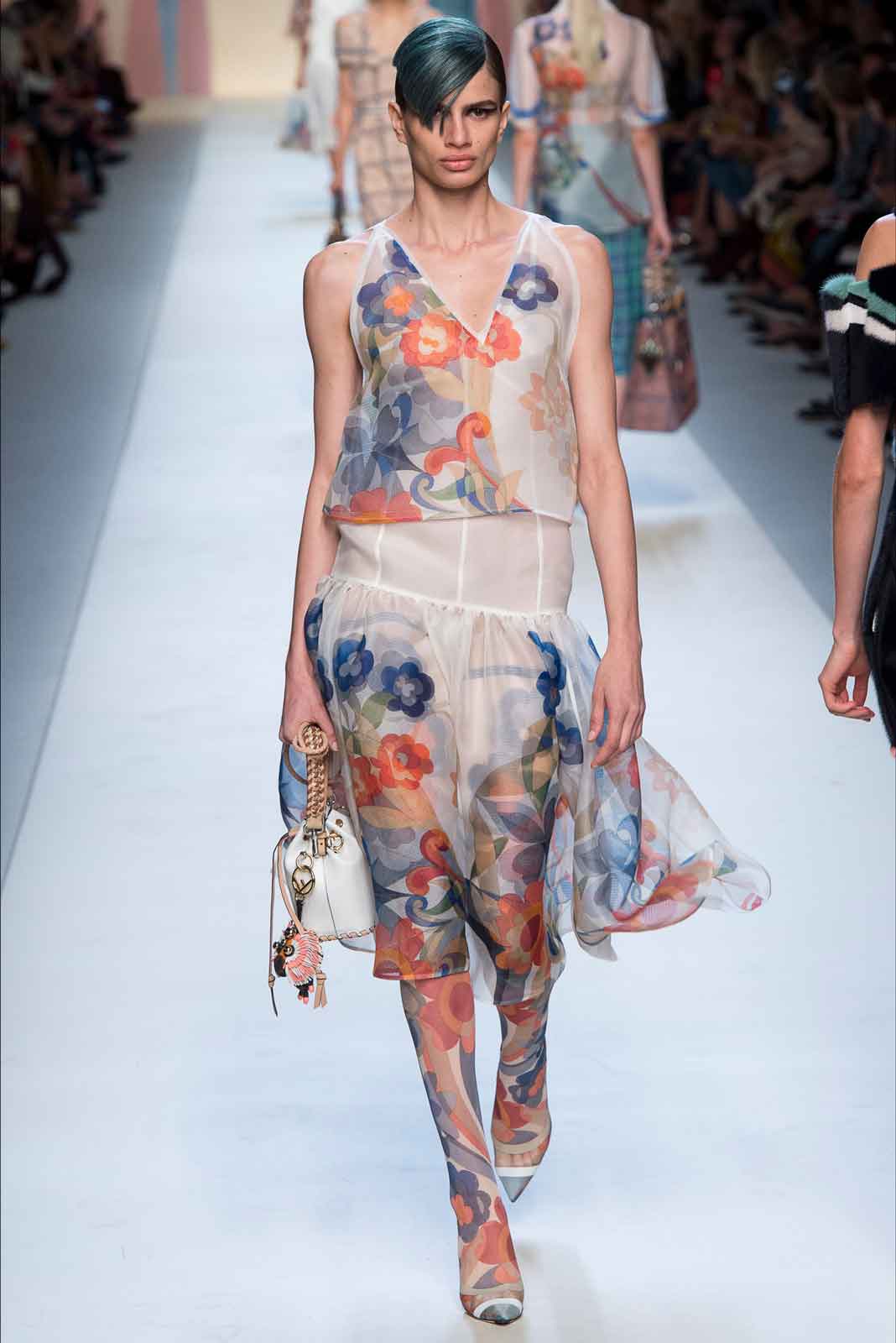 For its Spring /Summer 2018 collection Fendi mixes Italian futurism and Tropicana in a collection full of colours and energy, featuring materials found in nature and transformed by the artisans working for the Maison into something precious. Tropical details such as flower or palm trees are embroidered on the hems, Hawaiian shirts are made in organza instead of traditional cotton, while logos are turned into pop graffiti, bomber jackets are worn with patterned pencil skirts and ballerina flats are paired with striped socks. And what about the multi-coloured mink coat that will certainly be next season's best seller?
VERSACE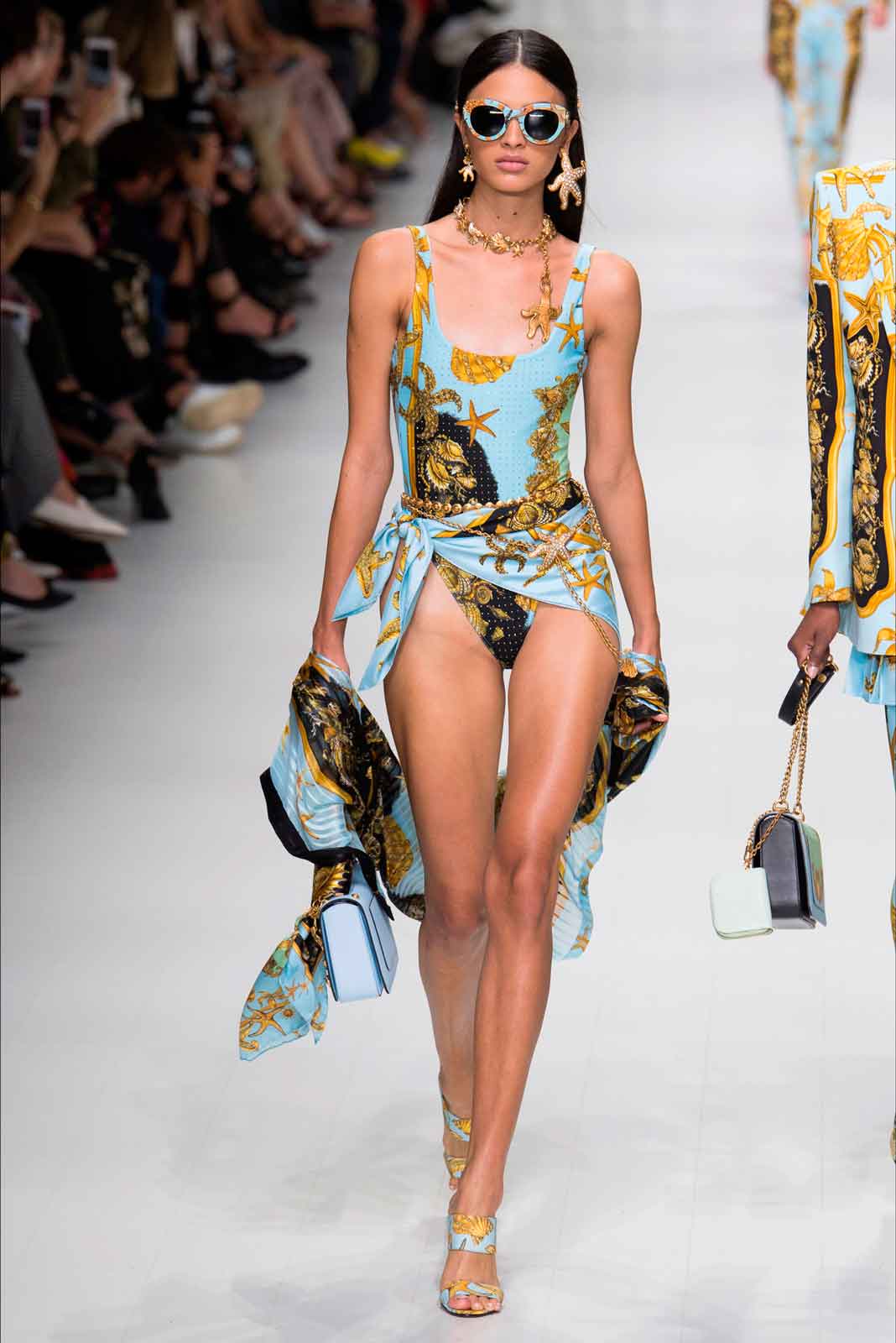 Donatella Versace paid tribute to his brother in the 20th anniversary of his tragic death with a Spring 2018 collection inspired by Gianni's iconic prints: baroque swirls, butterfly prints and pop art. She kept her brothers' signature shoulders, leggings and high-waisted jeans, but tried to make them a little more street-wise and confortable. The original Nineties supermodels, Carla Bruni, Helena Christensen, Naomi Campbell, Cindy Crawford and Claudia Schiffer, all wearing metal dresses, walked behind Donatella in a goosebumps-inducing finale.
Curiosity: Cindy Crawford's 16 years-old daughter, Kaia Gerber, also walked the show in a vibrant animalier print look.
PRADA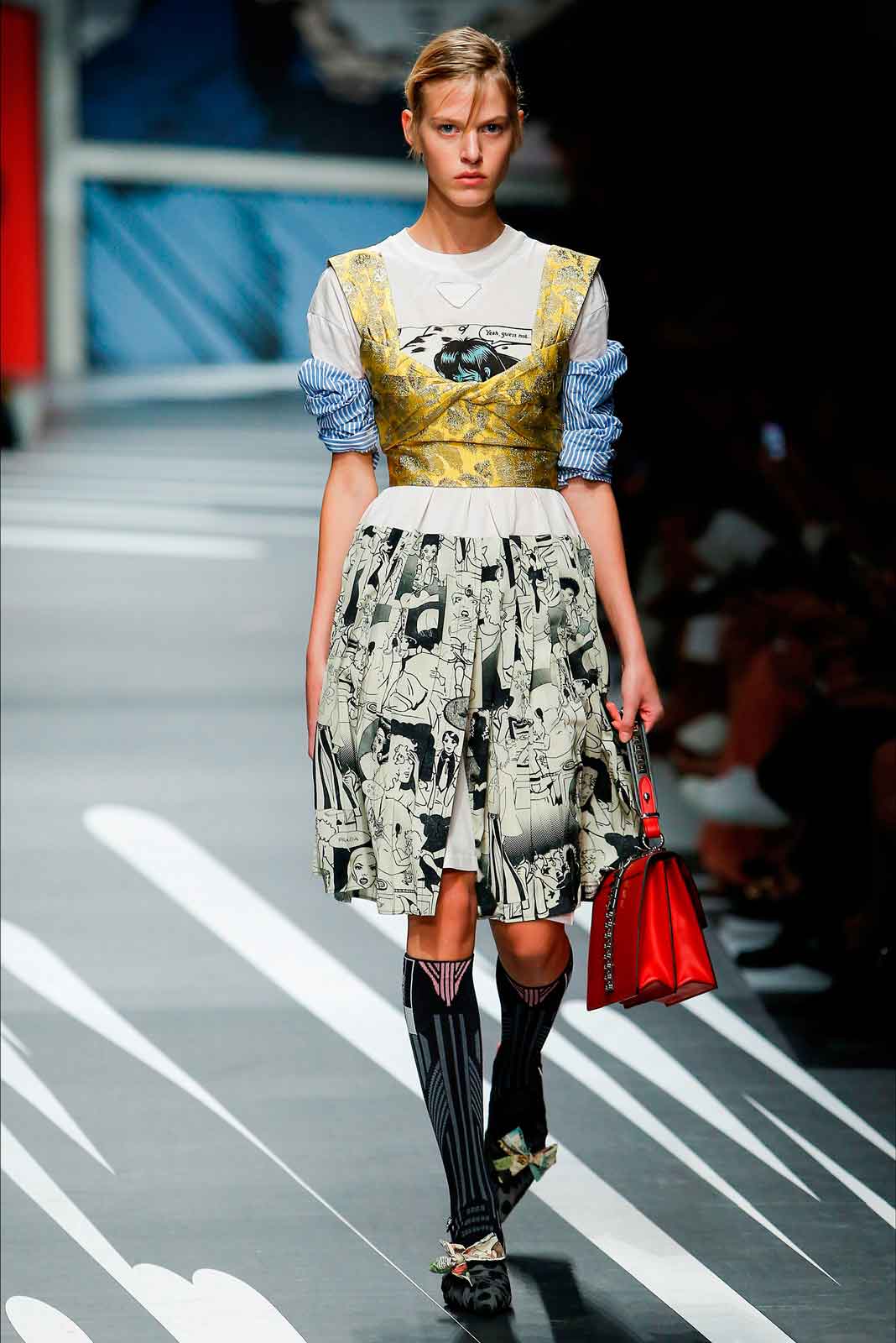 Miuccia Prada Spring/Summer 2018 collection was inspired by the heroines she had observed in comic books. The designer herself explained that it all started with white garments, later adorned with animals, women's heads, spiders, studs, pink brocade, tropical flowers, comic book drawnings, and Andy Warhol classics graphic designs. The Prada woman loves to wear double-breasted jackets, men's shirts, herringbone coats and blazers with rolled-up sleeves, without giving up girly skirts, bustier with bows and baby doll dresses.
ERMANNO SCERVINO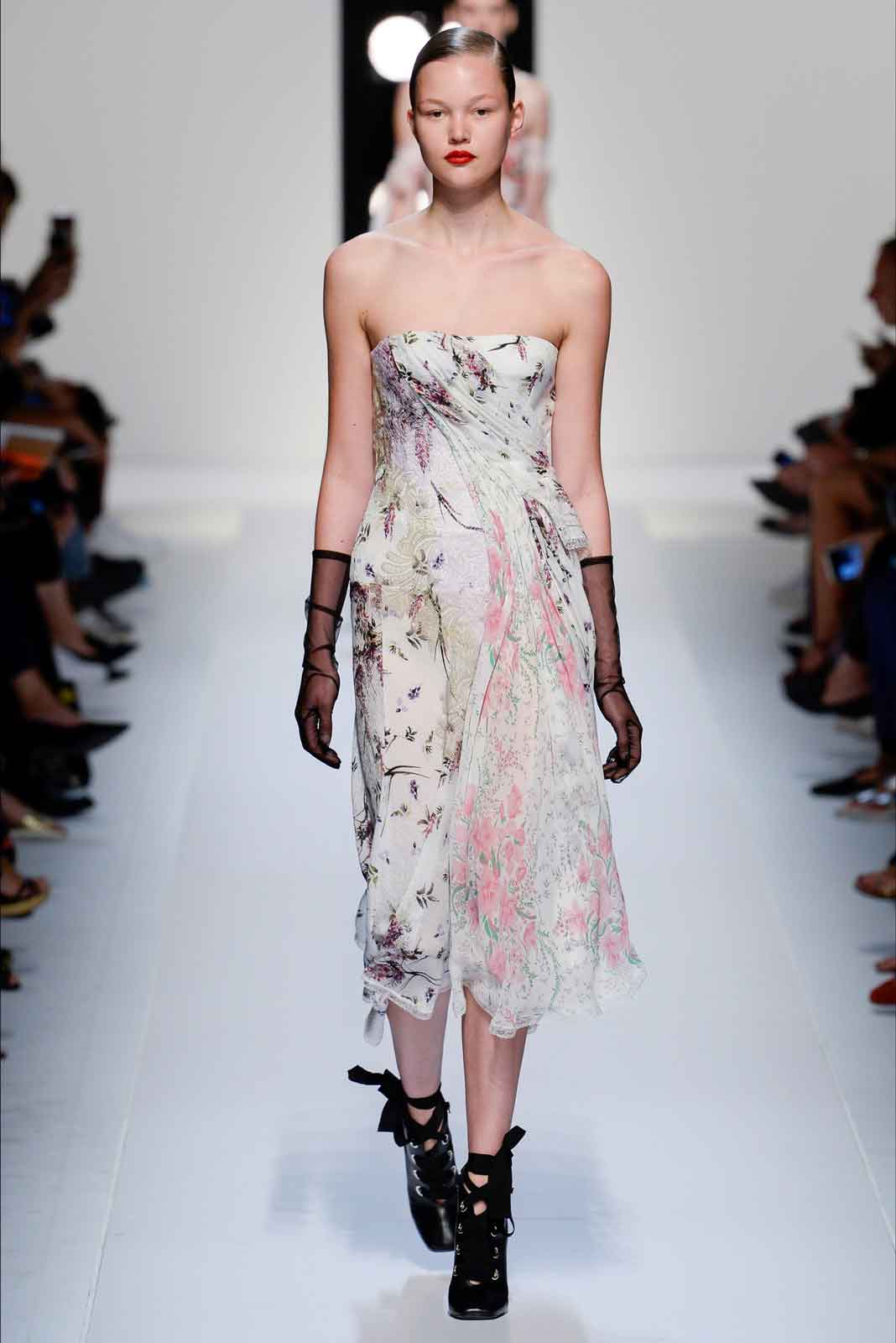 Basically a tribute to the satin slip dress, decorated with wisteria flowers and declined in pastel shades, the Ermanno Scervino Spring/ Summer 2018 collection is clearly made to seduce. A very fluid and feminine proposal, perfect for a refined Italian woman, where the flower dresses, the intricate lacework and the frothy tulle are spiced-up by impalpable see-through T-shirts and masculine jackets. Add to that ankle boots, small leather clutches, tulle gloves, and little belts clinching at the waist.
Curiosity: The show was held at Palazzo Serbelloni, a Neoclassical palace in Corso Venezia, partially destroyed during air raids in 1943 and reconstructed afterwards.
MISSONI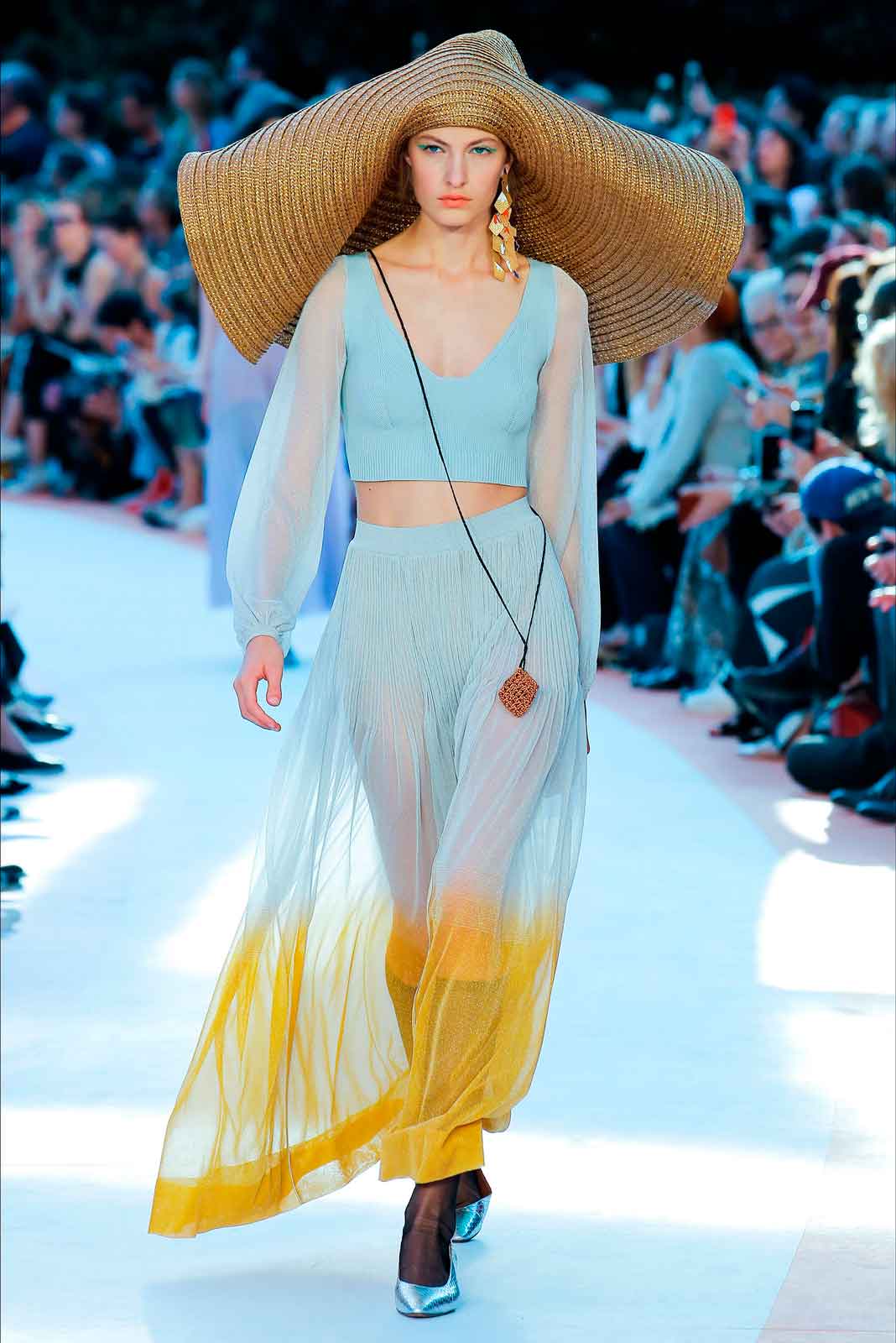 Angela Missoni unified her man and women collection in a vibrant and festive show celebrating her 20 years of creative direction at the helm of her family's company. A psychedelic takes on the Missoni patterns, where fluid dresses are paired with soft jumpers, sequinned capes and trousers alternate with knitted tracksuits and asymmetrical skirts. For the beach Missoni turned up the heat with glitzy swimsuits, a rhinestone bikini and a transparent mesh tunic encrusted with colourful gems.
Curiosity: The show was held under a translucent tent in organza and ripstop conceived by the artist Rachel Hayes that reportedly Angela Missoni found while scrolling Instagram.
ROBERTO CAVALLI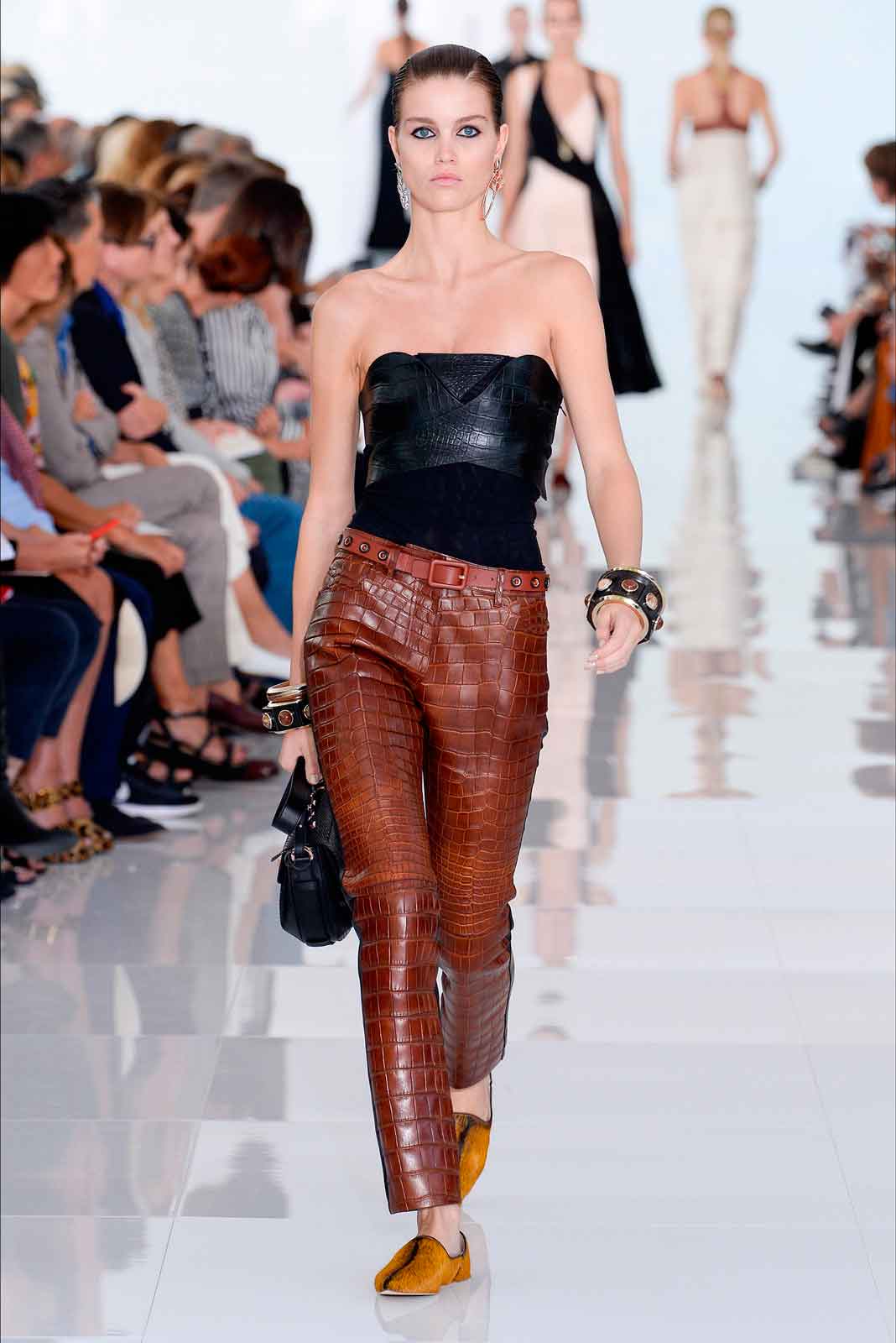 Paul Surridge debuted in his new role as Roberto Cavalli's creative director with a very corageous collection. The new Cavalli woman prefers to be comfortable rather than fabulous, sophisticated rather than flashy, slick rather than sultry. She remains strong and magnetic but much more modern and free to be herself and loves to mix animal prints with jumpsuits and stone-encrusted bustier, exotic skins, oversized trench coats, long embroidered dresses and Moroccan slippers.
MAX MARA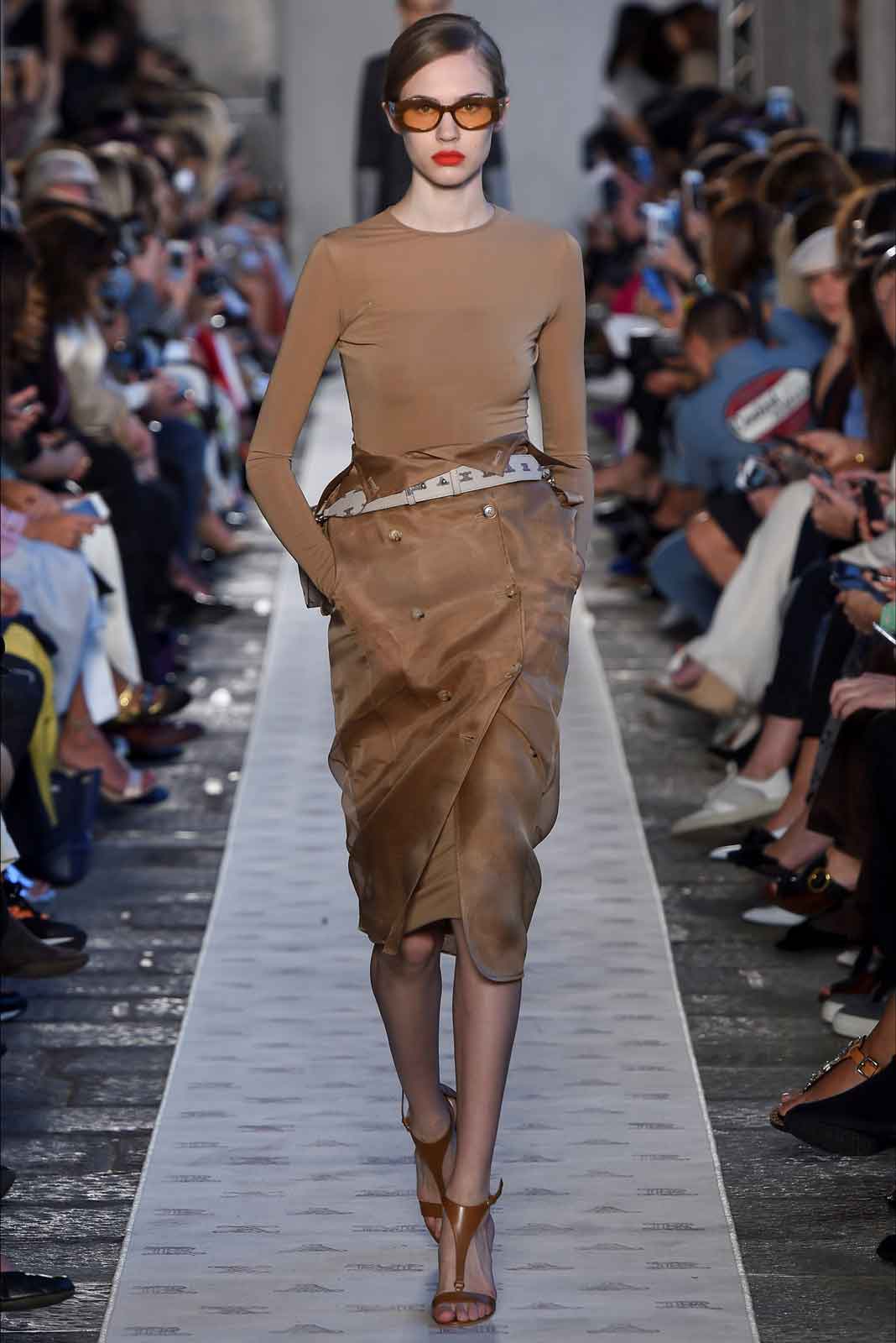 For Spring/Summer 2018, Max Mara proposed a functional, dynamic and urban wardrobe. Denim is given a sophisticated twist and proposed in a very dark shade while delicate floral prints and discreet logos (which were splashed across the runway carpet) adorn pencil skirts, trench coats and trouser suits. The colour palette runs from Max Mara's signature camel colour to pastels and then to black, always underlining the collection's urban attitude.
Curiosity: The venue of the show was Palazzo del Senato, a Baroque palace located in via Senato. Nowadays it serves as Archive of the State and as a venue for fashion shows. In front of the palace stands a statue by Joan Miró.
MAN
Another Milan fashion week has come to an end, giving us our first glimpse at the menswear fashion trend for Spring /Summer 2018. The designers have infused a large dose of sportswear into their collection, with huge logos and technical fabrics everywhere. So, trekking and mountain expeditions seem to be the new cool. Men's wardrobe will also be strongly influenced by the Nineties (everything is oversized and very streestyle) but also by the Eighties (pleated trousers and suspenders, pastel colours and boxy suit jackets). Talking about colours, pink will be big next season. Warm blush roses, pastel pink and bubble-gum shades are unavoidable, as seen on Fendi, Bottega Veneta and Ermenegido Zegna's catwalk.
GIORGIO ARMANI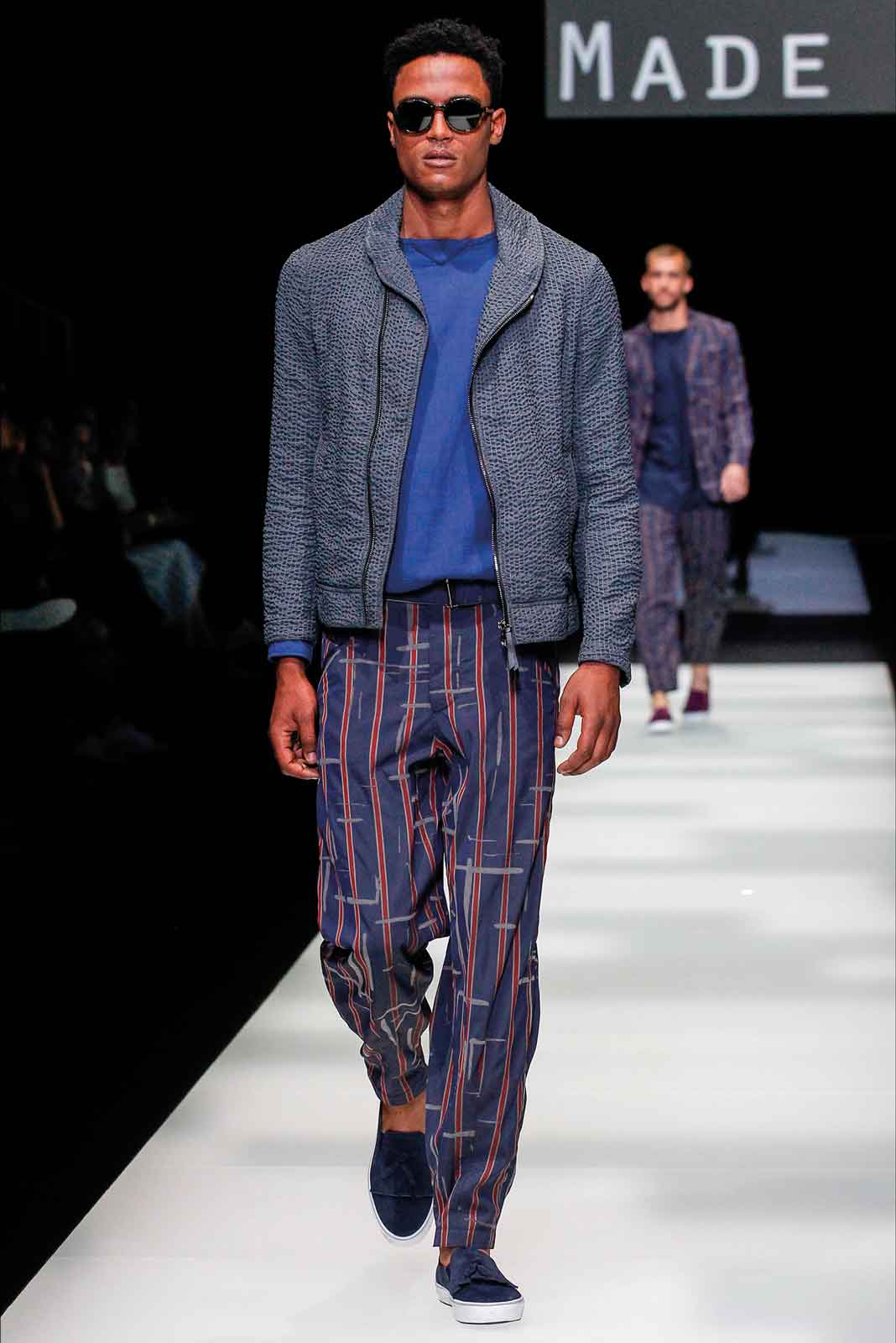 The Armani man is impeccably elegant as usual, in his selection of high-hemmed jackets and coats in iconic nuances of gray, stone and silver, worn with soft knitwear and oriental cut trousers. An unmistakable Armaniesque style, sophisticated but wearable which peaked with the double-breasted trench, the high-cut pea coat in gray wool, an iridescent silver suit, the pale blue cotton work suits, the casual seersucker jackets, the cardigan-shirts and a lot of vertical stripes, graphic motifs and checks on knitwear.
DSQUARED2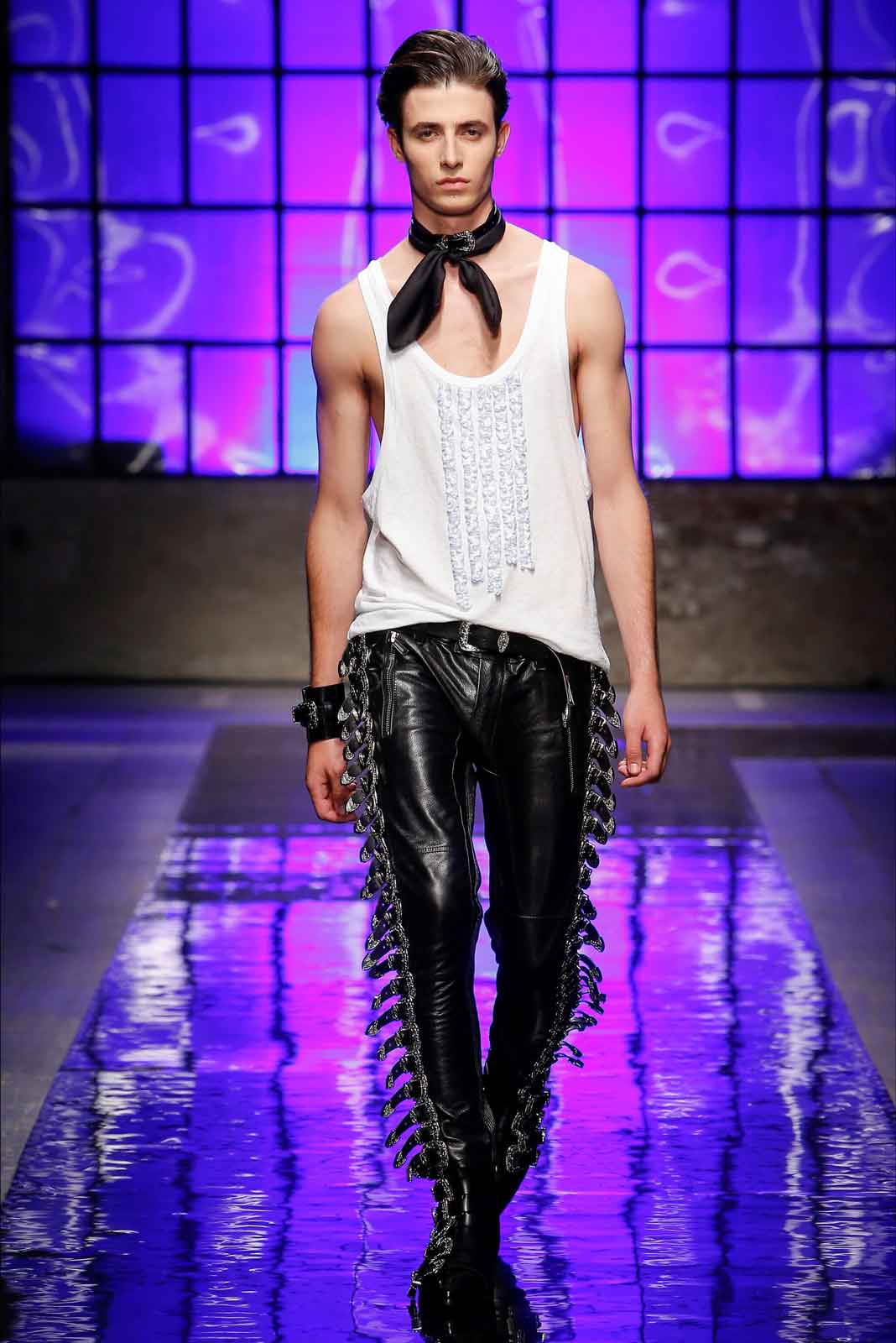 In their united men and women spring/summer 2018 show Dean and Dan Caten mixed different styles and periods: biker jackets, hibiscus Hawaiian shirts, denim and leopard-print pants trimmed by a line of buckles, winkle pickers. A collection that blends a Nineties vibe with Boy Scout and Goth touches in a very fun mix and match of materials and styles that confirms Dsquared2's talent of knowing what their clients really want.
FENDI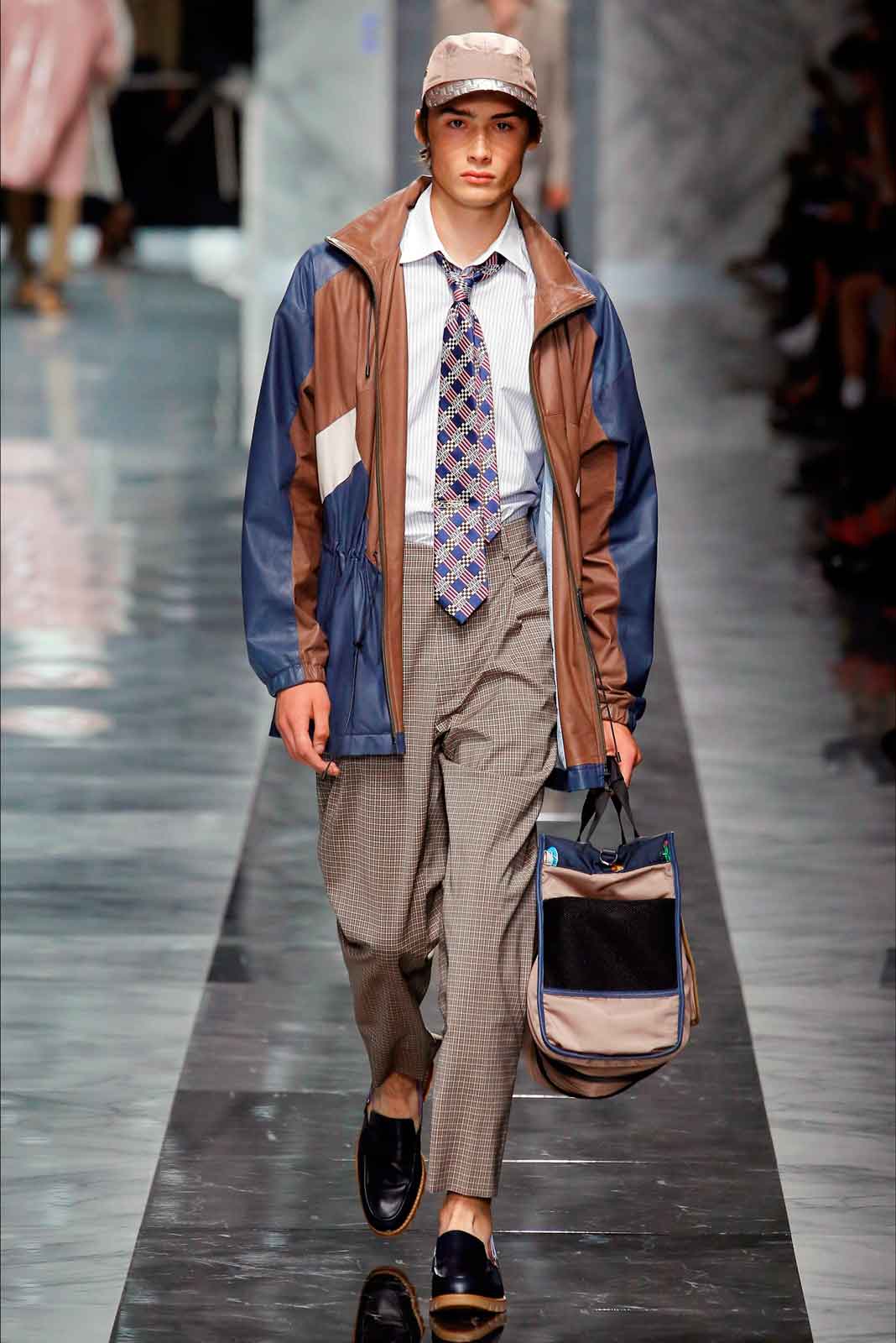 Sportswear and art are the main sources of inspiration of Fendi's spring/summer 2018 collection. Monogrammed fabric baseball caps are paired with plain cotton shirts, technical-fabric parkas, nylon bags and oversized suede sportswear jackets, whereas a series of illustrations by the artist (and once muse of Lucian Freud) Sue Tilley were printed on shirts and reproduced in leather jackets, charms tags, and bags. Silvia Venturini Fendi also nods to a classic Eighties business style with pleated trousers worn with suspenders and silk ties.
ERMENEGILDO ZEGNA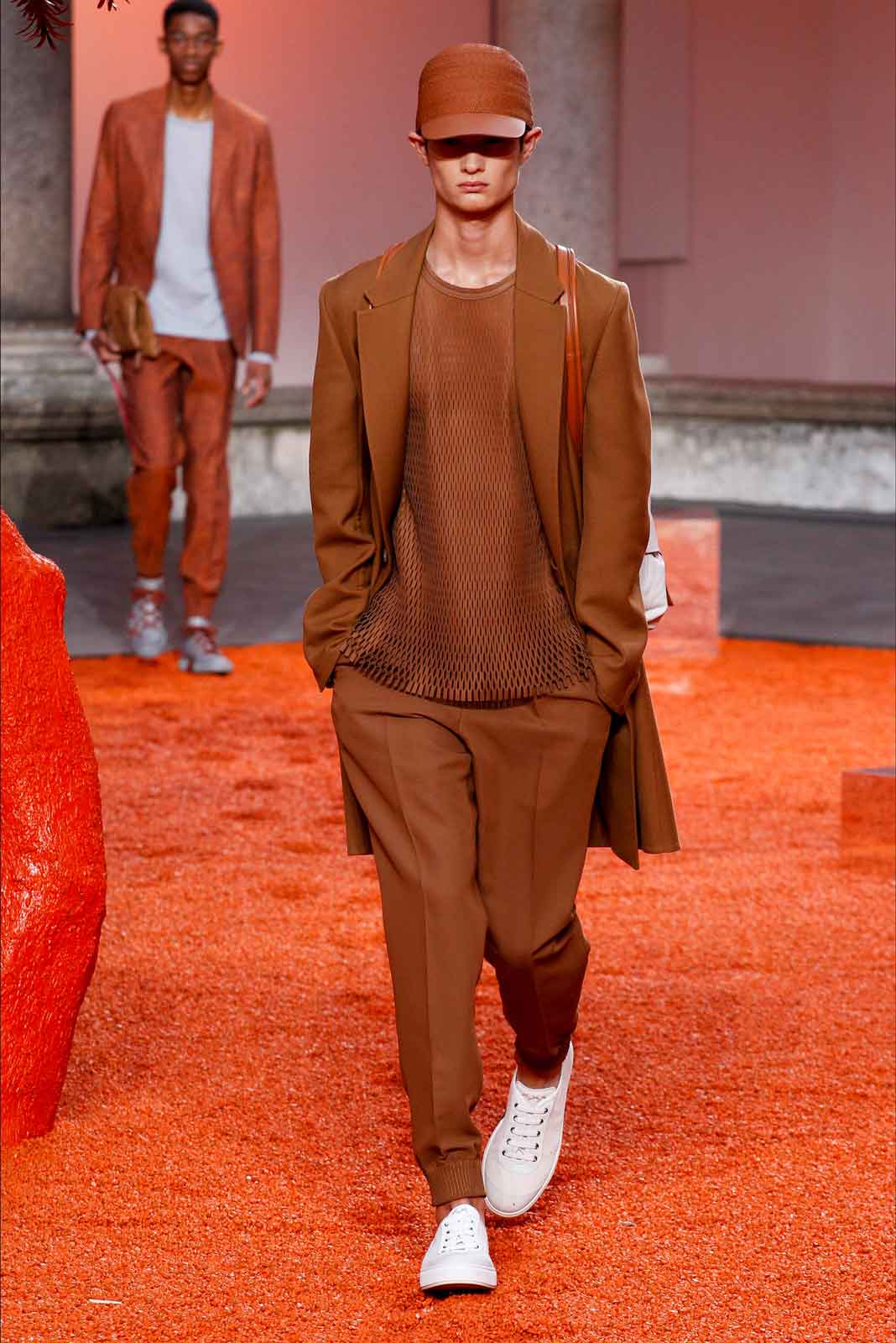 Alessandro Sartori designed for Zegna an intimate and fluid collection, where the colour palette played a central role. Delicate colours like geranium, freesia, cypress, aquamarine and white were balanced by natural shades like tobacco, gray and stone. The overall mood is relaxed and volumes are soft: sport-inspired suede blousons are worn with tailored joggers and silk sweaters replaced shirts under blazers while sportswear details like oversized hand-sewn pockets and macro hoods finish it all off.
Curiosity: the show was held in a courtyard of Milan's Università Statale, a Renaissance architectural gem.
DOLCE & GABBANA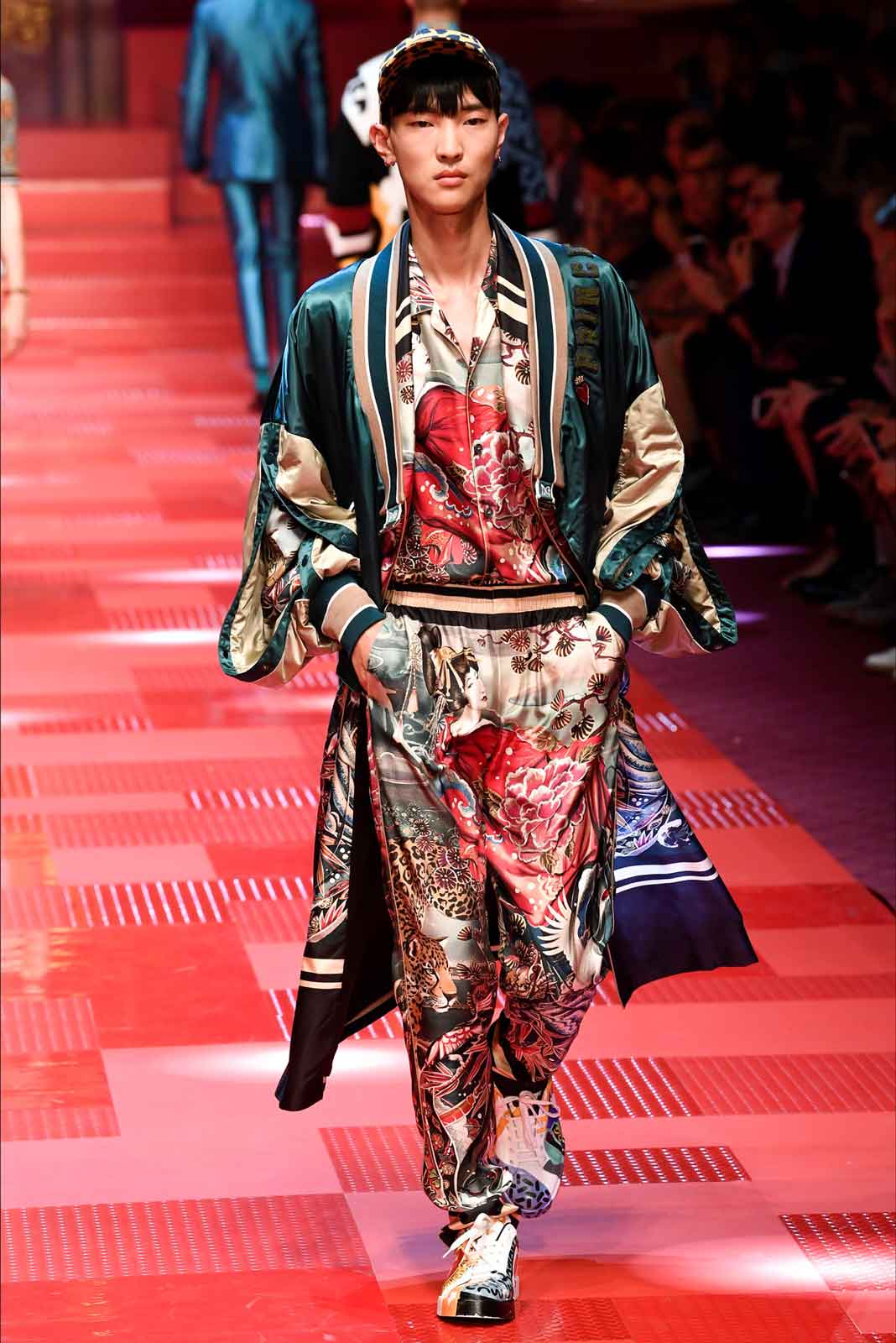 A very eclectic collection, influenced by the Nineties and sportswear: jersey shorts are worn with oversize hoodies and transparent bombers, while a polo and a basketball shirt are made in traditional black crochet. Vibrant graphic patterns like a card- king motif along with leopard, tiger and Japan-esque prints decorate the label's seamless mix of tailoring and streetwear. There were hand-painted jeans, pyjama suits, oversized sequinned t-shirts with the ubiquitous playing card motifs and a silver-flecked jacket with a collar in silver sequins.
Curiosity: Some of the models on the runway and the designers themselves, wore "#Boycott Dolce & Gabbana" T-shirts. Stefano and Domenico are perfectly aware that irony is the best weapon against criticism.
PRADA
A collection inspired and illustrated by comics: multi-coloured short-sleeved shirts and jumpsuits with pop art print, grey sweaters starring a space monkey, poppily '80s pink and blue blousons, more knits and bags, all featuring the same Prada graphic novel. Striped pullovers are worn over straight-leg wide trousers or alternatively with shorts, shoes are technical and velcro-strapped or bicolour loafer, sandal, and basketball-style sneaker, shoulder bags are in leather, while belts are replaced by oversized nylon fanny packs.
BOTTEGA VENETA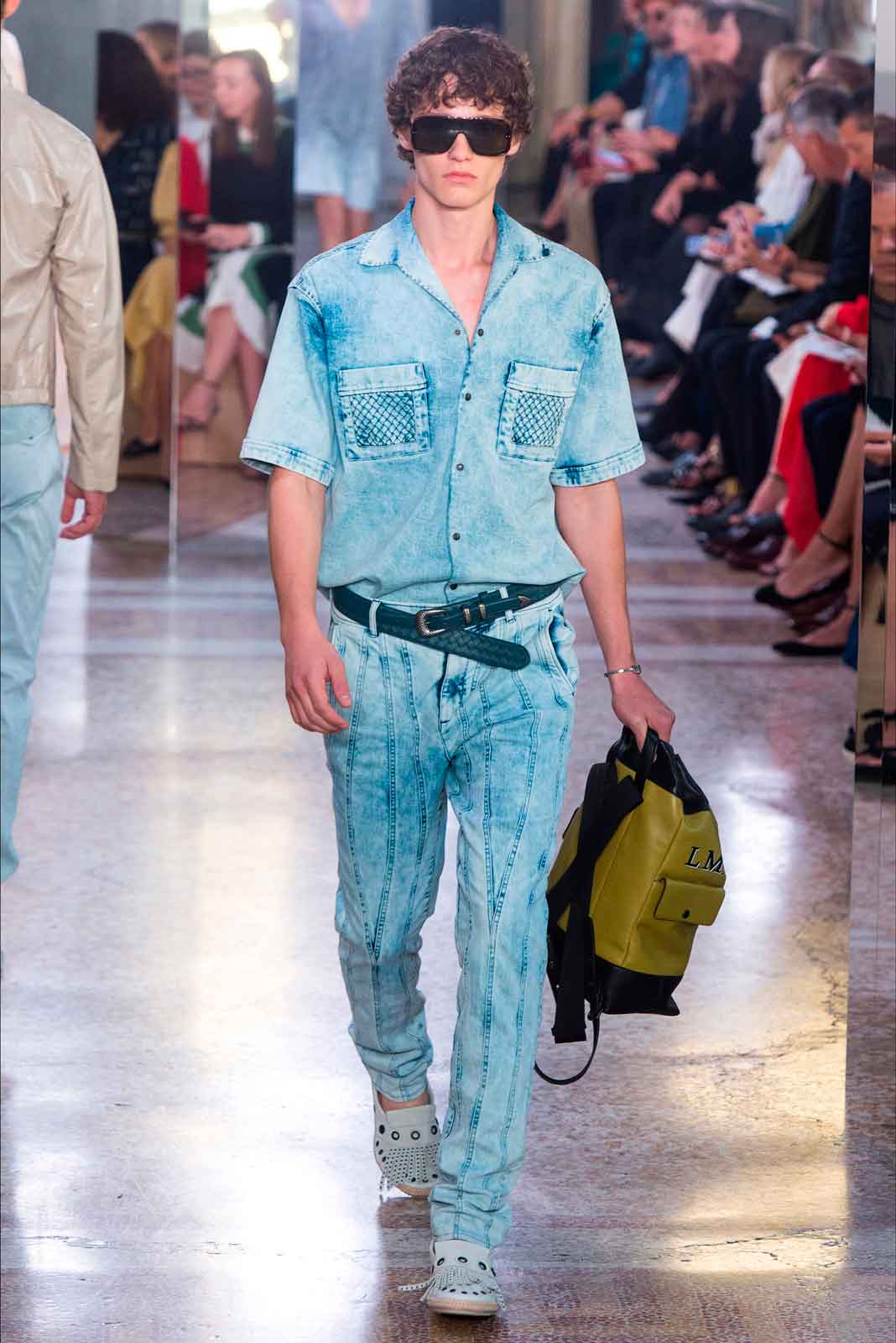 Bottega Veneta Collection for Spring/Summer 2018 is sporty, refreshing and pragmatic. Men's look featured a series of jacket, shirt, bomber and baseball silhouettes in suede, silk and cotton. The sophisticated colour palette of dusty pastels was the real star of the show: models wore green suede shoes, geranium or pink blush trousers, peach pink blouson with light pink shirts and carried lavender leather bags.
Curiosity: Oscar Maier chose for his show Milan's Palazzo Archinto. During the Napoleonic period a residence for young women, this splendid example of Baroque architecture is now a school.
VERSACE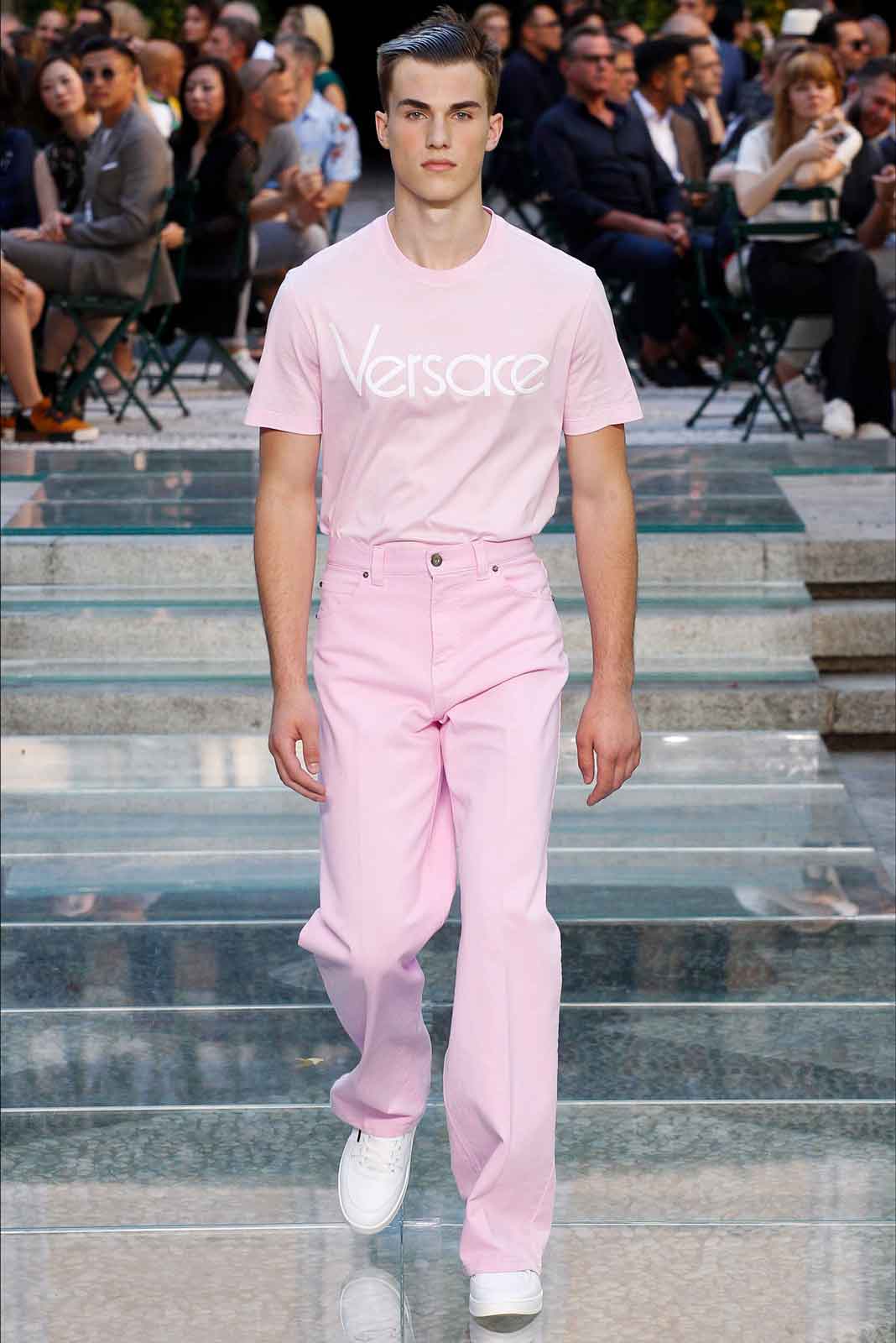 The Versace show for Spring /Summer 2018 is light and energetic. The first part of the collection featured chalk-stripe suits and short suits that are clearly inspired by Gianni Versace's original disassembly business wear, a jacket with metal chain stitched through the fabric. The technical blouson and work coat mixed practicality and romanticism, while the knitwear is tinged with bright colours, beads and sequins, the dusty pink T-shirts featured macro logos, panamas had luxury touches and tracksuits are covered in golden and worn with zipped bicolour sneakers.
Curiosity: a special womenswear capsule complemented Versace's menwear collection. The girls wore black headbands taken from Gianni's last-ever couture show.
MARNI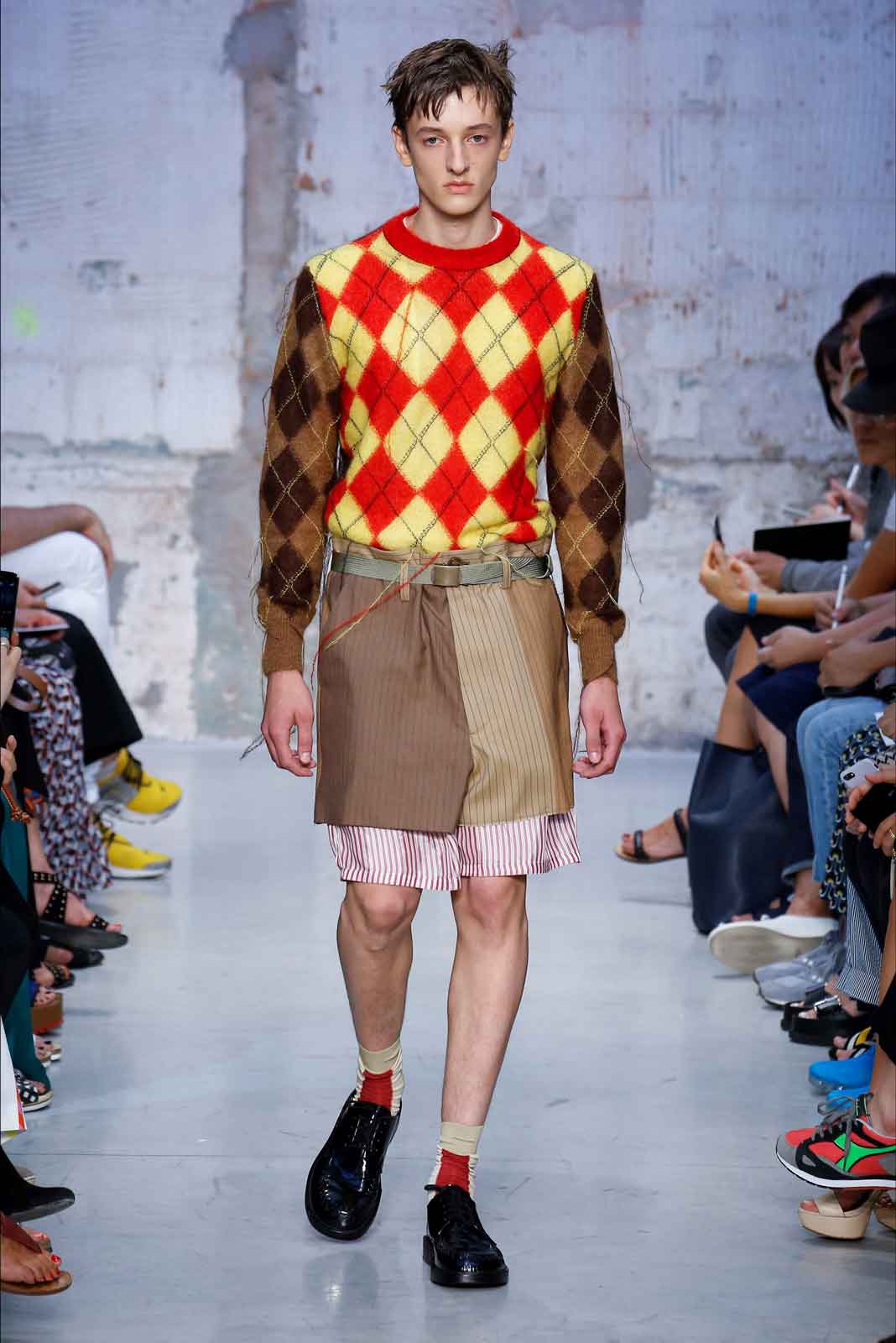 The creative director of Marni, Francesco Risso presented an apparently randomly but wearable collection mixing different prints and cuts. Marni 's man seems to be permanently on holiday, wearing trench coats, business pants, windcheaters, wide pants, safari jackets and unfinished shirts that seemed to have been deconstructed and then reconstructed, Hawaiian floral and sailboat prints on pinstripe suits, shrunken shirts over longer ones, boxer shorts peeking out from below shorts hems. Risso commissioned octogenarian ceramic artist Magdalena Suarez to draw childish prints like Popeye and Mickey Mouse on his shirts adding a very nonconformist touch to the collection.