Fashion Spring/Summer 2019
WOMAN FASHION SPRING/SUMMER 2019
Beige colored clothing was all the rage at Spring 2019 Fashion Week, along with coffee, taupe, sand, camel, cinnamon, and chestnut, to be worn head-to-toe. Tie-dye, with a modern update, and floral prints also emerged as fashion influencer favourites for next summer. And, shockingly as it may see, the cycling shorts are back! Yes, the (former) athletic garment just got a high-end makeover and has been spotted on the catwalks in neon colors, bedazzled in metallic embroideries, with eye-catching prints or topped with tailored jackets. Will you feel brave enough to wear them?
Here are the trends that left a mark this women's season:
EMPORIO ARMANI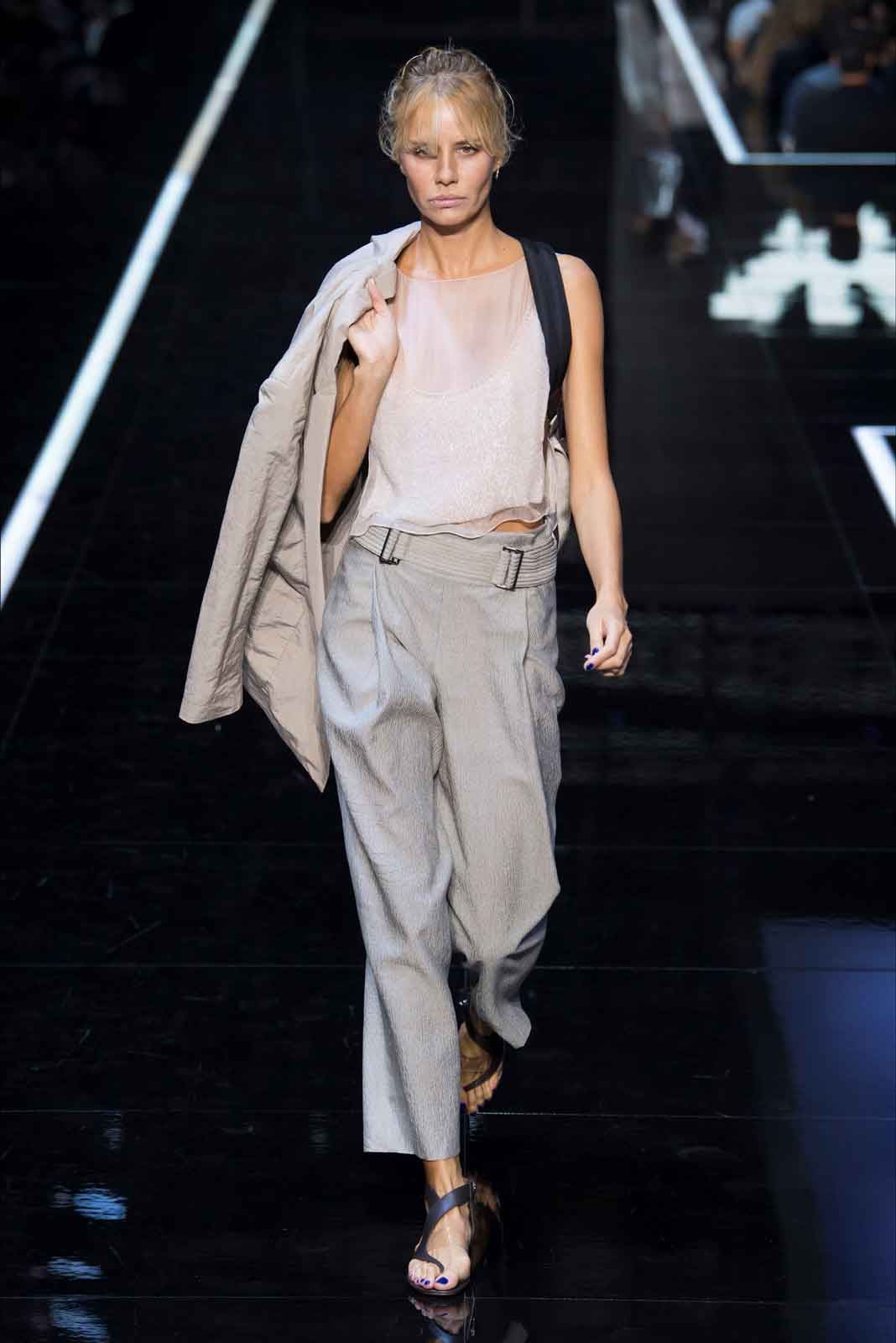 Giorgio Armani embraced the sporty looks for Emporio, featuring a long series of thecnical jumpsuits in a lot of different, very Armanesque colours, from dove grey, to oatmeal, to pale pink, followed by some denim overalls. For the evening there were little black dress elivened with fringing, electric blue evening dresses, and glittering maxi dresses.
Curiosity: Emporio Armani Spring 2019show was held in the hangar of Milan's Linate Airport, in a purpose-built stadium, with regular planes landing alongside the fashion crowd. "Airports are places full of symbolism. They suggest unbounded openness to the world outside," Giorgio Armani reportedly said.
DOLCE & GABBANA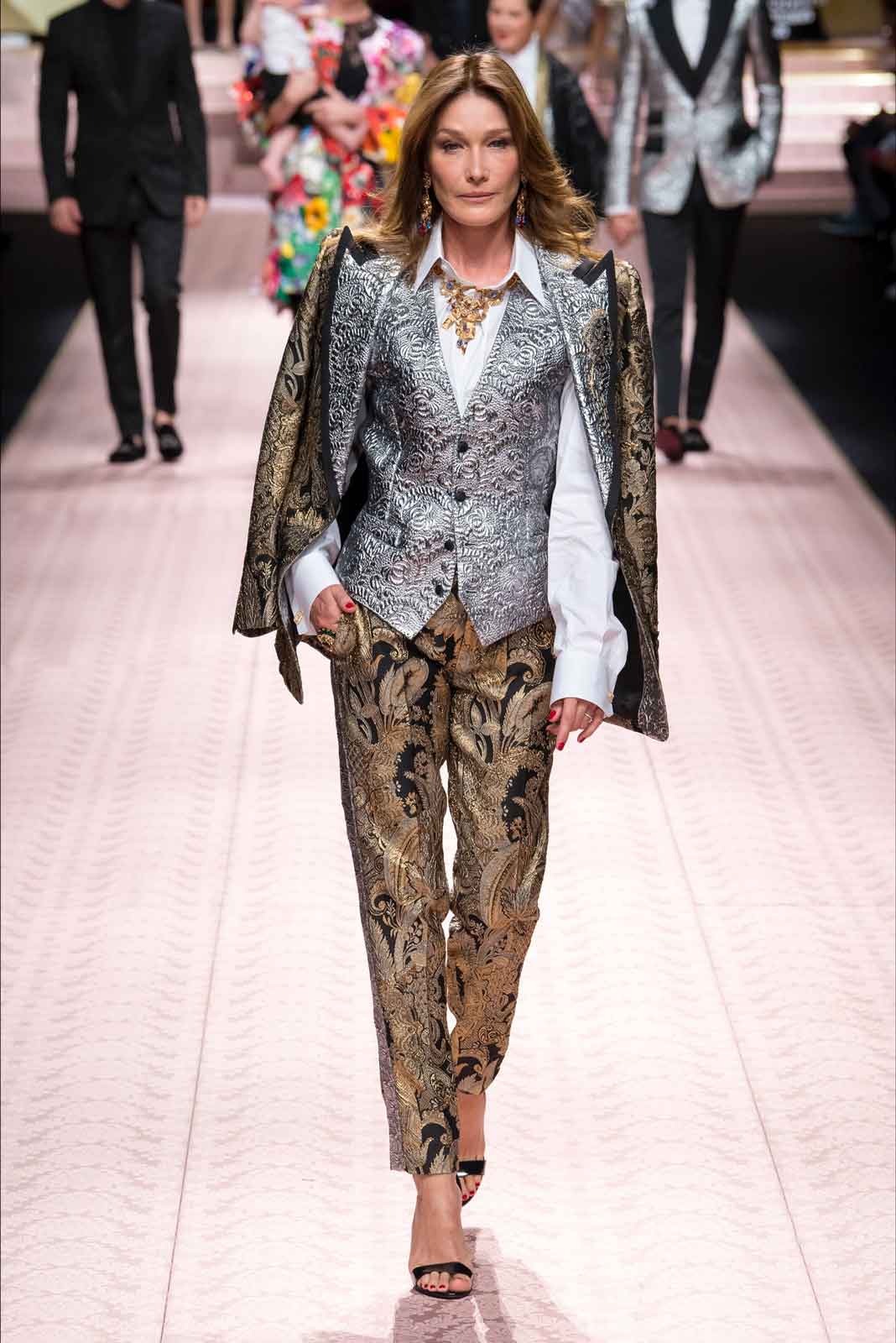 The theme of this season's show was DNA and, as it often happens with Dolce and Gabbana, the focus here was the people, not the trend. Monica Bellucci opened the show in a black-and-white polka dot dress, followed by Eva Herzigova in a statement ruffled black dress with a voluminous gown, , by Carla Bruni in a gold and silver trouser suit and Isabella Rossellini in black lace tailoring, with her daughter, son and her grandchild in tow. There also were religious accessories, '50 silhouettes, the duo signature black lace dresses, brocade tailoring and floral prints, worn by the like of Helena Christensen, Ashley Graham and Emily Ratakowsky.
GIORGIO ARMANI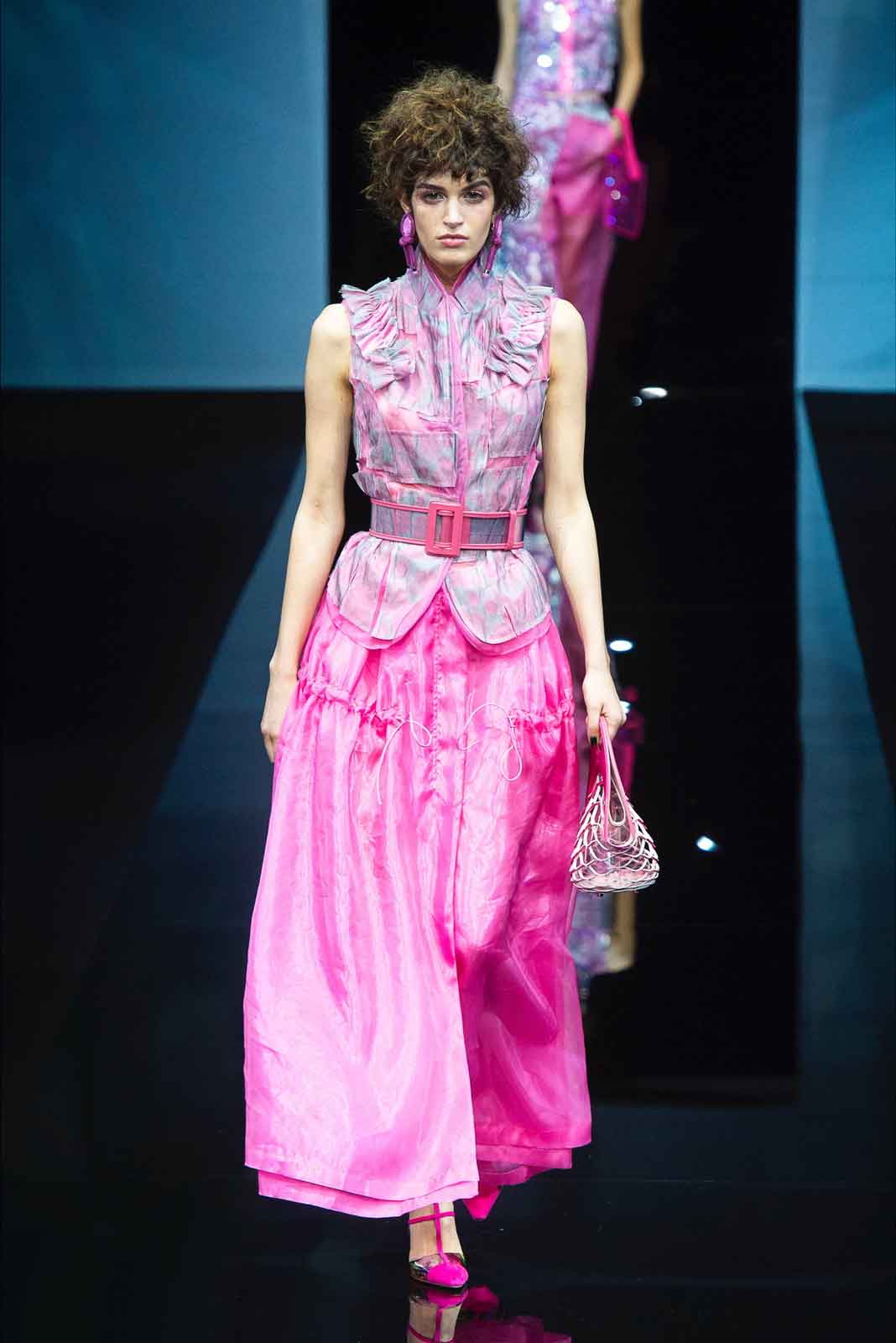 Giorgio Armani delivered a languid, acquatic, iridescent collection with an otherworldly subtext. There were silver transparent pieces, airy fabrics, garment with a multicolored, opaque sheen, reef-like ruffles, a cocktail dress with a 3-D flower on the bustier, a sheer shirtdress sprinkled with paillettes and some holographically layered eveningwear, but also more wearable pieces, like anoraks or relaxed jacket over pants.The colour palette was basically grey (in its hundreds shades), and silver, with some pink, indigo and pale blue for the evening.
FENDI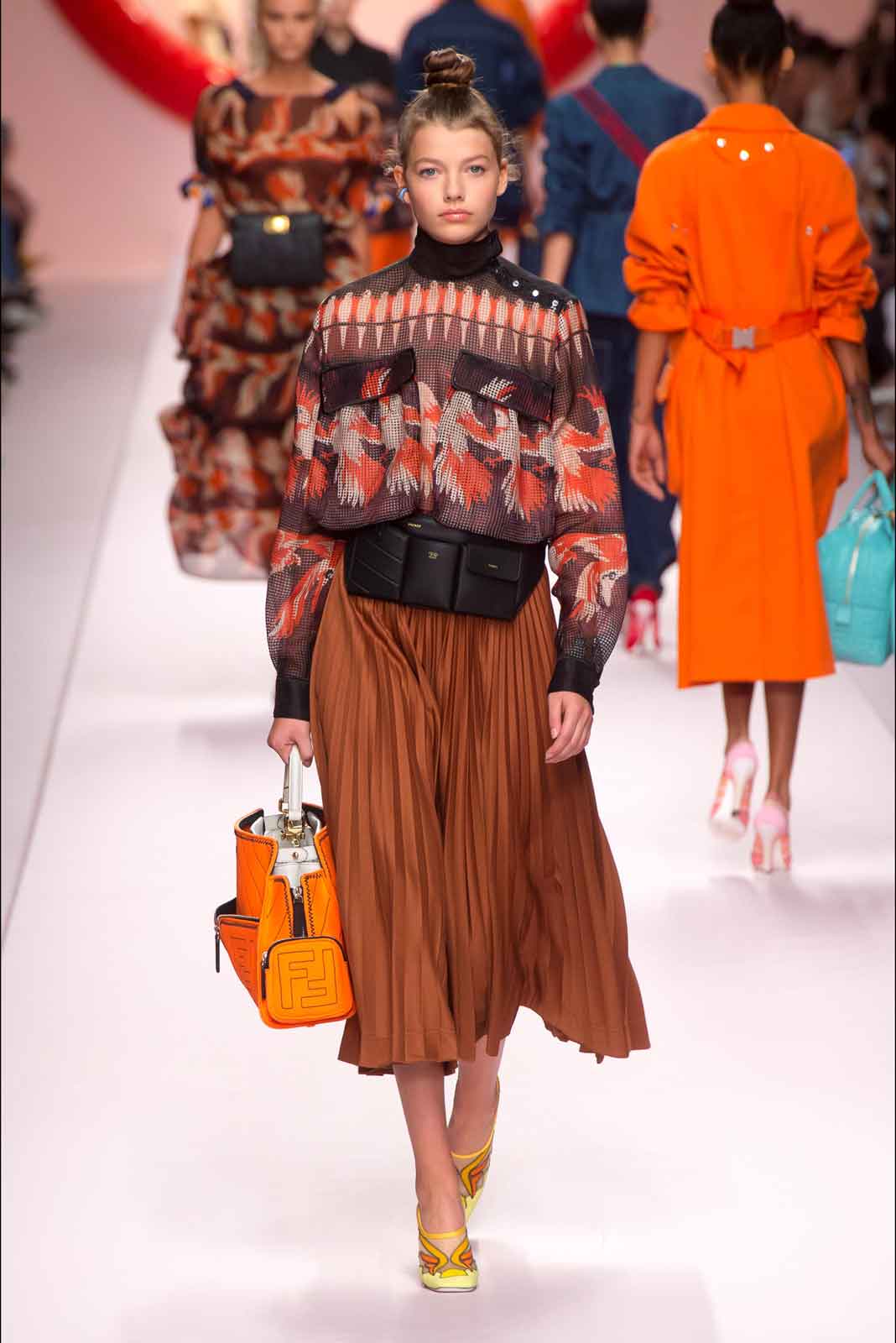 Everything is branded at Fendi. The "no logo" era is long gone and Karl Lagerfeld and Silvia Venturini Fendi sprinkled the F-brand everywhere, from accessories to garments. There were also a lot of big pockets: on transparent vinyl raincoats, on leather coats and on oversized white utility jackets embossed with Fendi's logo, on maxi bags.
Curiosity: Silvia Venturini Fendi brought back the iconic baguette bag¸ with an embellished take on the classic logo print, and, as now young people prefer to wear bags front-loaded or cross-body, she added a top handle and a shoulder strap.
VERSACE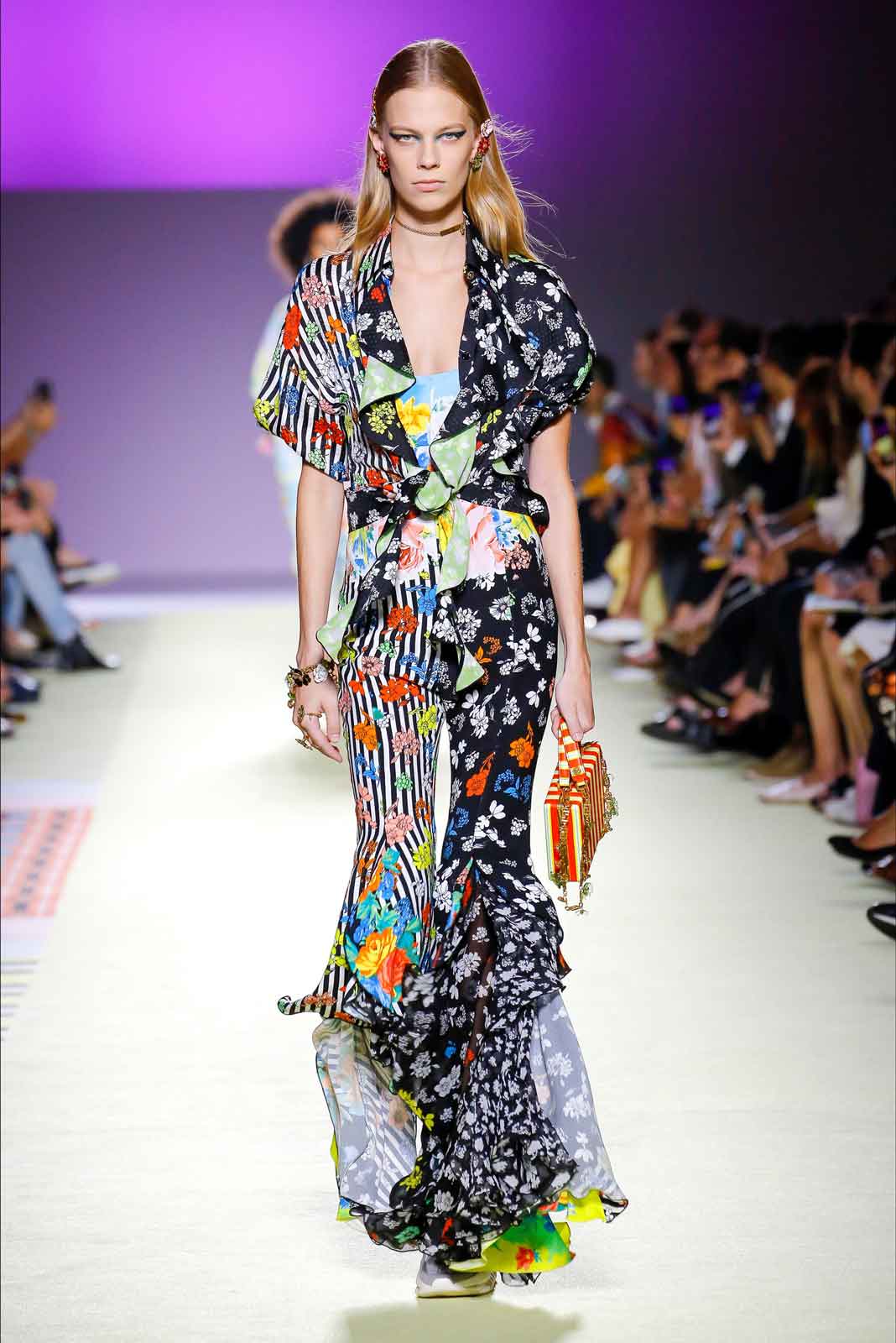 Donatella reworked the Versace microfloral prints and adhered to the gypsy girl trend that followed us through all the fashion weeks this season. There were patchwork of prints, floral flounces, flouncy flared trousers and bandanas but also a series of very Versacesque leather fluo dresses, worn with trainers to ginger things up.
Curiosity: Versace show was closed by Shalom Harlow, one of the original '90s supermodels who had disappeared from the catwalk and showed up tonight wearing a micro-flower-print dress with a long black lace skirt and a mane of loose curls.
PRADA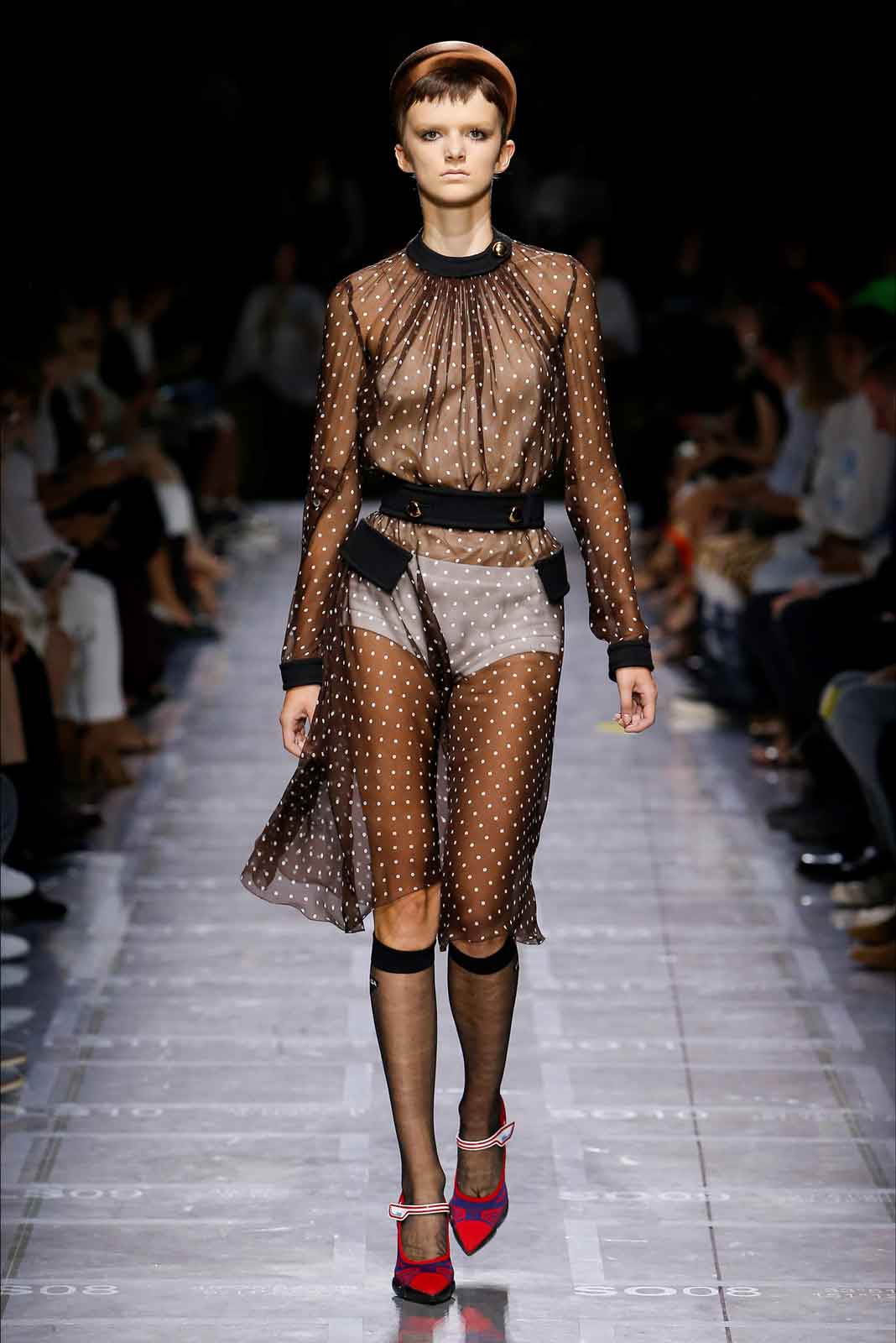 Miuccia Prada presented a collection made for her younger audience, in wich swimsuit tops are worn with chiffon blouses, T-shirts with duchess silk skirts and tie-dye circle skirts go along with crystal embellishment. Graceful nylon cabans, heart-shaped handbags , and college girl cashmere sweaters with immacolate white shirt collars were all possible next-spring big sellers. There also were a lot of cycling shorts (one of the hottest next season's trend), baby doll transparent dresses; deep cut bodysuits with straps under the breasts, all of it accessorised with puffy Alice hair bands.
ERMANNO SCERVINO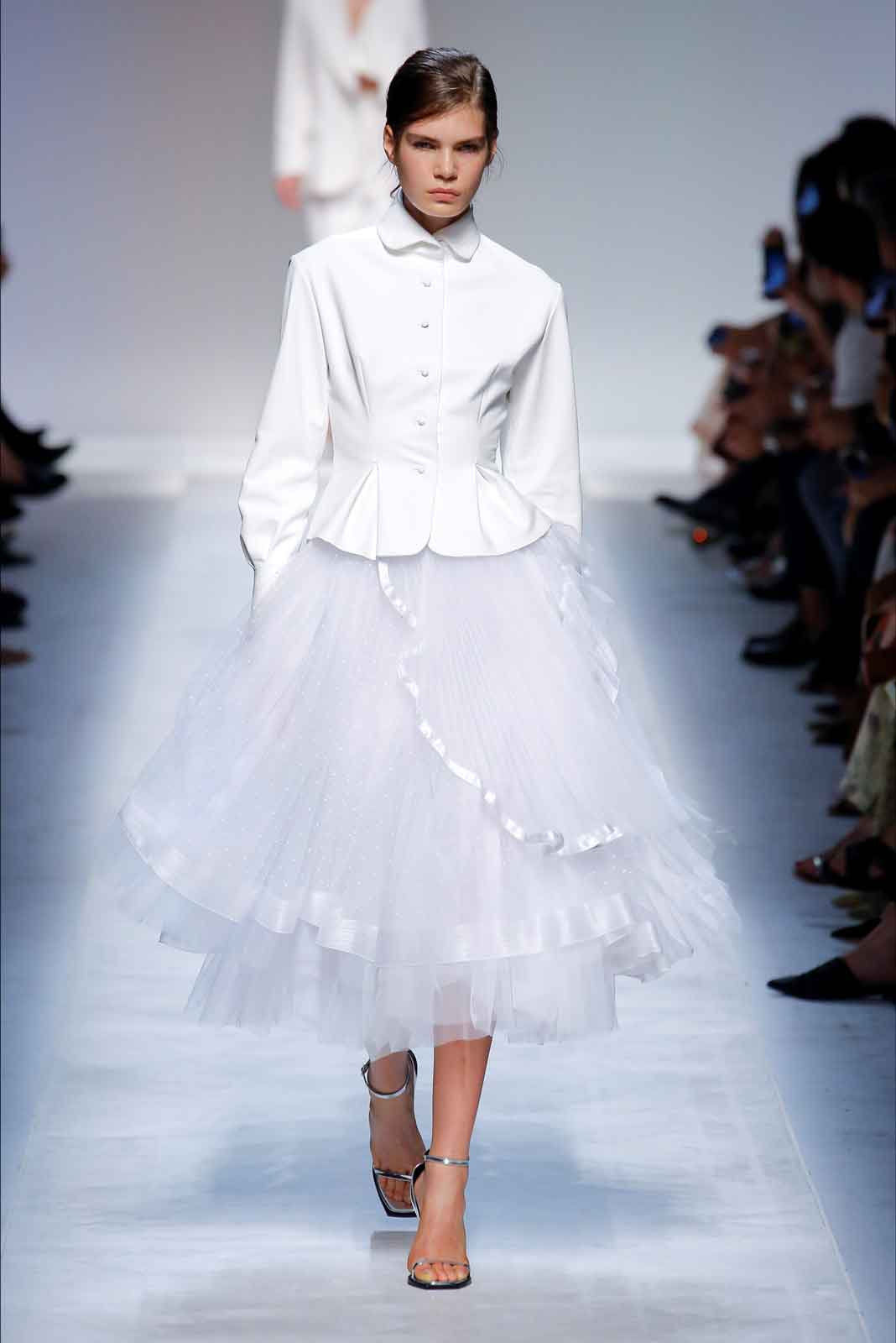 For SS 2019 Ermanno Scervino favors some classic and elegant shapes, sticking with his usual recipe: 50% class and 50% femininty. His looks are well rounded and clearly designed for a real woman with a real life: a rather masculine striped shirt was worn with a fluffy ballerina skirt, an oversize pantsuit in checkered Prince of Wales was matched with a silver sporty sweater, puffer jackets were decorated with floral graffiti. There were ruffly dresses in romantic white lace worn with tan thigh high boots, trouser suits in coral and cobalt with very crispy, striped shirts, slim chestnut tailored coats and leather parkas.
SALVATORE FERRAGAMO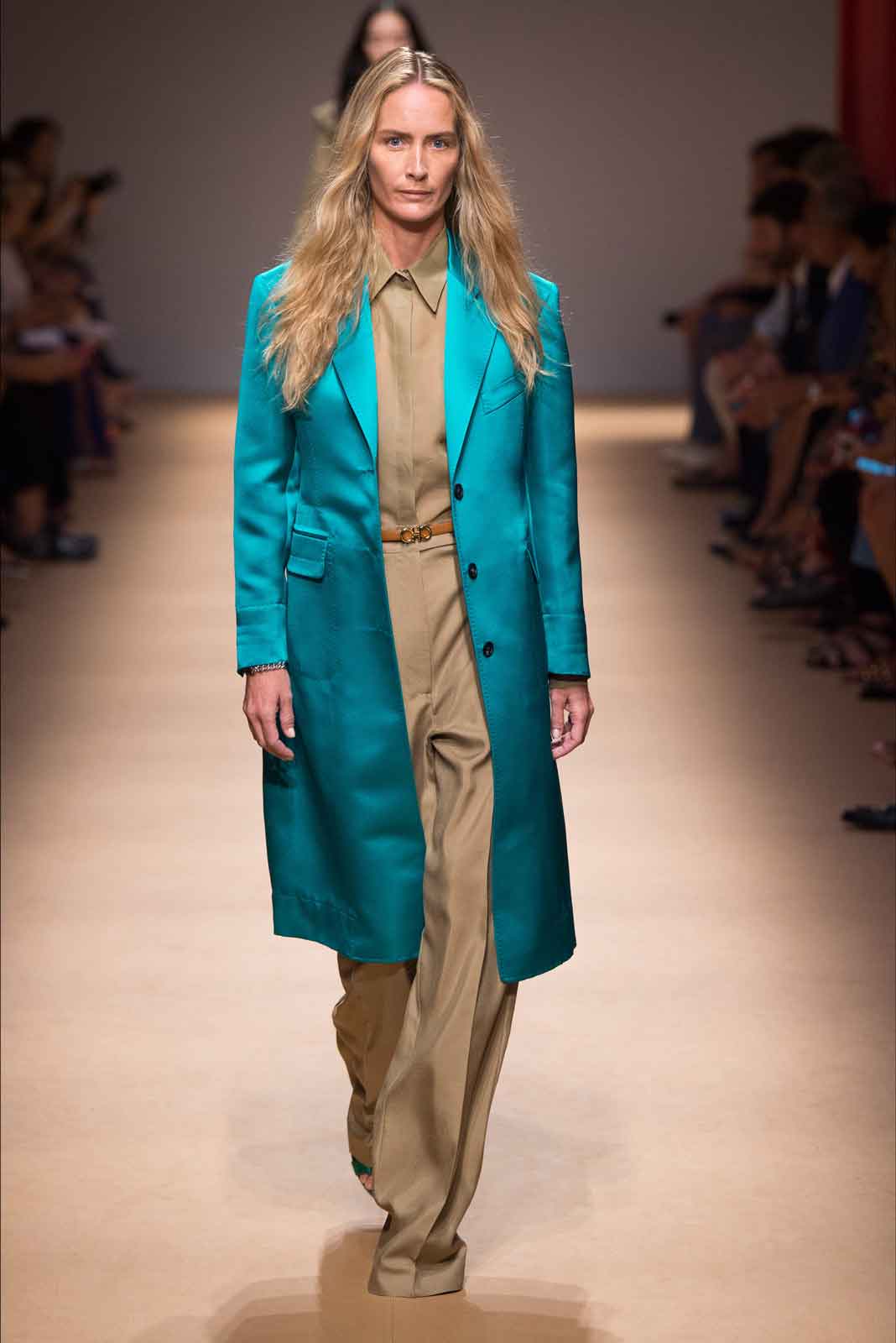 Salvatore Feragamo's collection featured a classically sophisticated way of dressing, suitable for a traveling business woman, with a lot of beige, taupe, khaki, sand and grey. There were very bourgeois handkerchief-hem skirts and dresses, beige trench coats, grey A-line leather skirts and sand-coloured T-shirts, everything spiced up by shoes and bags: big meshy 1980s boot, sculptural soles, wood platforms, wedges, raffia heels, knee boots in pliable leather and a reinterpretation of a fabric sandal prototype, all obviously inspired by the Salvatore Ferragamo impressive archive.
MAX MARA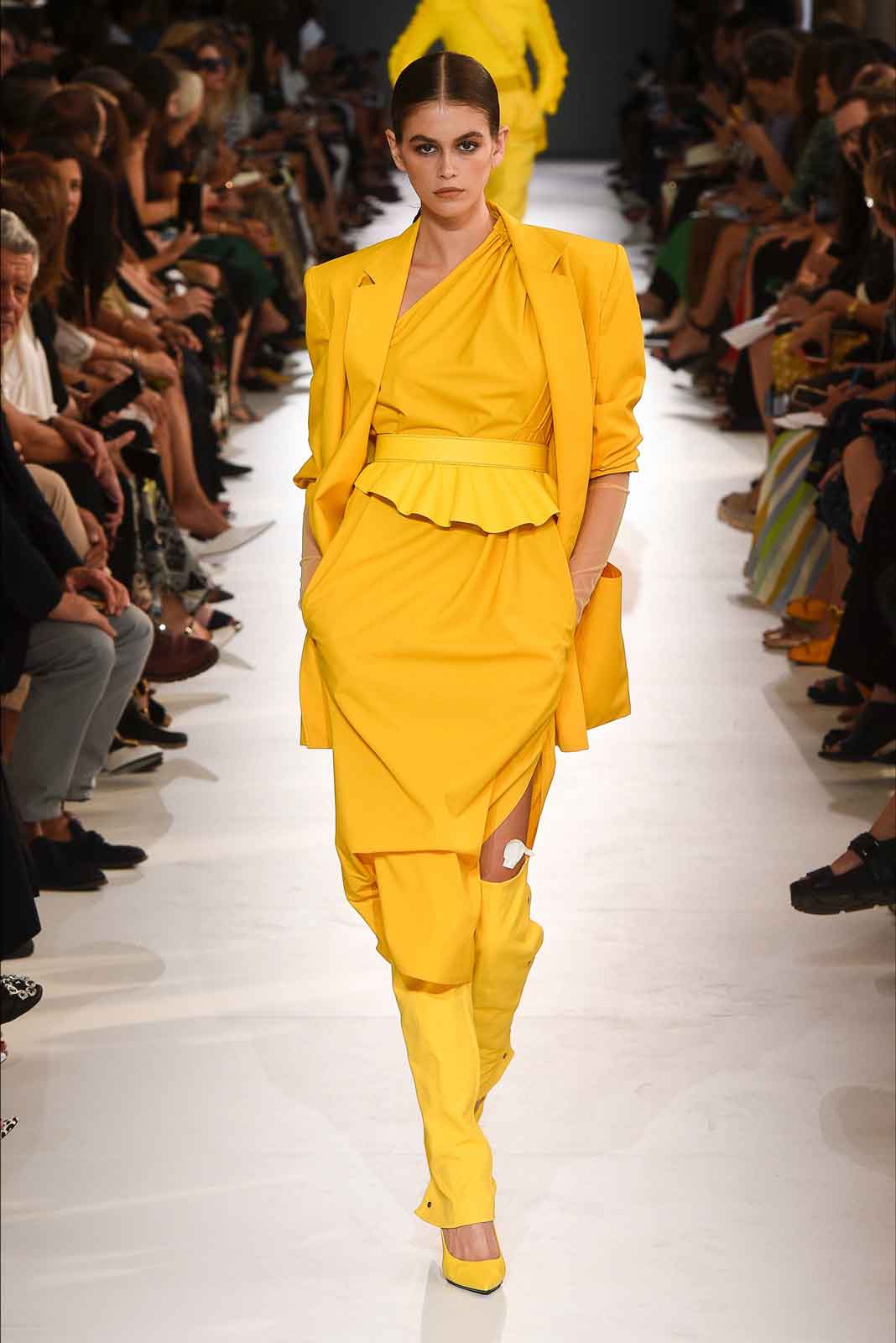 It's been rather a beige season around the fashion landscape and and it's Max Mara's signature feature. Thus, an array of matching pantsuits and coats with padded shoulders, leg-warmers, draped and wrapping dresses, pencil skirts, one-shouldered silhouettes, bags slung across the body and headscarves, all beige, sandy, taupe, and in every shade of brown. Plus, a selection of colore outerwear: a polka-dotted trench, a yellow parka, a wool pea coat and a very soft leather trench.
ALBERTA FERRETTI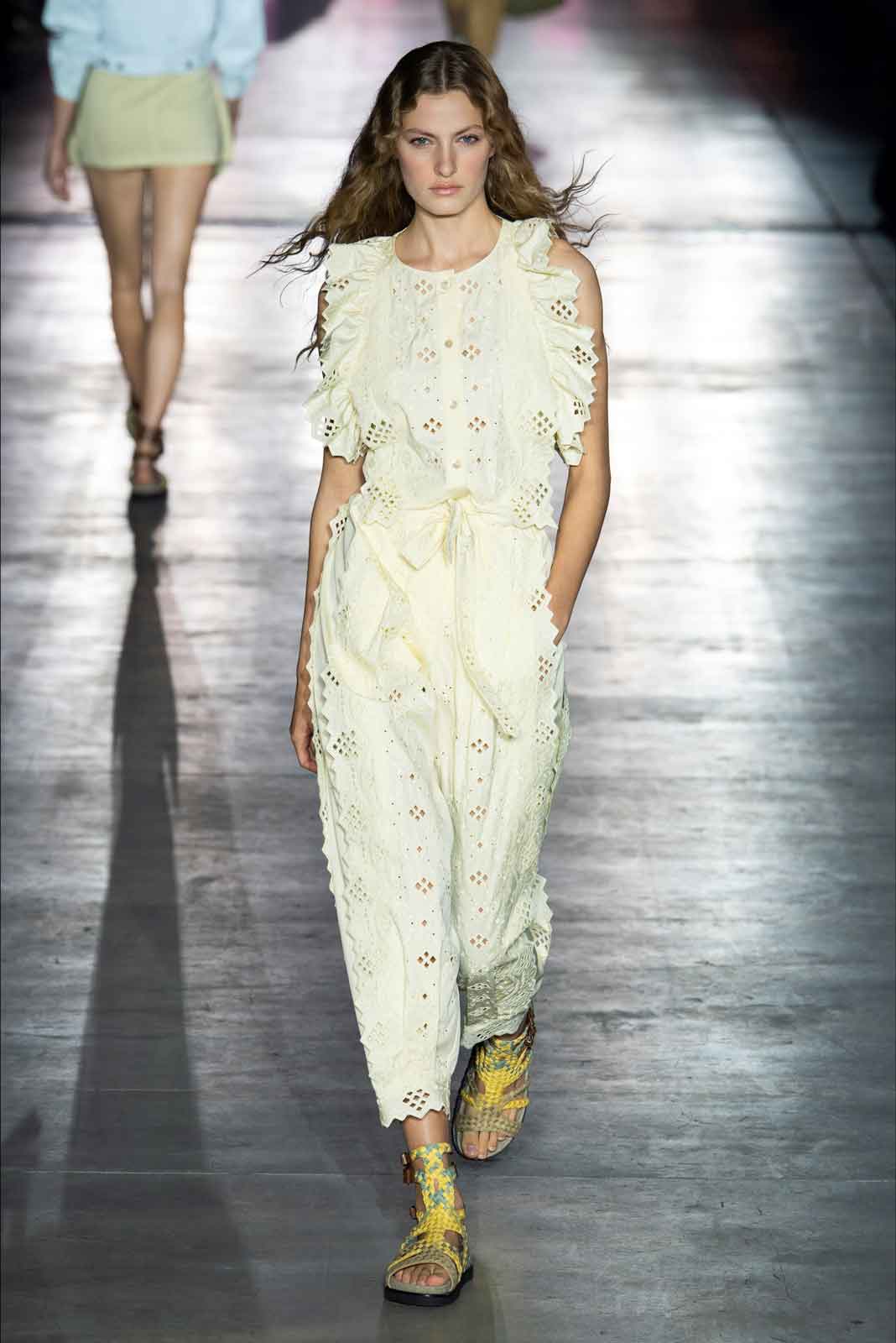 Albert ferretti delivered a collection to have holiday and fun in, full of ruffled top, chiffon dresses, lacy camis, slip dresses in pastel shades and denim jackets. We certainly didnt expext something like that by the queen of red carpet frocks, but she managed to be persuasive, with a collection full of new silhouettes, setting her sights on what young women would choose for their off-duty lives, like cargo khaky pants, a pair of pink dungarees, to be teamed with a bikini, crochet leggings and pastel crop tops and for the night, a multicolored plissé maxi dress or trasparent long black caftan-style dress.
ROBERTO CAVALLI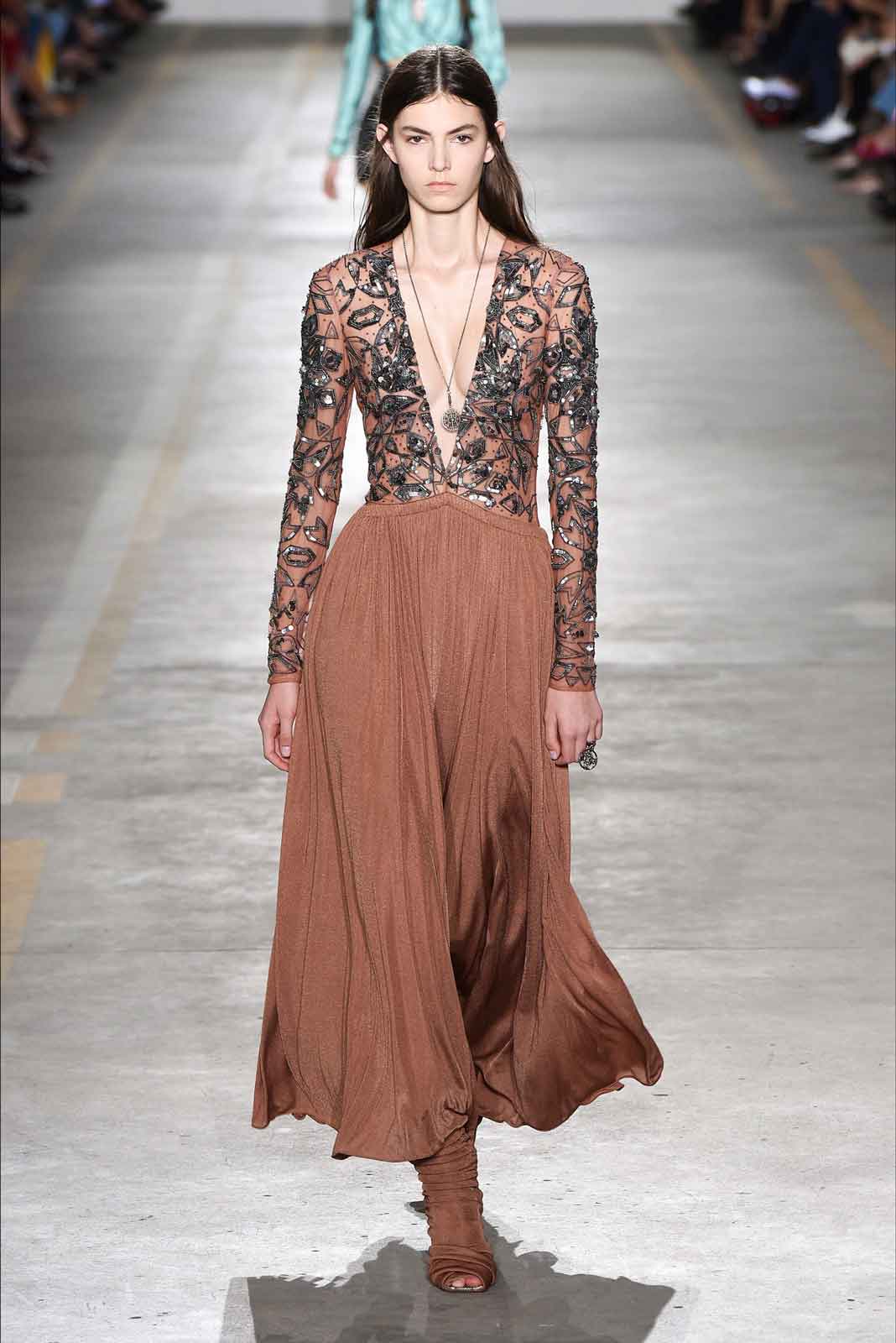 At Roberto Cavalli, Paul Surridge adopted a lot of earthy, sandy tones, allegedly inspired by a recent trip to North Africa, choosing a different path than the usual exotic prints and sexy vibes tipical of the brand. The new Cavalli woman feels brave enough to favour bejewelled, embroidered cycling short, worn with elongated blazers or short spencer jackets, but also one-shoulder minidresses in graphic prints, cropped blouses worn with tank dresses and lamé hand-embroidered crop tops, teamed with metallic shorts.
ETRO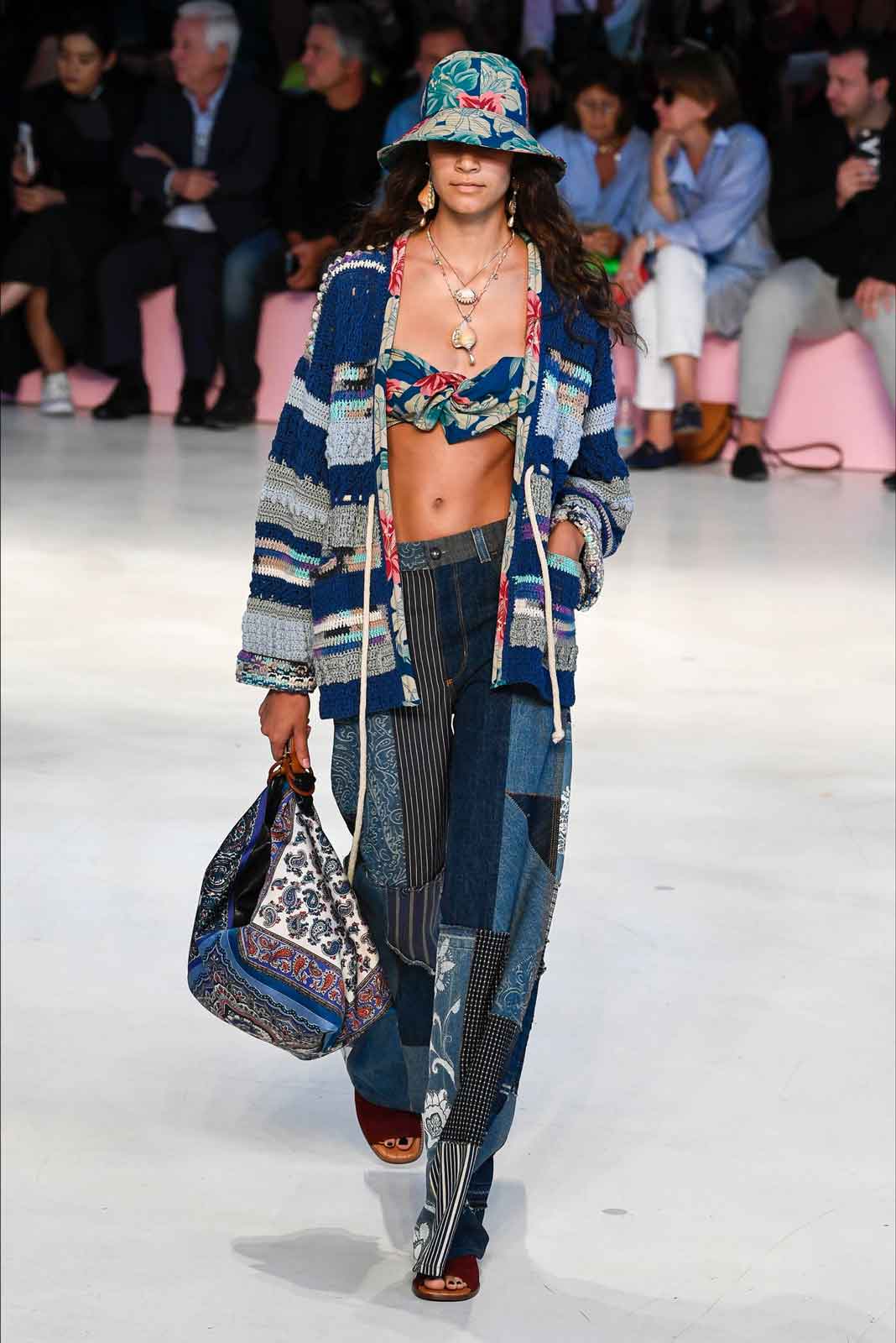 For this spring collection, Etro threw some paisley-patterned surfboards down the catwalk, along with richly-decorated paisleys with a spicy colour palette, glam tiered dresses, silk pyjama suits and crochet microdresses, fringes, ponchos and patchwork cardigans. At Veronica Etro's show you're always on holiday and there's an air of sophisticated ease, as girls go out with multi-pattern patchwork blankets thrown over the shoulders and wearing full-length paisley-print dresses.
Curiosity: Etro brought in two real life champion surfer, Victoria Vergara and Maribel Koucke, all beachy hair, sporting neoprene swimwear and paisley-printed surfboards tucked under their arms.
MAN FASHION SPRING/SUMMER 2019
Tailoring is back and not only at the usual classic brands, even the more streetwear saviourand sporty designers dabbled in tailoring. Wear your double-breasted suit exaggerated, baggy, fluid, with wide-legged trousers, and, possibly, with absolutely nothing underneath. At the same time we witness the continuing influence of streetwear, in the shape of statement sweaters that have taken on a cartoony spin, '90 graphics and silhouettes, baggy trousers and loose T-Shirts, bold and clashing patterns. Another trend that was everywhere at the shows is the ultra-short shorts. They can be made of precious materials like leather or silk, can be technical, sporty and elasticated or very crisp and almost sartorial, but short shorts are definitely on the fashion agenda for Spring Summer 2019, so the time has come to show a little skin! Here we give you the inside track on all the biggest men trends coming your way next summer.
GIORGIO ARMANI
For Spring/Summer2019 Giorgio Armanipresented a serie of universally flattering double-breasted jackets, worn in an easy and relaxed way, they can even be "casually worn on the beach," as the press release informed us, and maybe matched with a black backpack with Armani's portrait embroidered on it. The colour palette explored all the typical Armani's colours: from greige, to sand, to chalky white, to light grey, but there are also lightweight fabrics in blue, turquoise and jade green, ideal for summer.
PAL ZILERI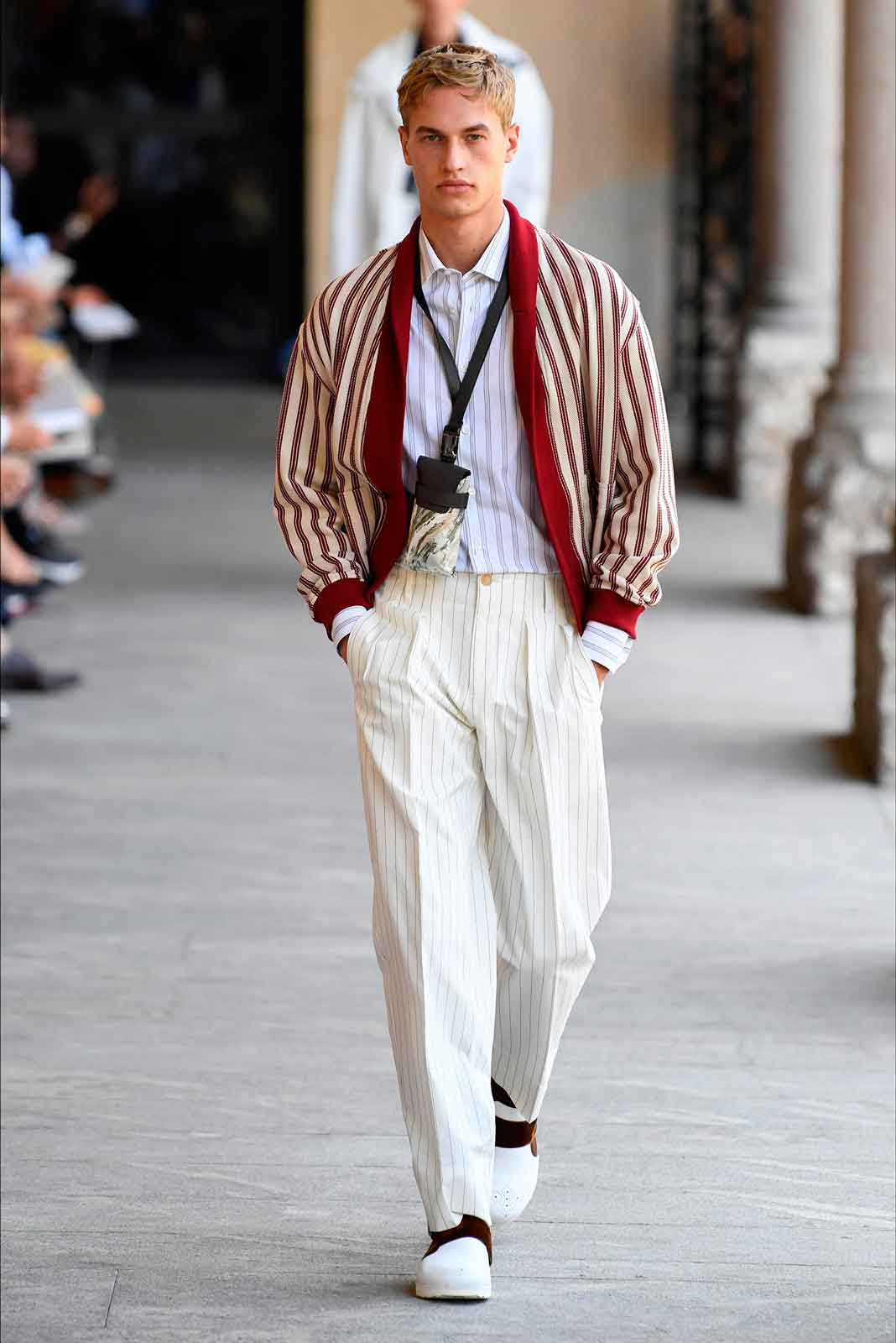 Rocco Iannone's men is a carelessly unconventional dandy who matches lean blazers with tailored joggers, acid-washed jeans with silk-jacquard jackets, wears sport coats over Hawaiian button-down pajama-like pants, wears his suits open and his trousers oversized and cropped at the ankles. He never goes anywhere without is backpack and favours 19th century patterns.
Curiosity: Pal Zileristaged his show in the annex of the Museo Diocesano on Corso di Porta Ticinese. A choir, seated centered on a gold-foil platform, enriched the recorded soundtrack.
MSGM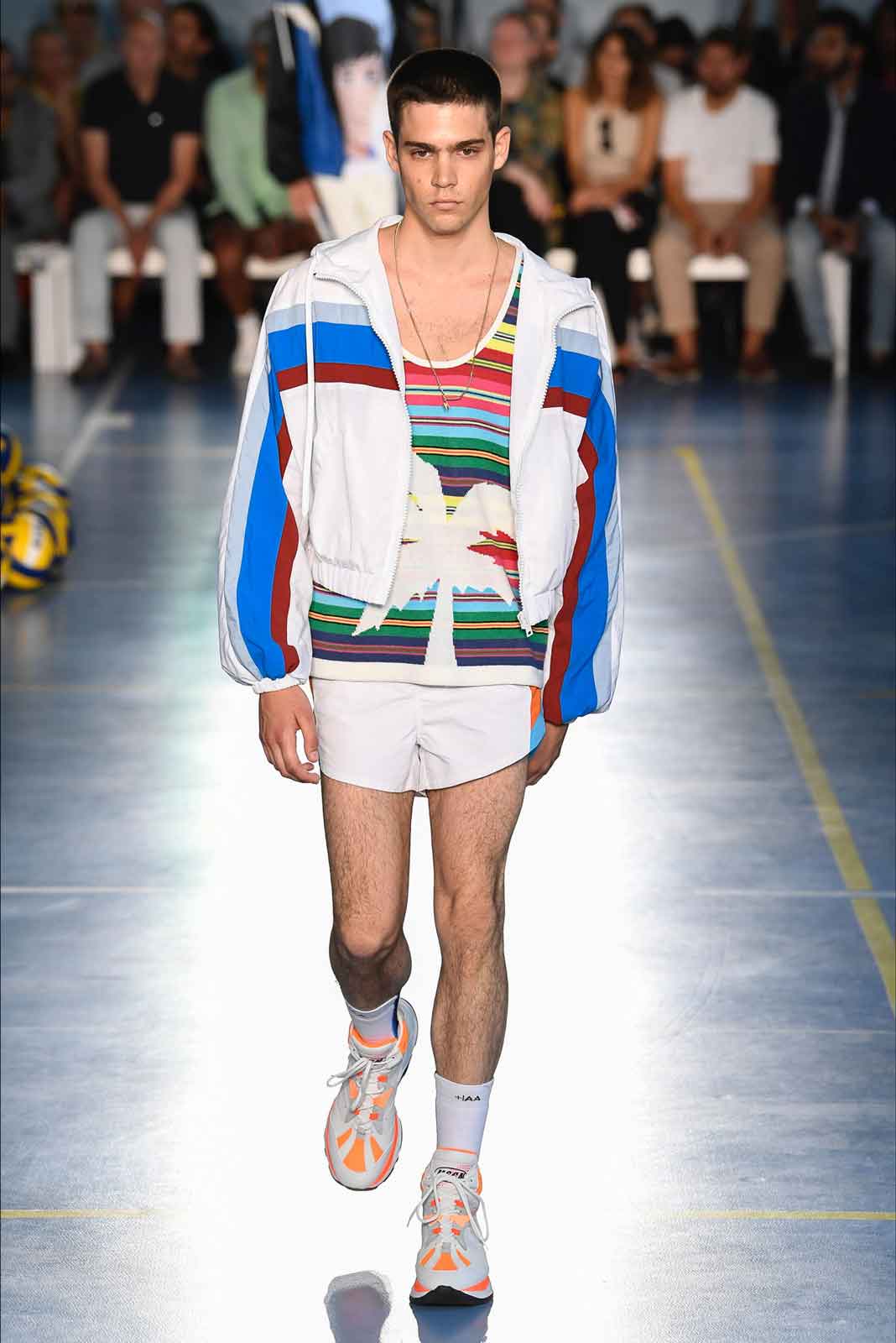 Massimo Giorgetti with his MSGM Spring/Summer 2019 collection brought a multivitamin shot to the men's wear scene. Sport inspired garments in a neon color palette, like tracksuits, zippered bombers and anoraks, shorts and oversize T-shirt were worn all together, layered. Giorgetti collaboratedwith American photographer Roger Minick, known for his photos of American tourists, whose pictures were printed on sweatshirt and T-shirts. There were also more literal patterns, like oranges, lemon, fruits, palms, flowers and images from the Japanese anime Attacker You, whose volleyball-players decorated oversize cotton shirts.
ERMENEGILDO ZEGNA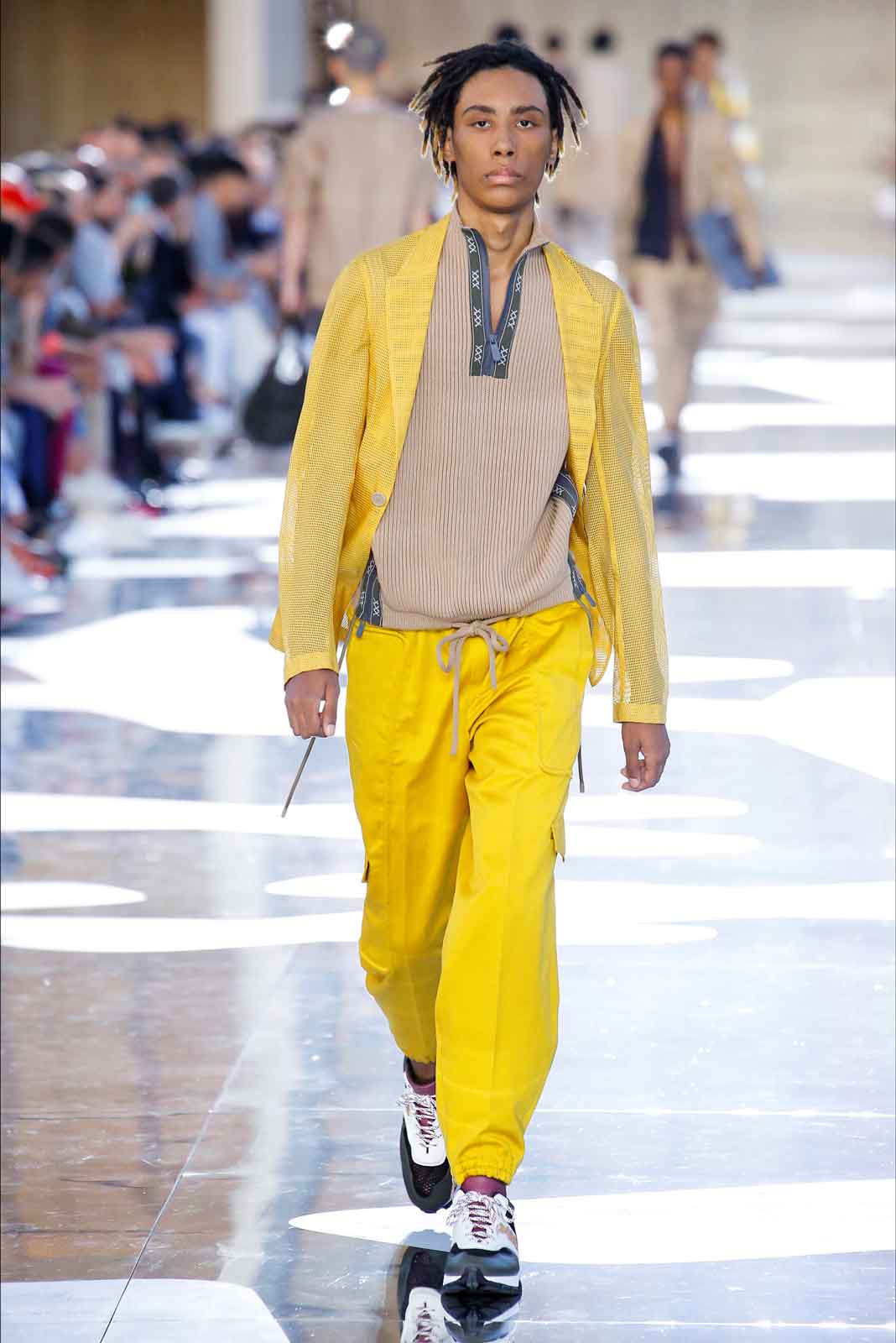 Ermenegildo Zegna's collection succesfully matched sports and casual wear, infiltrating the classic, tailoring signature of the brand with oversized cargo trousers, sweatshirts, track pants and accessories full of logos that were once the hallmarks of skateboarder. The show reflected the effort made by all sartorial brands to transform tailoring into a sporty proposal for the new generation of millenials.The result? Check tracksuits, wide and sporty silhouettes, boxy jackets, and high-waisted double-pleat trousers, while tailoring was perforated and worn with acid washed denim joggers or leather sneakers.
Curiosity;The show was held at the Oscar Niemeyer masterpiece that houses the Mondadori publishing house, set on vast stretches of flat water that makes it look as if it is suspended in mid-air.
DOLCE & GABBANA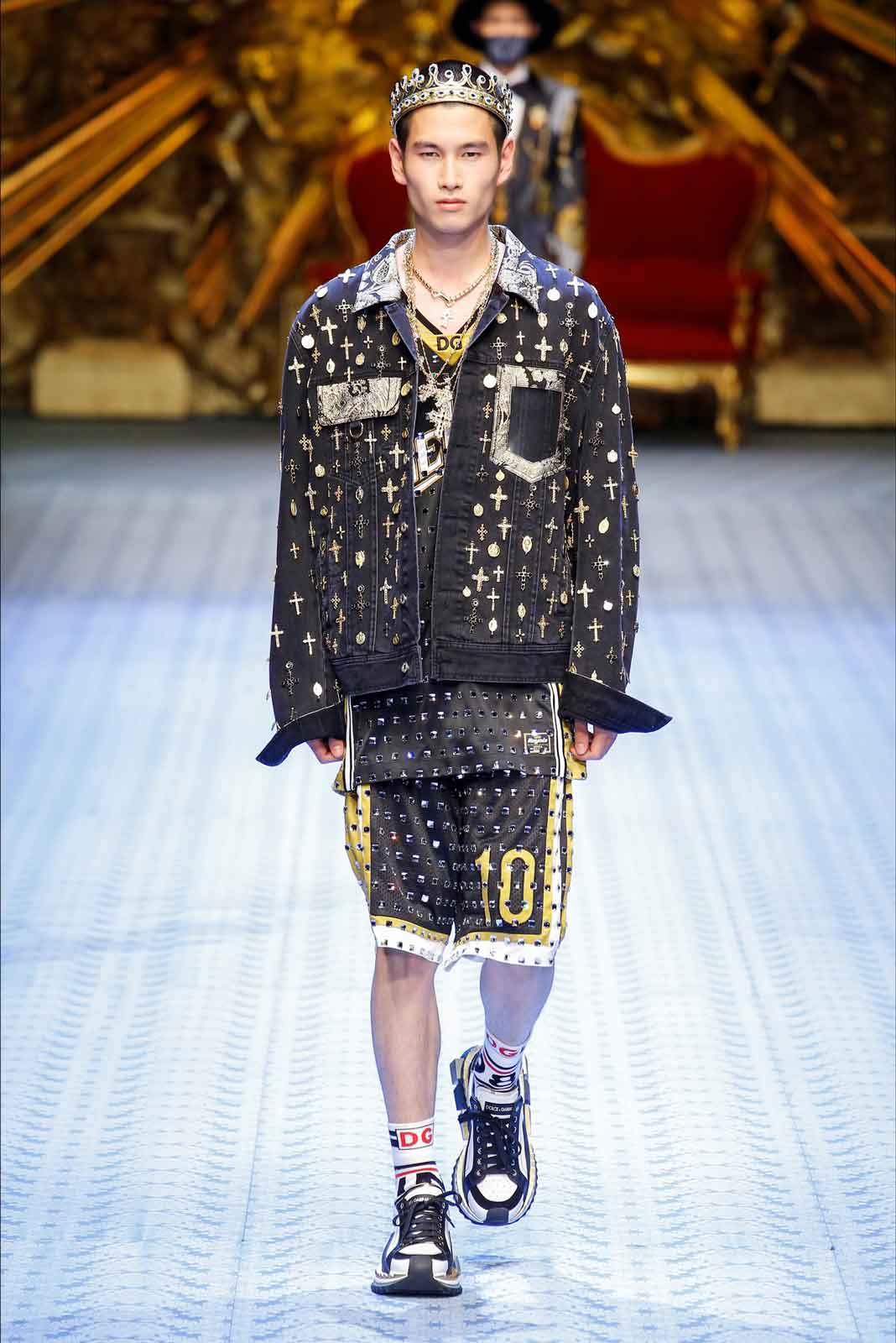 The show was about contrasts: the sacred and profane, north and south, religion and superstition, velvet and brocade. That' s why Stefano Gabbana e Domenico Dolce sent out celebrities, models and influencers wearing crystal-encrusted suits,ornate dinner jackets, university jackets emblazoned with "just be royal",patchwork cargo pants, cannoli and pasta prints on silky pyjama suits, lace shirts, baroque embroideries across tailoring and outerwear.
PRADA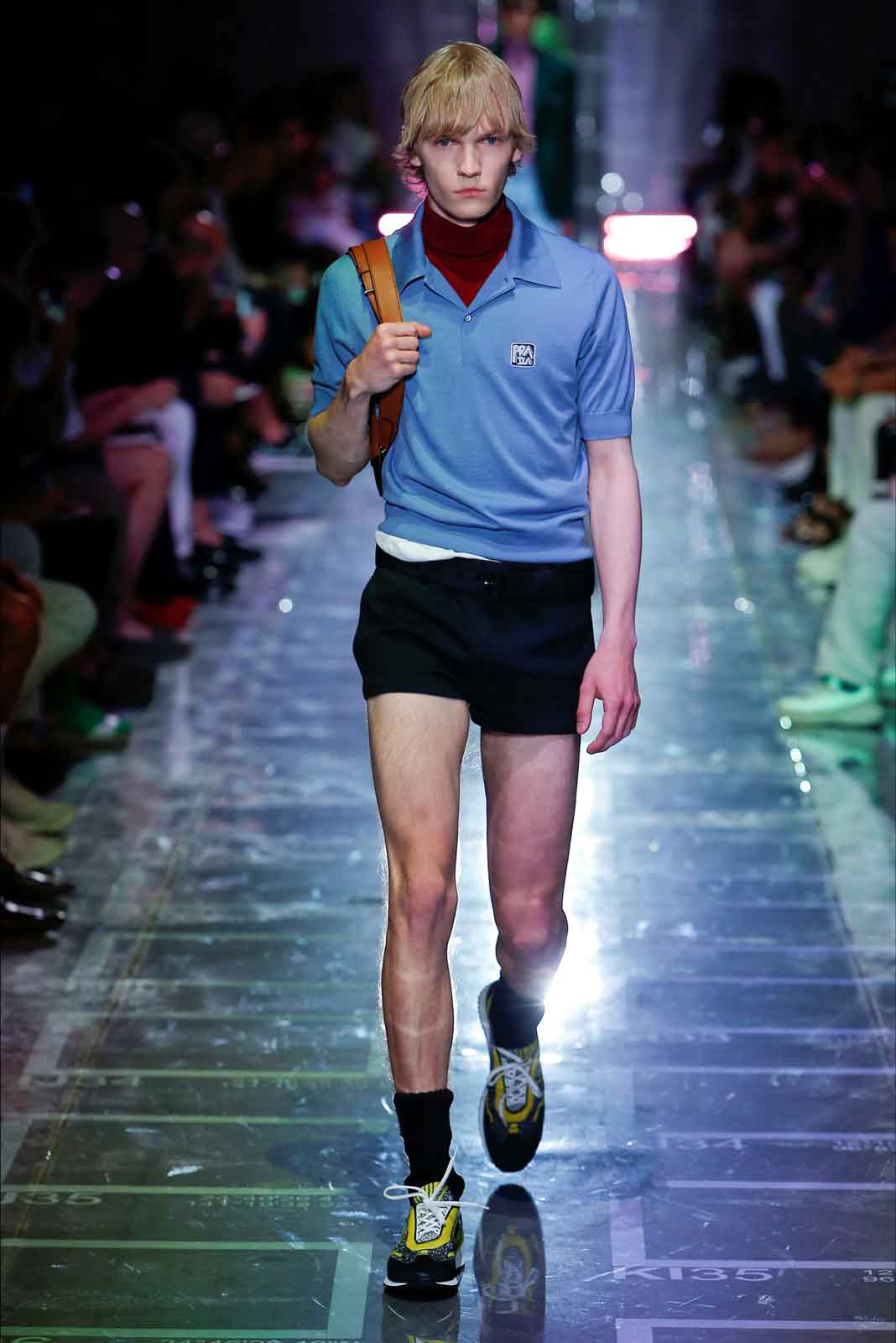 The Prada man found a new sensuality and expressed it with skin-tight roll-necks in pastel tones, very short shorts, pastel coloured polos, brown tailoring and suede coats. But Miucciaalso sent out some bolder looks: knitted jumpers matched with retro floral print polo necks, pressed pants worn with matching belts, leather box handbags, cross-body and shoulder bags and prints featuring nudist and hippie motifs. And what about those giant padded nylon hats? They are going to be undeniably hot at sales.
MARNI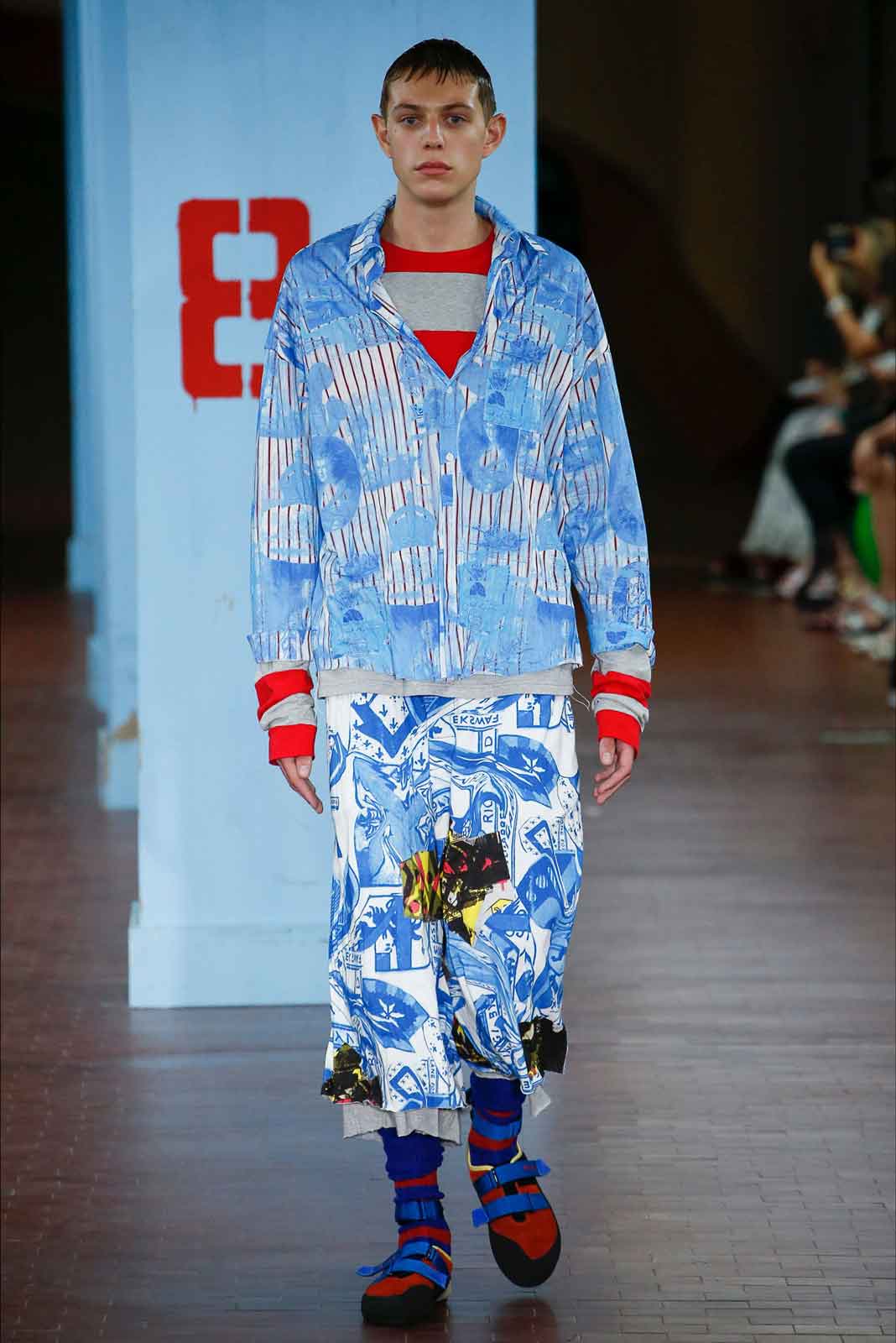 For Marni's Spring collection, Francesco Risso explored the idea of sport and how it affects body image perception, taking inspiration from several sports, from baseball to basketball, rugby and swimming and adding a touch of street attitude. He sent out a peculiar group of anti-athletes, matching low-tech sporty garments, striped T-shirts, tank tops, high-waist baggy shorts in felted mohair that looked like pijamas and oversize rolled-up nylon windbreakers. Pants and droopy T-shirts were printed in a variety of patterns or overprinted with images by artists Betsey Podlach and Florian Hetz.
Curiosity: the show was staged in the underground parking lot of Torre Velasca, a residential brutalist tower built in the late '50s and the audience was balanced on huge bouncing gym balls instead of sitting on chairs.
FENDI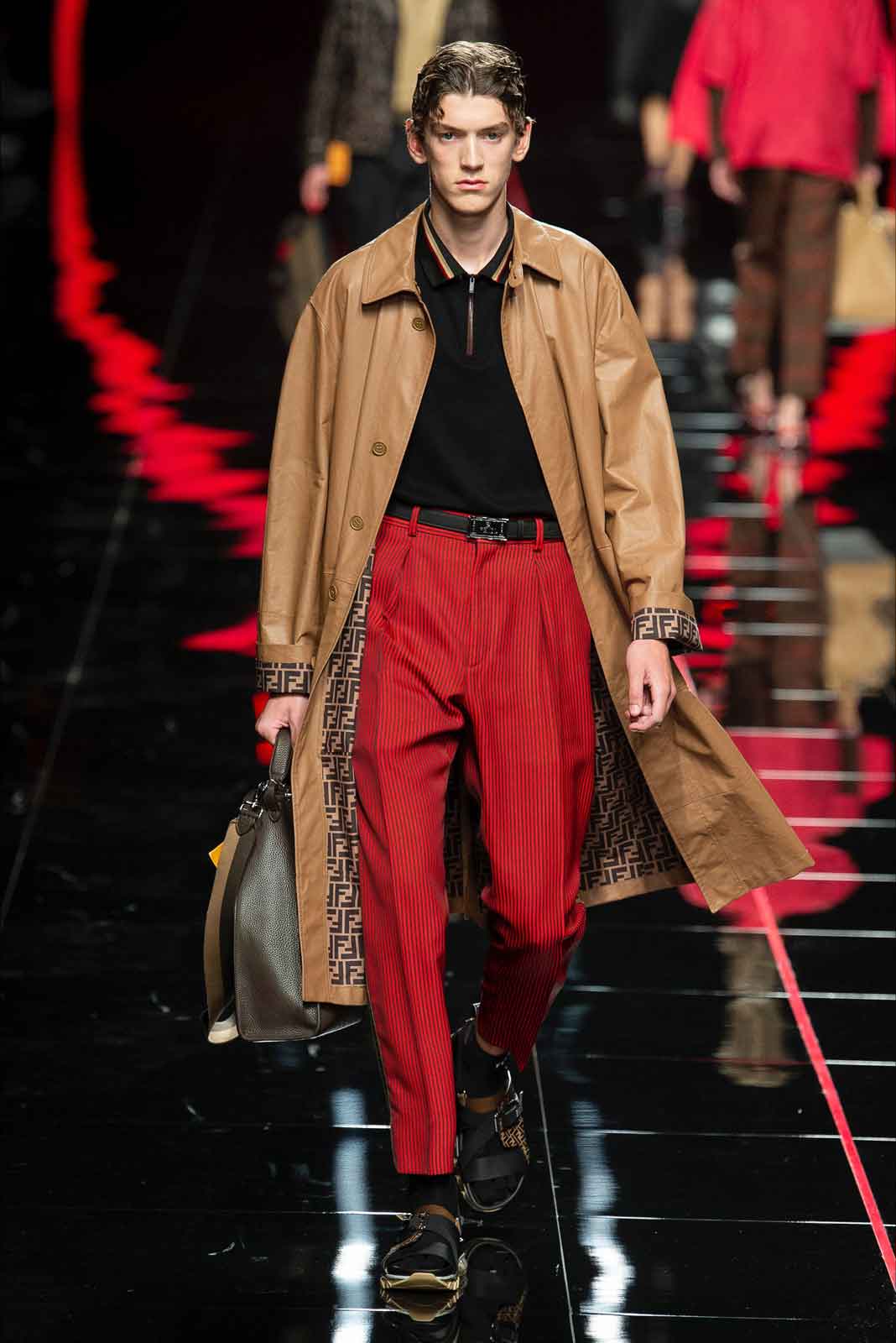 There were many total black outfits on Fendi's runway, textile were perforated and there was a decisely sportswear focus, including some very short shorts, but in the end Silvia Venturini Fendi even threw in a little formal black tailoring.
Curiosity: Fendi's headquarters had been transformed into a sort of cave designed by graphic punk artist Nico Vascellari, Silvia Venturini Fendi's son-in-law (he is the husband of her daughter creating shoulder and cross-body styles). Models emerged from a black chamber on a infernal runway, themed around the idea of heaven and hell.
VERSACE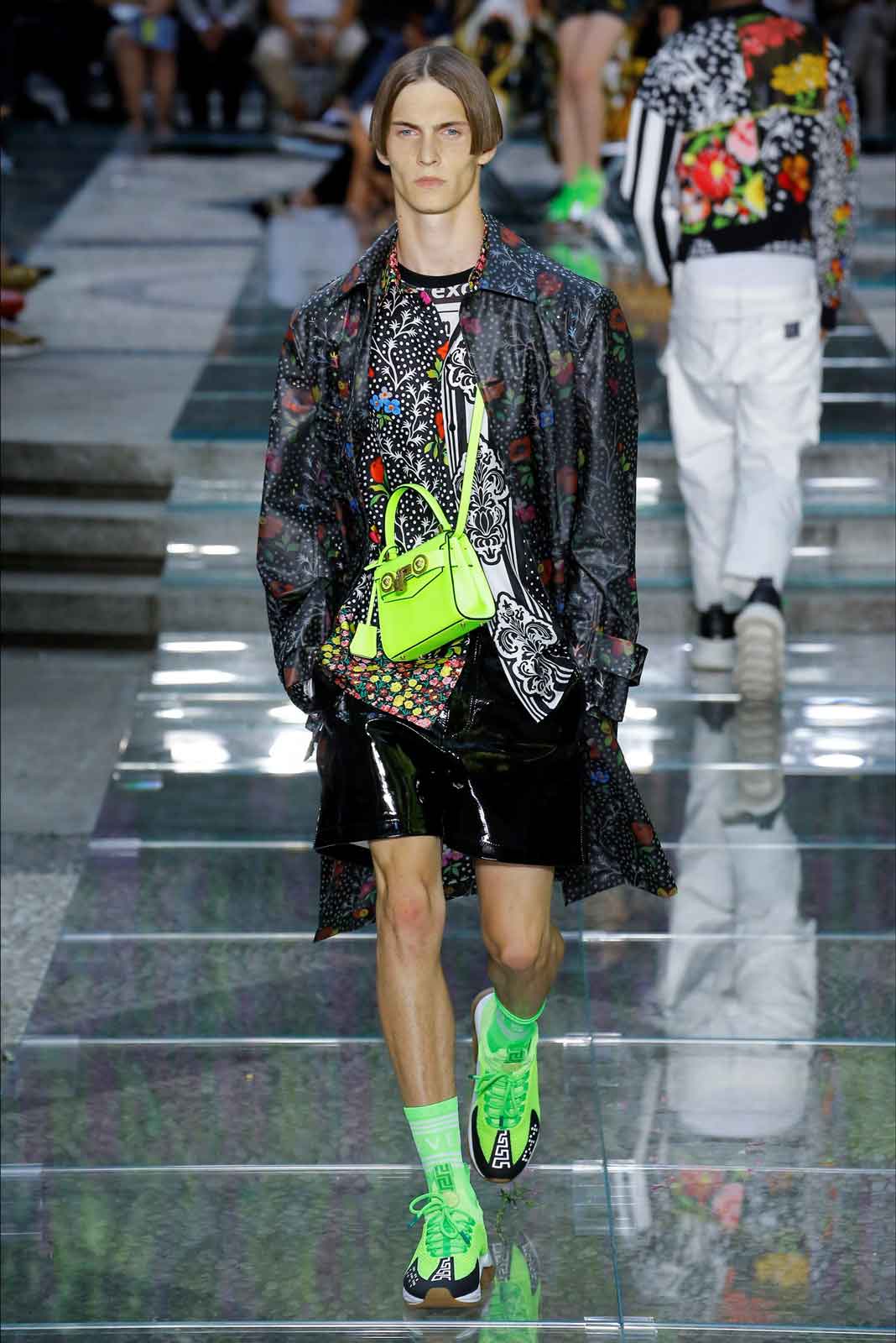 The collection was inspired by what Donatella Versace claimed were many different kinds of men, from the street-style addicted to business men, but they all have one thing in common: they don't care about the rules and make their own style choices. Suits were worn with oversized denim, shirts always seemed too small and there were lace, neoncolors , florals, and fluo bags, all mixed together, manifesting an almost adolescent way of dressing.A new newspaper print and classic Versacebaroque patterns are matched to a dazzling effect.