Janbo Disco Pub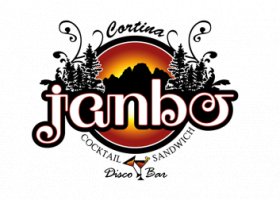 A must for all lovers of Ampezzo nightlife
The Janbo Disco Pub, in the heart of Cortina, is a must for all lovers of Ampezzo nightlife.
It is s the main point of reference for aperitifs, evenings with DJ sets and live music.
The courtesy and kindness of the staff as well its welcoming and refined location, make it the ideal place to share pleasant moments in company.
In addition, the Jumbo Disco Pub also offers excellent dishes, as well as sandwiches, such as club-sandwiches, burgers or different kind of salads combined to a wide selection of beers, wines and cocktails. However, you can also enjoy breakfast, brunch, lunch, or even coffee and cake, on their outdoor terrace in the summer.
In winter, the after-ski appointment starts at 5pm. This is where people gather at the end of a day on skis to continue having fun until late at night, with toasts, dances and delicious food.
Janbo Disco Pub
Via Stazione, 4 - 32043 Cortina d'Ampezzo (BL) - IT
Tel: +39 0436 878114